U.S. District Court Judge Tanya Chutkan has reinstated a gag order on former President Donald Trump on Sunday amid his 2020 election case, according to The New York Times.
A federal grand jury in August indicted Trump on four counts, including conspiracy to defraud the United States, in the January 6 case. Department of Justice (DOJ) special counsel Jack Smith has investigated Trump's alleged efforts to overturn the election results, including alleged attempts to submit false slates of pro-Trump electors from swing states he lost to the Electoral College. Trump, who is campaigning for the 2024 Republican presidential nomination and is the current frontrunner, maintains his innocence, accusing prosecutors of targeting him for political purposes.
Chutkan, who is overseeing the case, previously put in place a "narrowly tailored" gag order against Trump at the request of prosecutors, who had raised concerns about Trump's previous comments. Chutkan then temporarily put the gagging order on hold thus giving Trump's attorneys time to prove why the former president's comments should not be restricted, The Associated Press reports.
The gag order prohibited Trump from making certain types of statements about Jack Smith's team or potential witnesses, including any comments that directly targeted court personnel, potential witnesses or the special counsel and his staff.
Newsweek has reached out to Trump's attorneys via email for comment.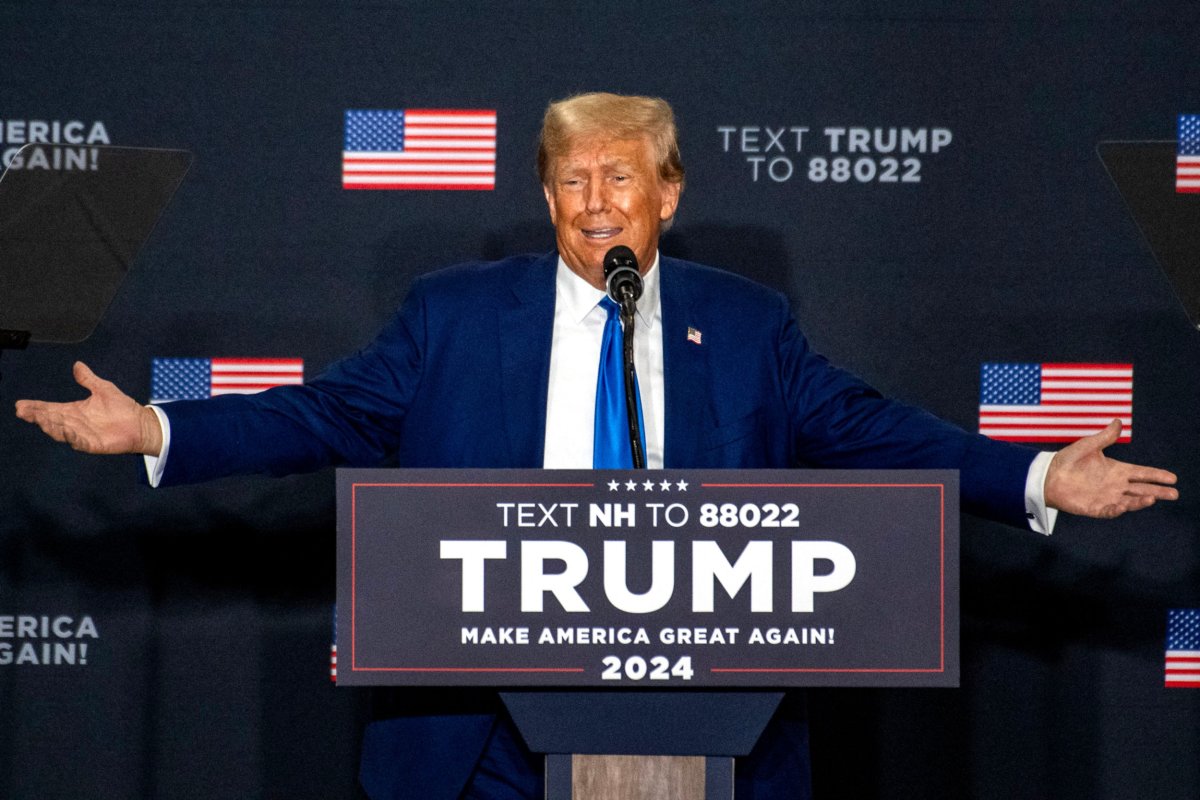 Chutkan's ruling on the gag order was posted online to PACER Sunday night, but the order itself was not immediately available, according to The AP. Newsweek also could not gain access to PACER Sunday night as the system seemed to be experiencing a glitch.
Meanwhile, after Chutkan's ruling, Trump took to his social media platform Truth Social on Sunday saying, "The Corrupt Biden Administration just took away my First Amendment Right To Free Speech. NOT CONSTITUTIONAL! MAKE AMERICA GREAT AGAIN…"
Victor Shi, a Biden-supporting activist, reacted to the ruling saying on X, formally Twitter, "BREAKING: Judge Tonya Chutkan just lifted the temporary hold she placed on Donald Trump's gag order, denying Trump of his motion to stay her gag order. It's a Sunday night & Judge Chutkan is still working. This is great news."
Former U.S. attorney Andrew Weissmann said on X, "BREAKING -Chutkan lifts the temporary stay of her "gag" order, so it is now back in effect. Trump will likely seek a stay from the appellate court in DC. Trump's continued attacks during the short interim when there was a stay was relied on by the US in arguing to lift the stay."
Barbara McQuade, former U.S. attorney, also said on X, "Judge Chutkan is on solid legal ground. She could gag Trump completely if she wanted to. Instead, she has given him wide latitude to criticize Biden, DOJ, and even her. Trump just can't target parties and witnesses outside of court."
In addition to the 2020 election case, Trump is currently battling an array of other legal issues. The former president is also facing a $250 million civil fraud trial stemming from a lawsuit New York Attorney General Letitia James filed last year alleging that Trump and top executives at The Trump Organization conspired to increase his net worth by billions of dollars on financial statements provided to banks and insurers to make deals and secure loans.
Trump was also indicted for alleged mishandling of classified documents that were recovered from his Mar-a-Lago residence. He has maintained his innocence in all cases.
Uncommon Knowledge
Newsweek is committed to challenging conventional wisdom and finding connections in the search for common ground.
Newsweek is committed to challenging conventional wisdom and finding connections in the search for common ground.