Prince Andrew's ex-wife, Sarah "Fergie" Ferguson, the Duchess of York, has paid tribute to actor Matthew Perry, who died at his Los Angeles home on Saturday at the age of 54.
Fergie made a cameo appearance in the season four finale of Perry's hit ensemble comedy, Friends. She took to social media to praise his natural talent and legacy of helping others.
Alongside two photographs of herself with the Friends cast taken from her 1998 guest-spot, the duchess wrote on Instagram: "I remember being thrilled to have met a natural talent, comedian and brilliant actor. It is a tragedy to lose you so early in life, rest in peace dear Matthew … you have given so much joy and laughter to so many."
Perry was best known for his portrayal of the character Chandler Bing on the hit comedy show, which ran for a decade between 1994 and 2004. It became one of the most popular TV comedies of all time.
At its height, the show's main cast members—which included Jennifer Aniston, Courtney Cox, Matt LeBlanc, David Schwimmer and Lisa Kudrow—were earning $1 million each per episode.
A number of celebrities made highly publicized cameos in the show's 10-season run, including Brad Pitt and Julia Roberts. At the time of the Erin Brockovich star's 1996 guest-starring role as Perry's love interest, the pair were in a short-term relationship off-screen.
Fergie is the only member of the royal family to have made a cameo on the show, in a special episode where the cast of characters travel to London for the wedding of Ross Geller (Schwimmer).
Fergie made her appearance two years after her divorce from Queen Elizabeth II's second son, Prince Andrew.
Though the duchess and Perry did not share a scene, he was on hand when co-star LeBlanc filmed a short segment outside the Houses of Parliament in London, where the duchess complimented LeBlanc's character (Joey Tribbiani) on his Union Jack novelty hat.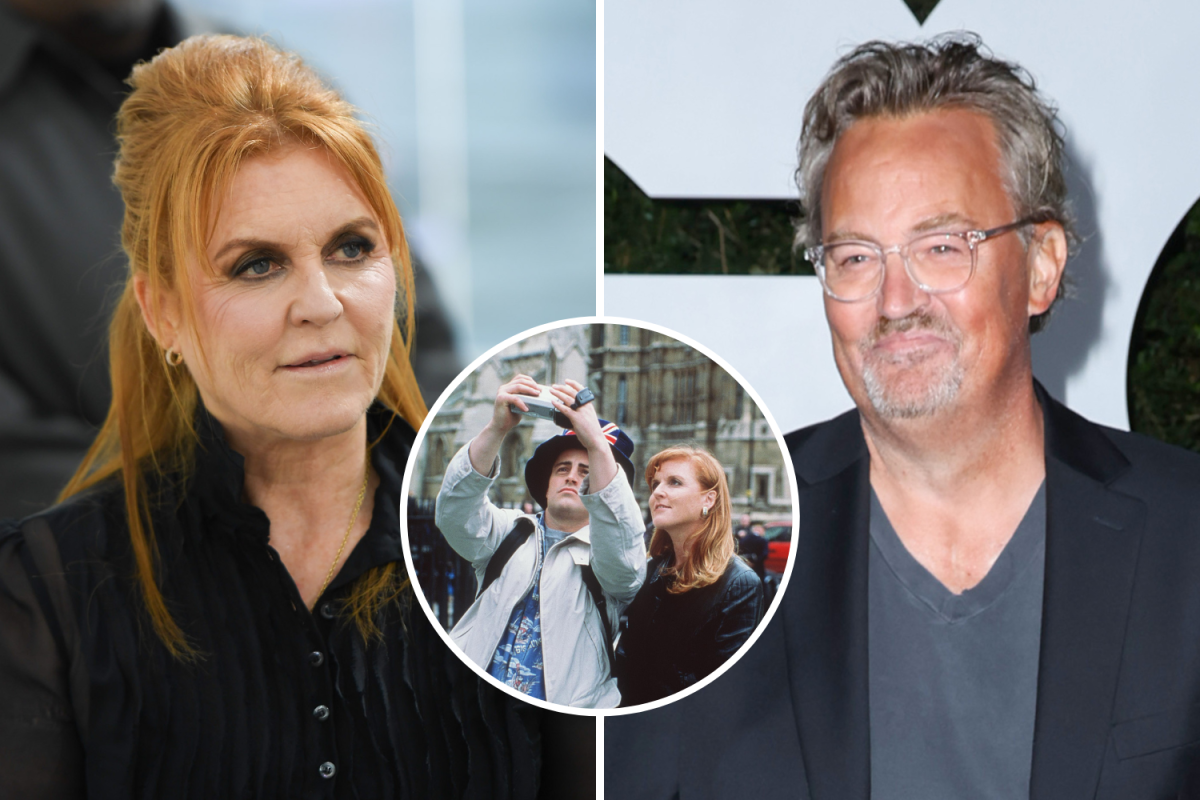 The episode has become one of the series' most memorable, mainly for its significance in the will-they-wont-they relationship arc between characters Ross Geller and Rachel Green (Jennifer Aniston).
Perry began his career as a child actor and, outside of Friends, enjoyed a long list of credits, including guest spots on shows such as The West Wing and Ally McBeal.
Perry was found dead in the hot tub of his L.A. home at around 4 p.m. local time (7 p.m. ET) on October 28. Authorities on the scene said there was no suspicion of foul play and that an investigation into the cause of the star's death would be ongoing, per The Los Angeles Times.
A number of Perry's co-stars from various productions have also paid public tribute to the star.
Actress Morgan Fairchild took to X (formerly Twitter) to post her initial reaction to the news of Perry's death. The star had played the recurring character of Chandler Bing's mother in Friends.
"I'm heartbroken about the untimely death of my 'son,' Matthew Perry," Fairchild wrote. "The loss of such a brilliant young actor is a shock. I'm sending love and condolences to his friends & family, especially his dad, John Bennett Perry, who I worked with on Flamingo Road and Falcon Crest. #RIPMatthew."
Actress Selma Blair, who also played a brief role on Friends as a co-worker of Perry's Bing, took to Instagram to write: "My oldest boyfriend. All of us loved Matthew Perry, and I did especially. Every day. I loved him unconditionally. And he me. And I'm broken. Broken-hearted. Sweet dreams Matty. Sweet dreams."
James Crawford-Smith is Newsweek's royal reporter, based in London. You can find him on X (formerly Twitter) at @jrcrawfordsmith and read his stories on Newsweek's The Royals Facebook page.
Do you have a question about King Charles III, William and Kate, Meghan and Harry, or their family that you would like our experienced royal correspondents to answer? Email royals@newsweek.com. We'd love to hear from you.
Uncommon Knowledge
Newsweek is committed to challenging conventional wisdom and finding connections in the search for common ground.
Newsweek is committed to challenging conventional wisdom and finding connections in the search for common ground.