Texas head coach Steve Sarkisian spent a portion of his Monday press conference making a bold proclamation about the importance of his team's victory against Alabama, with the first College Football Playoff rankings of the 2023 season dropping in less than 24 hours.
Sarkisian reminded the world that his team defeated then No. 3 Alabama at Bryany-Denny Stadium nearly two months ago. He didn't hide his feelings about the triumph over his former employer.
"I haven't shied away from this: I think we've got a pretty good football team. I'd argue we have the best win in the country right now," Sarkisian told reporters. "The fact that we go into Tuscaloosa, Alabama, and beat a team that was 52-1 in the previous 53 games going in there."
Sarkisian also took a jab at Southeastern Conference, where his team will play starting next season.
"I hear so much about how tough the SEC is," Sarkisian said. "But I haven't seen any of those teams go into Alabama and win either, so I feel pretty good about our team."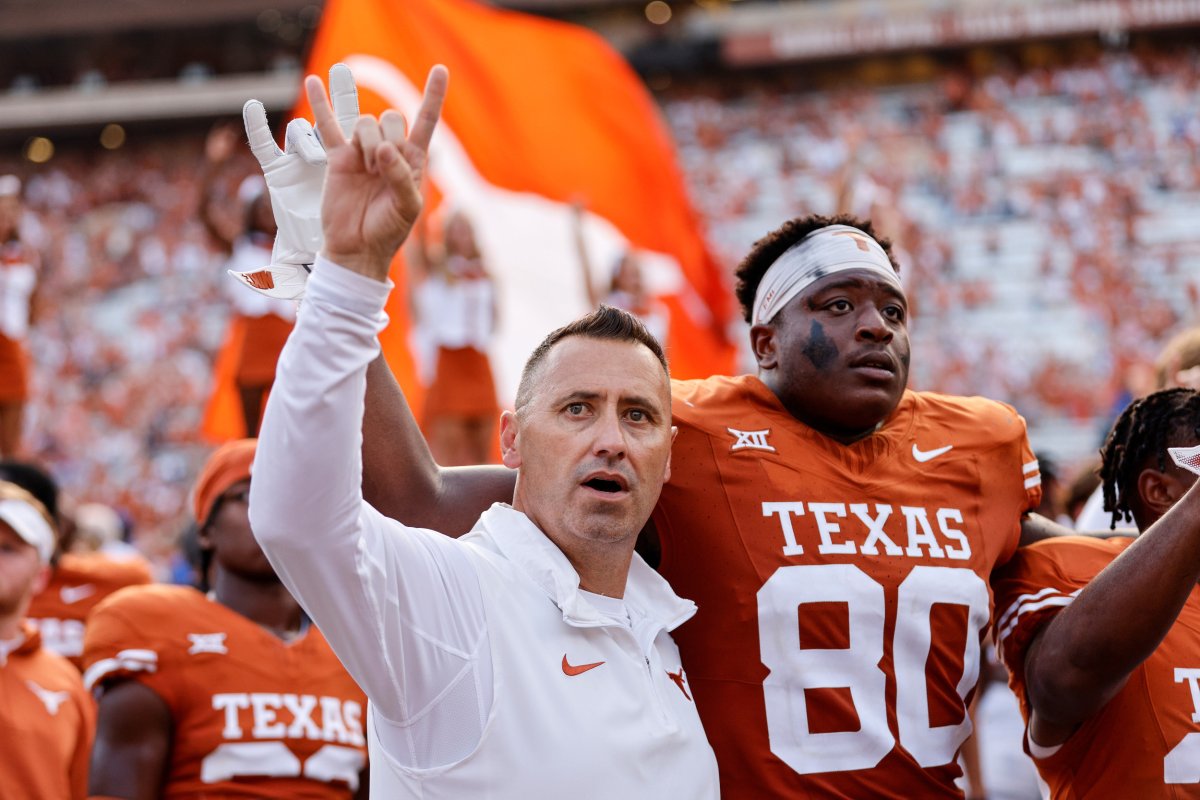 Texas is 7-1 and ranked No. 7 after Saturday's 35-6 win against BYU. The Longhorns won the game against BYU despite missing starting quarterback Quinn Ewers. Maalik Murphy got the start while Ewers was recovering from a shoulder injury. Murphy had two touchdown passes and one interception in the win.
"We're a very versatile team," Sarkisian told reporters. "We started our backup quarterback against a 5-2 team and won 35-6. We get another opportunity this week to play with our backup quarterback. Not every team out has had to endure what we've had to. If they had their backup, how would they play?"
Several teams would likely counter Sarkisian's claim that the Longhorns win against Alabama is the best this season. No. 3 Ohio State would point to its wins against Notre Dame and Penn State. No. 5 Washington's win against Oregon was an impactful game in the Pac-12 and beyond.
No. 10 Oklahoma, who lost shockingly last week to Kansas, had a big win against Sarkisian's squad when Texas was ranked third. Of course, Sarkisian could use the Oklahoma loss to Kansas and the Sooners' win against his team to demonstrate the strength of the Big 12 this season. There are five teams, including Texas, tied with 4-1 conference records.
"As the league is starting to bear itself out, we're starting to find out that I think our league is probably a little stronger than people gave it credit for in early September," Sarkisian said. "And there's a lot of teams playing really good football, and maybe some of these other leagues aren't quite as strong as people were giving them credit for at the start of the year."
Texas faces Kansas State this week. The Wildcats (6-2, 4-1) are ranked No. 25 in the latest AP Poll after beating Houston 41-0. Sarkisian isn't sleeping on the Wildcats, nor are the oddsmakers. Texas is a four-point favorite, according to Monday's odds on BetMGM Sportsbook.
"Our league is tough," Sarkisian said. "You've got to make sure that your team is ready to play because, as we're finding out, there's a lot of teams that have an opportunity to compete for a conference championship."
Uncommon Knowledge
Newsweek is committed to challenging conventional wisdom and finding connections in the search for common ground.
Newsweek is committed to challenging conventional wisdom and finding connections in the search for common ground.