Most visitors to animal shelters prefer to adopt a puppy or a younger dog, leaving older dogs behind—sometimes for years.
Newsweek recently told the story of Pretty Girl, an adorable senior dog who was surrendered to the Seattle Humane Shelter after spending 11 years with her family.
"Pretty Girl was surrendered after 11 years with the same family due to the ongoing stress she was experiencing with a new baby in the home," Brandon Macz, PR and social media specialist at Seattle Humane told Newsweek.
"Pretty Girl is sensitive to loud noises, which is unavoidable when there's a newborn in the home. She was initially surrendered to a shelter in Central Washington, and we pulled her out about two weeks later through our Lifesaver Rescue transfer program. Two-thirds of our shelter population come in through transfers from overcrowded shelters in Washington state and around the country."
Newsweek can now reveal that Pretty Girl has been adopted.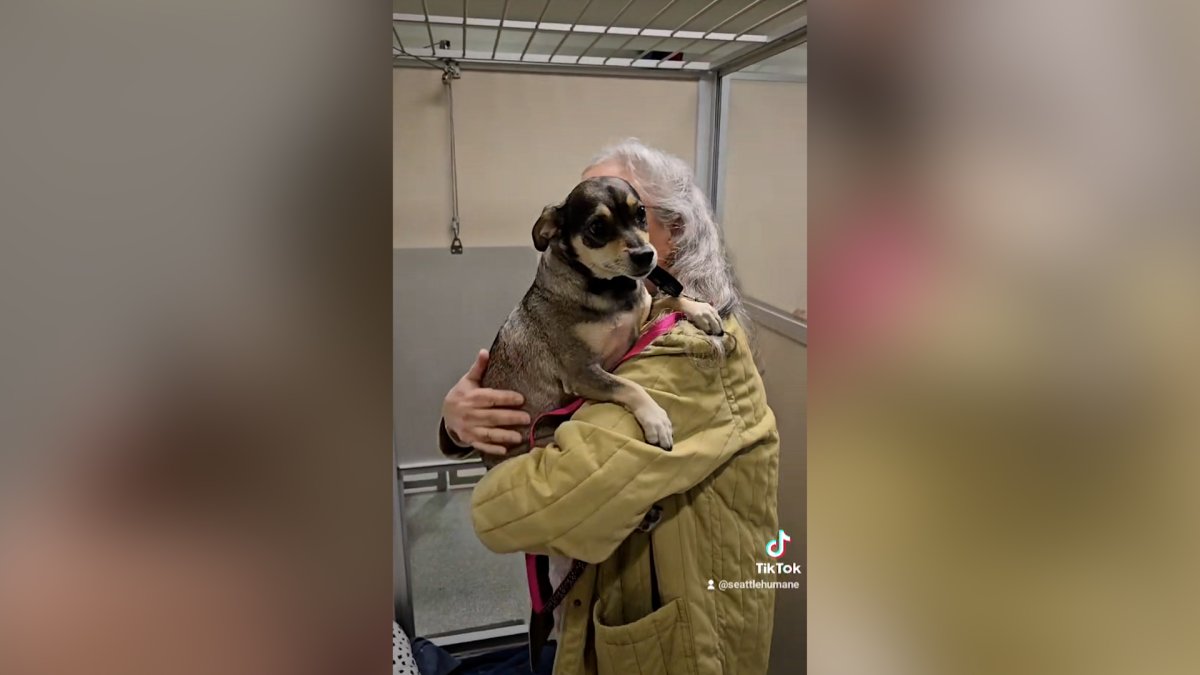 "Pretty Girl was adopted by a lovely older couple," said Macz. "They had adopted dogs who took a while to decompress in their new home, and they said they would give her the time she needed to adjust to her new environment. Folks who had visited her previously expected her to be extremely affectionate right away, which was not the case."
Deciding to adopt a senior dog can often take on lifesaving importance because they are often the last to get adopted. They have a 25 percent adoption rate, compared to the 60 percent rate of younger dogs and puppies, according to the American Society for the Prevention of Cruelty to Animals (ASPCA).
"The fact is that all pets do age and will experience more health issues as time goes on," said Macz. "In these economically challenging times, and with an ongoing shortage of veterinary professionals in the United States, many people are unwilling or unable to invest in an older pet.
"We're very happy her new family was willing to wait for her to open up on her own," said Macz. "One day after going home, her new mom tells us Pretty Girl is already following her around and seeking lots of attention. We can't emphasize to prospective adopters enough that the pet you see in a shelter is much different than what they'll become in a loving home."
Some people commented negatively on the original post about Pretty Girl's previous owners. One viewer wrote: "I hope those people feel guilty every single day of their lives."
Addressing the comments, the shelter representative said: "We wanted to share a little about Pretty Girl's backstory to let prospective adopters know where she came from and what to expect when meeting her here in the shelter. We do not encourage shaming anyone for making the very difficult decision to surrender a pet. Pretty Girl's sweet nature was a testament to the kind of love she undoubtedly experienced in her previous home.
"We know that many people already feel extremely guilty about surrendering a pet and that adding blame or shame does not help anyone. Rather, it can lead to people actually abandoning their pets instead of taking them to a shelter for fear of condemnation. It can also result in a pet being kept in a stressful or otherwise unhealthy environment longer, which can cause behavioral issues they didn't have previously. We're thankful so many people were moved by Pretty Girl and followed her story, but we would appreciate seeing more kindness and understanding in our comment section moving forward."
While Pretty Girl has now been adopted, Seattle Humane still has many dogs in need of adoption, such as Toby, a 10-year-old Labrador retriever mix who came to the shelter as a puppy in 2013.
"He was recently returned due to his owner having health issues that made it hard to care for him," said Macz. "Toby is an easygoing fella who just wants chew toys, a few light walks each day, and plenty of belly rubs. He has received very little adoption interest in the five months since his return. Toby is a bit lumpy due to a number of masses he's developed over the years, but Seattle Humane's veterinary team has performed multiple biopsies and determined them to be benign."
Users on TikTok were thrilled Pretty Girl had found a new home.
"We're all rooting for you Pretty Girl!!" wrote one user. "I'm so glad she was able to get a new home. Thank you for showing her love," said another.
Do you have funny and adorable videos or pictures of your pet you want to share? Send them to life@newsweek.com with some details about your best friend and they could appear in our Pet of the Week lineup.
Uncommon Knowledge
Newsweek is committed to challenging conventional wisdom and finding connections in the search for common ground.
Newsweek is committed to challenging conventional wisdom and finding connections in the search for common ground.