Week 9 in the National Football League starts with a Thursday Night Football matchup featuring two teams with question marks at starting quarterback.
The Tennessee Titans travel to Pittsburgh for a game against the Steelers following a victory against the Atlanta Falcons. Will Levis filled in for starting quarterback Ryan Tannehill and threw four touchdowns with 238 passing yards. Levis' four touchdowns in one game doubled Tannehill's total for the season.
Tannehill missed the Atlanta game due to an ankle injury that he suffered October 15 in a loss against the Baltimore Ravens. Titans head coach Mike Vrabel didn't confirm if Tannehill will play against the Steelers, but said that if Tannehill isn't available, he'll go with Levis.
"I think we'd probably say if Ryan can't go, we'll move forward with Will, and then we'll see where Ryan is," Vrabel told reporters on Monday during his weekly press conference. "It is a short week, but also, we'll have to see who is available to us at every position."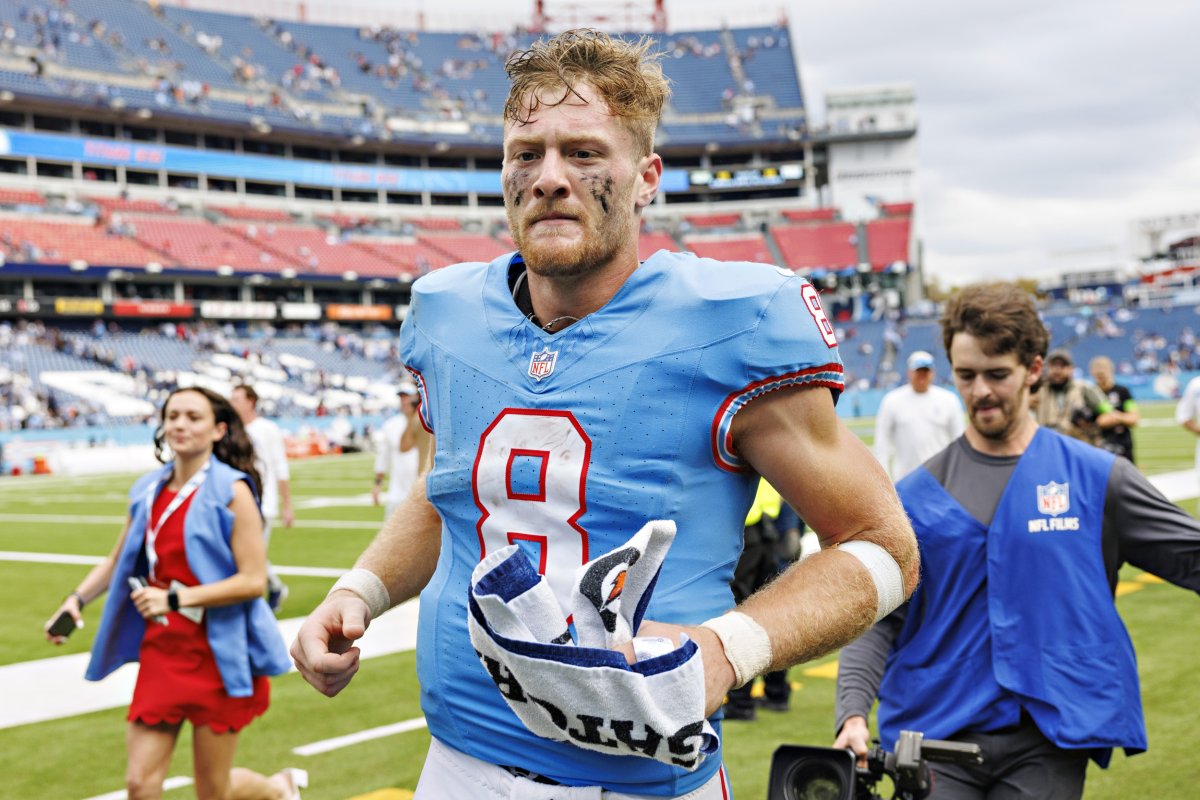 Steelers quarterback Kenny Pickett left the team's loss against the Jacksonville Jaguars on Sunday with a rib injury. Mitch Trubisky threw two interceptions and one touchdown in the 20-10 Steelers defeat.
Pickett told reporters on Tuesday, however, that he's playing against the Titans. Another injury issue for the Steelers is All-Pro defensive back Minkah Fitzpatrick, who exited the Jaguars game early with a hamstring injury.
Pittsburgh head coach Mike Tomlin addressed the importance of Fitzpatrick's absence.
"Obviously the loss of Minkah is a significant one," Tomlin told reporters on Monday. "It's a multi-man job, not a one-man job thankfully. We have some veterans back there, guys like (Miles) Killebrew and (Damontae) Kazee and Keanu Neal who are veteran NFL players, and that lessens the impact hopefully, but obviously it's not a one-man job when you're talking about replacing Minkah, whether you're talking about his play- making ability or his hub of communication ability."
The Steelers 4-3 and the Titans are 3-4, with both teams fighting for playoff spots.
How to Watch Steelers vs. Titans
The Pittsburgh Steelers will host the Tennessee Titans at Acrisure Stadium for an 8:15 p.m. ET Thursday Night Football kickoff. Prime Video will have the national broadcast with Al Michaels (play-by-play), Kirk Herbstreit (analyst) and Kaylee Hartung (sidelines) calling the action.
Injury Report
Steelers: Pittsburgh didn't practice on Monday, but the team submitted an estimate of the availability of its players if they did hold practice.
CB Minkah Fitzpatrick (Hamstring) – DNP
QB Kenny Pickett (Rib) – Limited
S Damontae Kazee (Hand) – Limited
CB Levi Wallace (Foot) – Limited
DL Cameron Heyward (Groin) – Limited
RB Anthony McFarland Jr. (Knee) – Limited
McFarland and Heyward are in the 21-day practice window after getting designed for return from the Injured Reserve list.
Titans: Tennessee had a walkthrough on Monday instead of practice, so this estimates how players would've been available for training sessions.
OT Chris Hubbard (Concussion) – DNP
CB Anthony Kendall (Knee) – DNP
WR Chris Moore (Non-injury related – Personal) – DNP
QB Ryan Tannehill (Ankle) – DNP
DL Denico Autry (Non-injury related – Rest) – Limited
RB Derrick Henry (Ankle) – Limited
WR DeAndre Hopkins (Toe) – Limited
CB Roger McCreary (Hamstring) – Limited
DT Jeffery Simmons (Ankle) – Limited
RB Tyjae Spears (Ankle) – Limited
S Mike Brown (Ankle) – Full
CB Sean Murphy-Bunting (Thumb) – Full
TE Josh Whyle (Concussion) – Full
Betting Info
The Steelers are favored by three points against the Titans, according to Tuesday's odds on BetMGM Sportsbook. The over/under is 36.5 points. The Steelers are -150 on the money line, and the Titans are +125.
Uncommon Knowledge
Newsweek is committed to challenging conventional wisdom and finding connections in the search for common ground.
Newsweek is committed to challenging conventional wisdom and finding connections in the search for common ground.