Certain dog breeds love swimming and Labrador Buster proved he was one of them—so much so that his pool antics make his pet parents late for work.
In a viral video uploaded to TikTok, user bustersworld4 explained that the Labrador regularly takes a swim in the family pool.
While swimming is a great way for Buster to stay active, it does have the notable drawback of sometimes making his pet parents late for work.
The October 28 video featured Buster swimming in the pool as his owner tried to get him out of the water.
For a moment it appeared as though Buster was ready to go back to the house as he got out of the pool before he jumped straight back in. "Why are you always late for work?" a caption on the video said.
The pet parent then tried "sweet talking" to get Buster out of the pool, which briefly succeeded before he, once again, jumped into the water.
Following a bargaining attempt, leaving him alone and faking completely forgetting about him, it finally appeared as though Buster was ready to dry off.
But the Labrador leaped into the pool yet another time, underscoring how his antics led to the owner "always running late."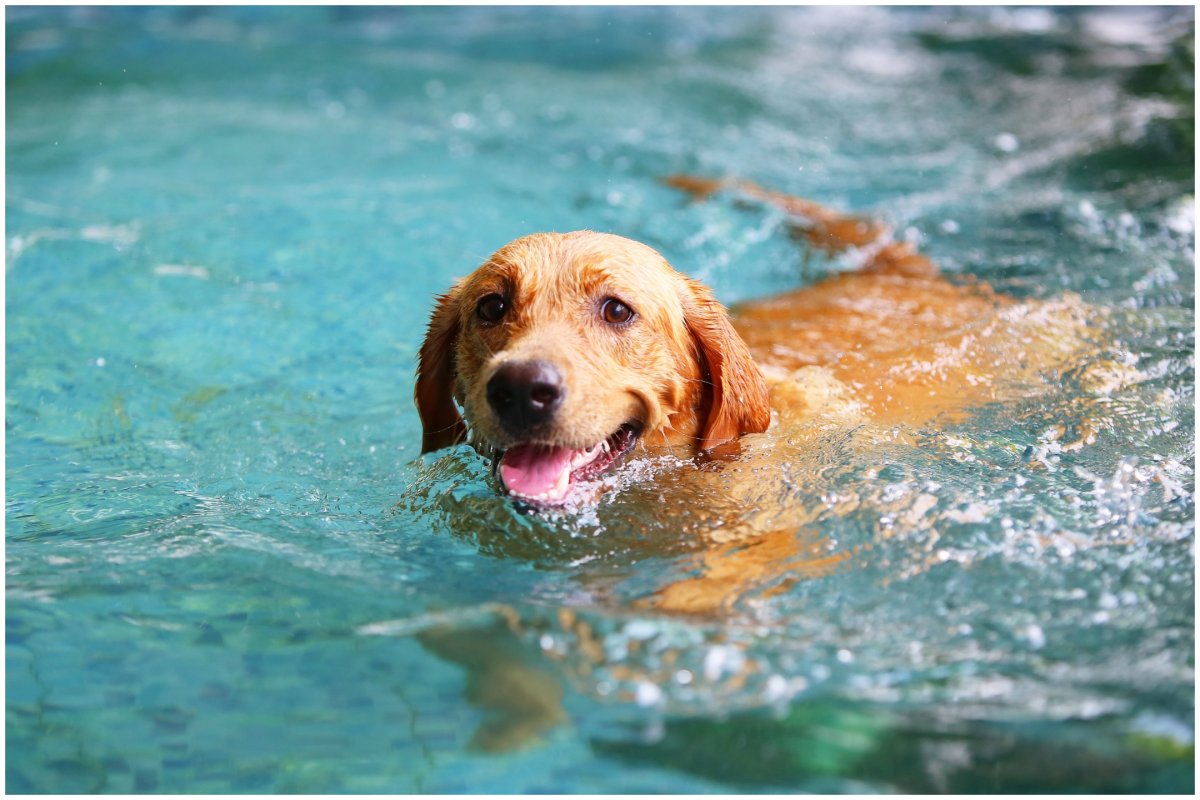 "He's a handful, but we love him and he loves his pool," the TikTok user said in a reply to a commenter.
Since being shared, the video has attracted an estimated 4.6 million views and more than 508,100 likes.
Newsweek has contacted bustersworld4 for comment via TikTok.
Why Dogs Enjoy Swimming
Dog wellness website Wag Walking! explained why some dogs enjoy swimming and that not all breeds take to the water as naturally.
"One is that their bodies are built to swim and two is that dogs are introduced to water fun at a young age," the website said. "The combination of these two things makes swimming fun for dogs. However, not all dogs like to swim. This is because the best swimmers have a certain type of body type."
Features and characteristics that make for a good dog swimmer according to the dog wellness site include:
Having evenly distributed body weight
A big tail that acts like a rudder
A good water-resistant coat
Webbed feet to aid in the dog paddle
Dogs with longer legs
"A few dogs that have this body type include but are not limited to, Labradors, retrievers, setters, and spaniels. These dogs love the water and their bodies were built for it," Wag Walking! said.
Online Reaction To Video
Many of those who commented on the video praised Buster and joked how her boss would understand if she was late for work because of his pool antics.
TikTok user MittenKitten7151 said: "I could imagine how frustrated you were, but I have to tell you that this made me so happy. I couldn't stop giggling."
Lulugirl added: "At this point, I'd just call in sick and swim with the dog."
Taramissl commented: "'Are you going to be a good boy?' Buster said not a day in his life. Lol (laugh out loud)."
Trixy Sketch posted: "Just send this video to your boss. Lol, no one could be mad that you're late with how cute he is."
Uncommon Knowledge
Newsweek is committed to challenging conventional wisdom and finding connections in the search for common ground.
Newsweek is committed to challenging conventional wisdom and finding connections in the search for common ground.