Florida Governor Ron DeSantis on Monday was questioned about rumors that he wears hidden lifts in his boots in order to appear taller.
DeSantis, who is vying for the Republican nomination for president in 2024, was questioned by host Patrick Bet-David on the PBD Podcast about claims circulating online regarding hidden high heels allegedly in his boots.
Bet-David displayed images of DeSantis from a recent appearance on Real Time With Bill Maher which have gone viral. The images highlight the governor's cowboy boots with an outline added to show where hidden high heels may have been added to enhance DeSantis' height.
DeSantis quickly denied the rumors about lifts and added that he hadn't been shown the online claims about the height boosters.
"No, no. Those are just standard, off-the-rack Lucchese boots," he said of his footwear.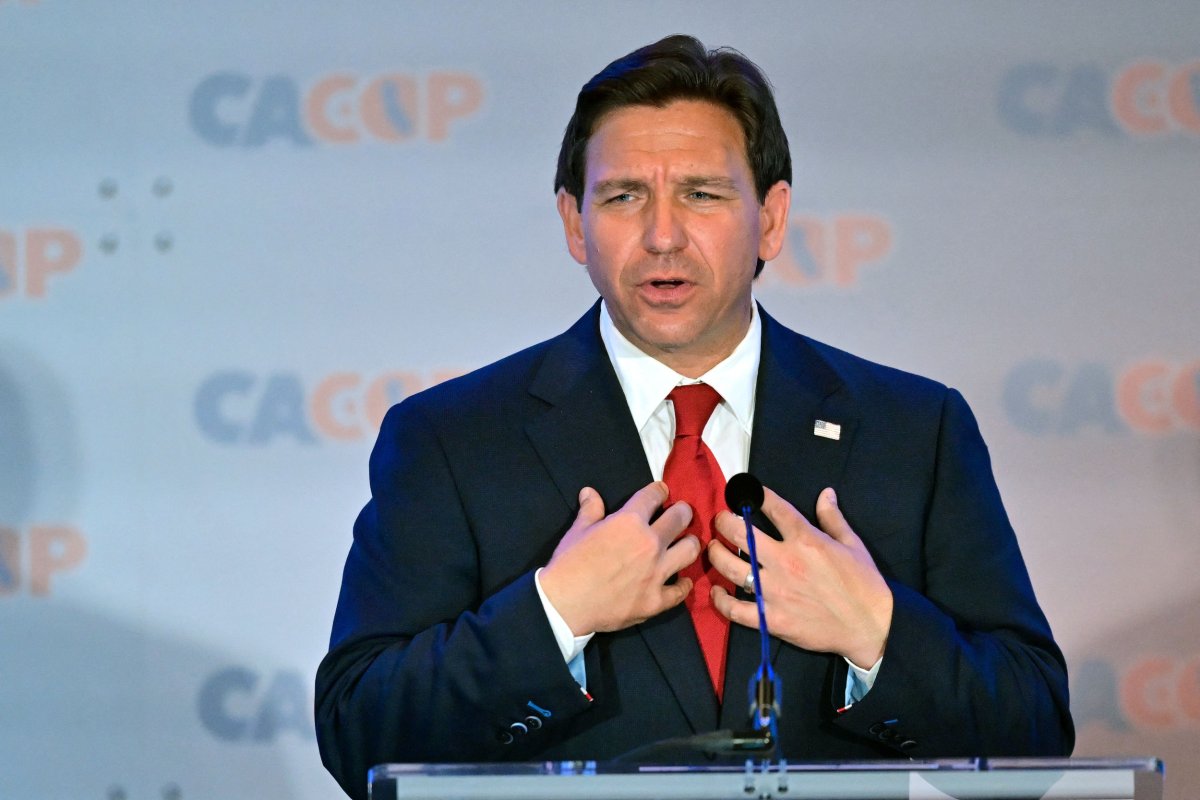 Former President Donald Trump, who is the leading candidate for the GOP nomination according to national polls, has helped spread the rumors about DeSantis' footwear.
On October 9, Trump shared images on his Truth Social platform from DeSantis' appearance on Maher's program. The photos show DeSantis' cowboy boots with the caption: "Tell me he's not wearing hidden heels."
Various media outlets have also carried stories about DeSantis' boots, including Slate. In March, the website published an article with the headline, "Ron DeSantis Embraces the High Heel," which said he "prefers a higher, slanted heel—the kind that's better suited to riding horses."
Newsweek reached out to DeSantis' campaign via email for comment.
When Bet-David asked the GOP presidential hopeful how tall he is, DeSantis answered that he is 5 feet, 11 inches.
"Why don't you wear tennis shoes and dress shoes?" Bet-David asked next.
"I do wear tennis shoes when I work out," DeSantis said.
The exchange about footwear ended when the podcaster attempted to gift the governor with a pair of Ferragamo shoes, but DeSantis said he couldn't accept gifts.
DeSantis said such talk about sartorial choices is "just how politics work" before relating a story of how baseball legend Yogi Berra was told he didn't look like a typical New York Yankees player. According to DeSantis, Berri's response was "you don't hit a baseball with your face."
As he explained the comparison more, DeSantis said those who are opposed to his campaign haven't been able to criticize him for his leadership or policies.
"People that are poking at you for different things, that's fine, but ultimately I think it's a sign of strength," he said. "We've been an exemplary leader. We've gotten things done. We would be somebody that would be obviously a really strong candidate, and that's part of the reason the media attacks me and everything like
that."
Uncommon Knowledge
Newsweek is committed to challenging conventional wisdom and finding connections in the search for common ground.
Newsweek is committed to challenging conventional wisdom and finding connections in the search for common ground.