Losses are piling up for Clemson, as are frustrations for Tigers head coach Dabo Swinney. The Tigers are 4-4 following last week's loss against N.C. State. The defeat assured the end of the Tigers' 12-year streak of winning 10 or more games.
Swinney blasted a caller named Tyler on Monday during his weekly radio show for over five minutes. His ire was in response to Tyler questioning Swinney's nearly $11 million annual salary during a season in which the Tigers have their most losses in over a decade.
A day later, Swinney could've walked back his tirade where he defended his salary, path to coaching and college playing career, among other topics. Instead, the two-time national champion coach further laid into Tyler and others he considers a small percentage of fans with overly inflated expectations of the program.
"I had some idiot go Old Testament on me, and he got an Old Testament response," Swinney told reporters.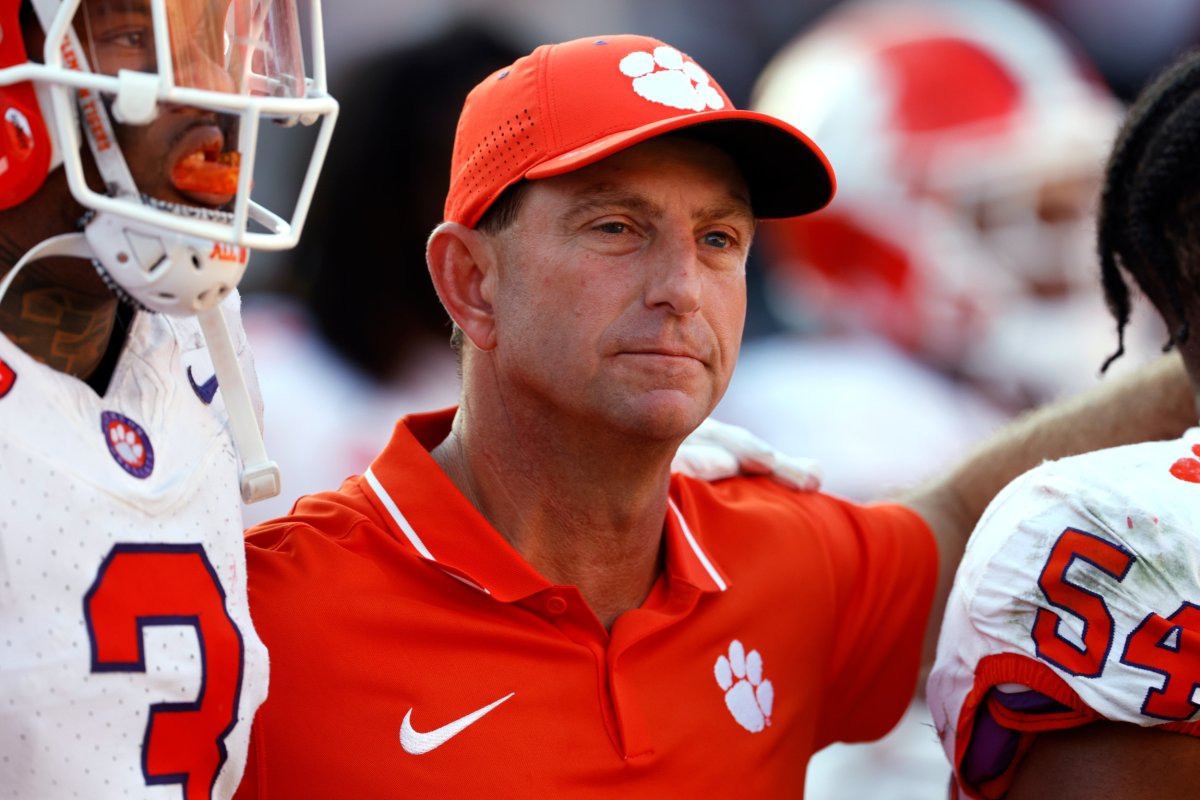 On Monday night, Swinney fired back at Tyler's question with a testimony detailing some of his journey into becoming one of the highest-paid coaches in the sport.
"To answer your question, I started as the lowest-paid coach in this frickin' business. And I'm where I am because I've worked my ass off every single day," Swinney said during the radio show. "And I ain't gonna let some smart-ass kid get on this phone and create this stuff. So if you've got a problem with it, I don't care, all right?"
Swinney signed a 10-year, $115 million contract before the 2022 season. When Clemson hired him in 2009, he made a little over $800,000 after getting promoted as an interim head coach with no previous head coaching experience.
"I work for the board of trustees, the president and the AD, and if they're tired of me leading this program, all they've got to do is let me know," Swinney continued. "I'll go somewhere else where there is an appreciation. It's not just winning. It's how you win. And this is a tough year, but we've had 12 10-plus win seasons in a row. Twelve."
Swinney didn't hold back in his reply during his press conference.
"I'm not going to let one season, when I know exactly what the issues are, and a bunch of great kids and great coaches, I'm not going to let one season dampen that," Swinney told reporters. "I'm going to fight for this program, and hopefully we can get back to some appreciation around here. It's frickin' hard to win. All you've got to do is look around the country."
Clemson became an elite program on Swinney's watch. He's led the Tigers to two national titles, and their first since 1981. They've won eight ACC conference championships, missing just one title since 2015. The former Alabama assistant has three national coach of the year awards.
However, there's growing criticism of Swinney's unwillingness to sign players from the transfer portal. Swinney said he's undeterred by critiques against him.
"I'm sitting here not because I've listened to all the criticism, all the people that want me to do this, hire this guy, hire that guy," Swinney told reporters. "If it don't work, I ain't got nobody to blame but myself. But I'm going to always do what I'm convicted in. And some people say I'm stubborn, and I say I'm convicted in my beliefs."
Uncommon Knowledge
Newsweek is committed to challenging conventional wisdom and finding connections in the search for common ground.
Newsweek is committed to challenging conventional wisdom and finding connections in the search for common ground.