A couple from Columbus, Ohio, is spreading the positive message of adopting a dog after saving one neglected pup who lived in the shelter for over four months.
The couple visited Franklin County Animal Shelter on October 21 to see if any dogs might fit into their family of four. They have Miya, a 10-year-old dog, and a bunny named Lola. Considering Miya was getting older, they knew they wanted another dog to keep her young and active.
Just as they were about to leave the shelter, they spotted Zena. Kaylan Kerbler told Newsweek that they had an instant connection with Zena. It took all about five minutes for the two of them to decide they wanted to adopt her.
And about two hours later, they brought her home.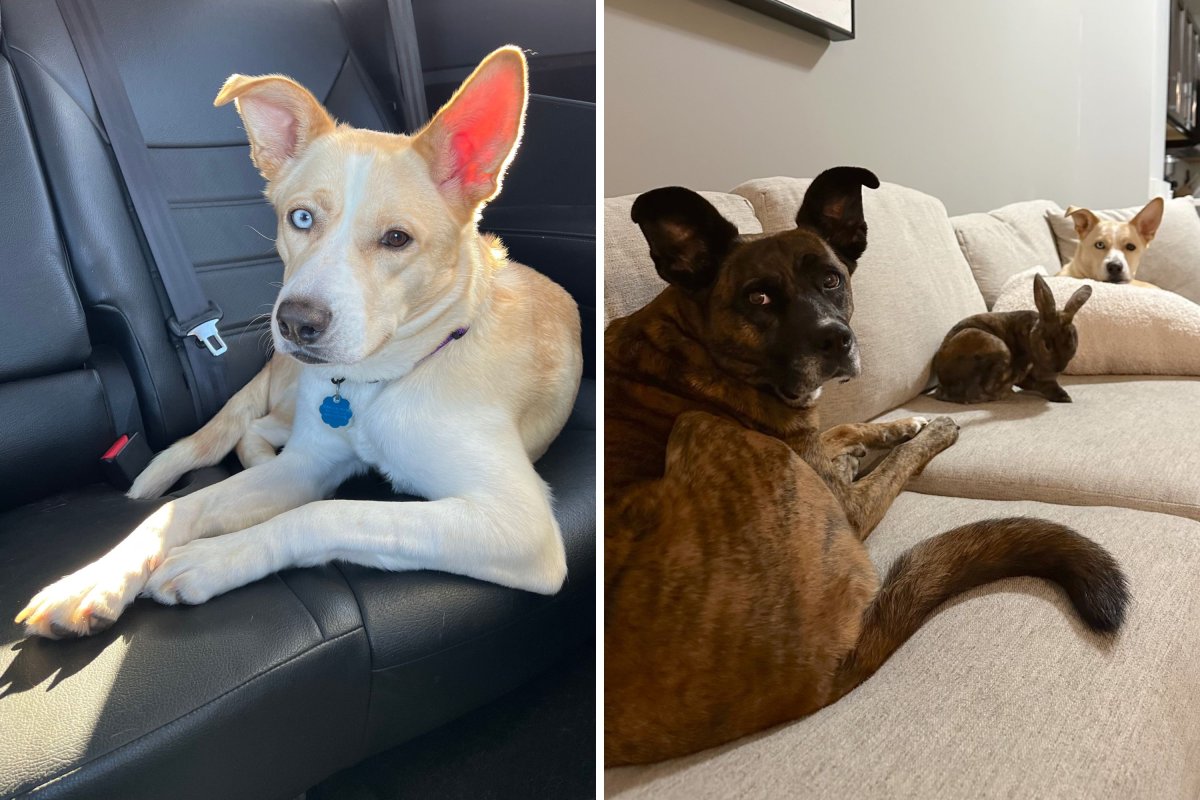 Zena's previous owners were neglectful and abused her. She came into the shelter with a broken tail. Kerbler said they are unsure how she broke her tail, but she was scared of them touching it. It will take time to heal the kink in her tail, but it does not hurt her.
The couple also noticed while at the shelter something was wrong with Zena's teeth, stating if they had not realized, it could have been fatal. The shelter was quick to handle the surgery and she has since returned to her forever home all safe and sound.
As far as the rest of Zena's transition to her new home, Kerbler said it was more seamless than they imagined. Viewers can see Zena happy as can be at home with her siblings on Kerbler's October 28 TikTok video, posted to the account @kaylan_kerbler.
They were originally unsure how Zena would react to Miya and Lola but all three have become best friends. Kerbler said Zena and Miya are attached at the hip, looking out the window together and sleeping together.
Lola will even cuddle and run around the house with them. They move around as a pack.
"The reason why I made the video to spread awareness that shelter dogs aren't aggressive," said Kerbler. "There are very loving, sweet dogs…They all deserve a chance."
Shelter Numbers
The Franklin County Animal Shelter, the largest county shelter in Ohio, had a total of 269 adoptions occur in September, according to the shelter's website. The shelter currently houses 158 dogs who are looking for their forever homes.
Each year 6.3 million pets are surrendered to U.S. shelters, which is an average of 17,260 a day, according to the American Society for the Prevention of Cruelty to Animals. The number of dogs and cats taken in by pet shelters hit 46,807 during January 2023, an increase of 1,744 compared with January 2022, the 24Pet "Shelter Watch Report" found.
Around 920,000 surrendered animals are euthanized every year. Shelters are striving to minimize euthanasia rates by promoting adoption campaigns, spaying and neutering programs, and behavior rehabilitation.
Do you have funny and adorable videos or pictures of your pet you want to share? Send them to life@newsweek.com with some details about your best friend and they could appear in our Pet of the Week lineup.
Uncommon Knowledge
Newsweek is committed to challenging conventional wisdom and finding connections in the search for common ground.
Newsweek is committed to challenging conventional wisdom and finding connections in the search for common ground.