The biggest question surrounding the Chicago Bears ahead of Tuesday's NFL trade deadline seemed to be where the franchise would send cornerback Jaylon Johnson, who recently received permission to seek a change of scenery.
But the Bears turned out to be buyers at the deadline rather than sellers.
Chicago held on to Johnson and made a Halloween splash by acquiring defensive lineman Montez Sweat from the Washington Commanders, pending a physical, in exchange for a 2024 second-round pick. Sweat, who is in the final year of his contract, has 35.5 sacks — including 6.5 this season — and 47 tackles for loss over his five-year NFL career.
"Montez is a huge addition to our team," Bears general manager Ryan Poles said in a release announcing the trade. "He is not only a great player, but a great person. We expect him to help elevate our defense."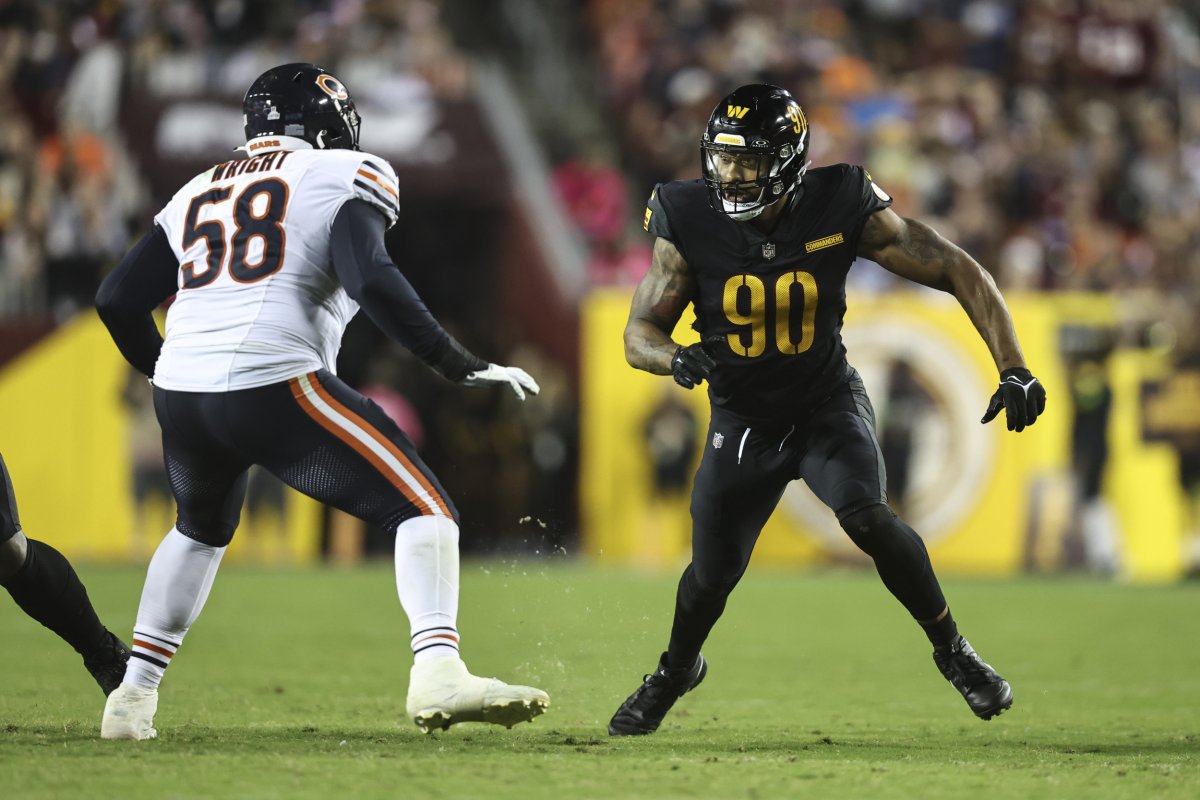 The 27-year-old will undoubtedly bolster a Bears defensive unit that ranks last in the league in sacks and 30th in pressures this season. But at what cost? A 2-6 team trading a valuable draft asset in exchange for an impending free agent hasn't been popular in all circles.
Here's a look at some of the reactions to the deal.
Sweat Immediately Chicago's Best Edge Rusher
The Commanders trading Sweat to the Bears was the first domino to fall on Tuesday ahead of the 4 p.m. ET trade deadline. But it wouldn't be the last involving a standout member of the franchise's defensive front.
Washington already has more than $150 million committed to defensive tackles Jonathan Allen and Daron Payne over the next four years. So the Commanders opted to swap Sweat and Chase Young — who was dealt to the San Francisco 49ers — for draft compensation immediately rather than worrying about either player long term.
And the Bears must have seen an opportunity they couldn't pass up.
Sweat would rank first, or tied for first, among Bears edge defenders this season in sacks (6.5), total pressures (27), QB hits (four), and pass-rush win rate (10.6 percent), according to Pro Football Focus.
"I'm excited," Bears tight end Cole Kmet told CHGO Sports of the Sweat trade. "Obviously we went up against them a couple weeks ago. They have a really good defensive front. He's one of those leaders up there. Excited to get him here in Chicago. I know the defensive guys are going to be excited about it. Cool to see an addition here before the trade deadline."
Chicago trading a second-rounder for a soon-to-be free agent indicates that the franchise is confident in its ability to sign Sweat to a new contract. The Bears are projected to have the most cap space in the NFL this offseason with over $110 million, per ESPN, and seemingly wanted to get a head start on signing Sweat before free agency.
NFL draft expert Matt Miller supported Chicago's decision to acquire a proven pass-rusher now rather than take a chance with the upcoming class.
"The 2024 draft class is good at edge but not great," Miller said on X, formerly Twitter. "And the chance of finding a player of Montez Sweat's caliber in round two is slim to begin with. The Bears had money to spend and the biggest team-need on paper was edge-rusher. I really like that deal for them."
Risky for Bears to Part With Draft Pick
Bears fans can take comfort in the fact that this year's trade deadline acquisition can't turn out much worse than the one Chicago made last year.
Chicago sent a second-round pick to the Pittsburgh Steelers for wide receiver Chase Claypool last season. And Claypool's tenure with the Bears is already over. The 6-foot-4 receiver caught only 18 passes in 10 career games for Chicago before being dealt to the Miami Dolphins for a 2025 pick swap. The pick Chicago sent Pittsburgh ended up being the 32nd overall selection in the draft. The second-rounder the Bears traded to Washington is currently slated at No. 35.
But reminiscing about an unfortunate trade isn't the only negative reaction surrounding Chicago's decision to acquire Sweat.
ESPN's Seth Walder listed several reasons on X as to why he thinks this was a poor move by the Bears. Walder criticized Chicago for making the trade when it could have signed Sweat or another top pass-rusher in free agency without having to part with a second-rounder, or drafted a cheaper option instead.
"Legitimately horrendous trade by the Bears," Walder posted.
NFL Media's Adam Rank and FS1's Nick Wright both questioned Chicago parting with a second-round pick in the deal. Wright pointed out that the 49ers only sent a third-rounder for Young, though the former No. 2 overall pick's injury history may have factored in.
In their trade deadline grades, CBS Sports gave the Commanders an A- for the Sweat deal, while the Bears received a C-. The Sporting News gave Washington an A+ and Chicago a C-, while USA Today graded the Commanders out at an A- and the Bears at a B-.
Uncommon Knowledge
Newsweek is committed to challenging conventional wisdom and finding connections in the search for common ground.
Newsweek is committed to challenging conventional wisdom and finding connections in the search for common ground.