Philadelphia 76ers president of basketball operations Daryl Morey has long been one of James Harden's most ardent supporters.
Morey was the general manager in Houston when Harden and the Rockets were a contender, and for years, he built the franchise around the superstar guard's singular ability to hit 3-pointers and score a lot of points in a historically efficient way. Later, after Morey took charge of the Philadelphia 76ers, he brought Harden in again, pairing him with Joel Embiid.
All of that support is part of the reason Harden's trade request this offseason was so shocking. According to ESPN, Morey is such a fan of his long-time guard, he commissioned a life-size portrait of Harden to hang in his home in 2018. The painting, which traveled with Morey from Houston to Philadelphia and still hangs in his living room, is highly detailed and features several homages to Morey's obsession with statistics. The formula for true shooting percentage runs along the 3-point line, while much of Harden's portrait is made up of orange and red marks that represent the hot spaces on a player's shot chart.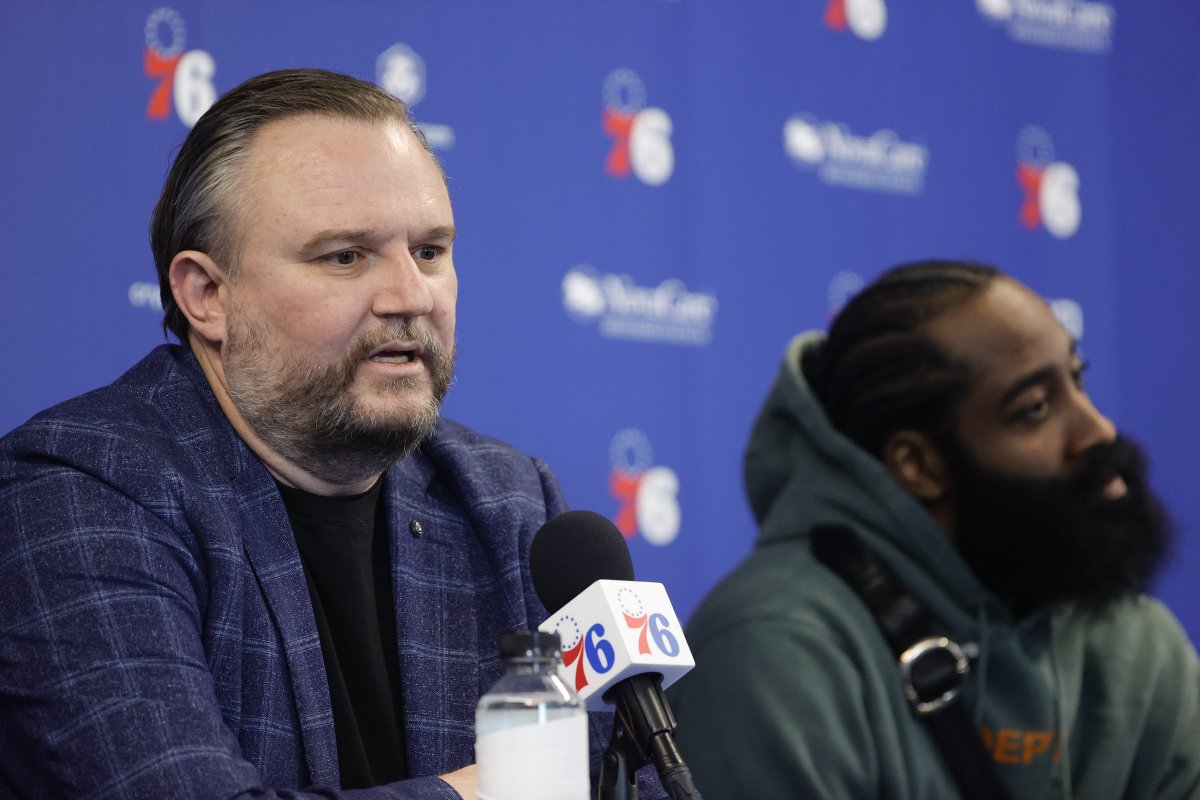 Morey told ESPN he doesn't plan to take the portrait down, despite the events of the past summer. He called it one of his most prized possessions.
"James changed my life," Morey told Ramona Shelburne. "He's one of the all-time greats. As time goes on, people will think about him in much more historic terms. What he did to change the game and change the NBA will get recognized more as the Twitterverse and the people who don't understand how good he is, fade away."
For his part, Harden reportedly believed the Sixers only planned to offer him a two-year deal. As a result, he made the situation untenable. At an Adidas event in China, Harden called Daryl Morey a "liar" and said he would never again be part of an organization led by Morey, then repeated himself to make his thoughts doubly clear. Later, he was present at a party in Houston where a "Daryl Morey is a liar" sign went viral.
On Monday evening, the seemingly inevitable finally took place: Harden, P.J. Tucker and Filip Petrusev were dealt to the Los Angeles Clippers for draft picks, Marcus Morris, Nic Batum, Robert Covington and K.J. Martin. Harden joins Kawhi Leonard and Paul George in pursuit of a title for the Clippers. The 76ers will now try to build a contender around Joel Embiid and emergent guard Tyrese Maxey.
At a press conference on Wednesday, Morey wished Harden well and said the Sixers are glad he's in the Western Conference where they won't have to face him on a playoff run until the NBA Finals.
"There's always questions like, 'How do I feel?'" Morey told reporters. "But who cares, honestly? The fans should care about: Do we win games? Are we on our path to win a championship? It's not about me. It never should be about anyone in the front office. It's about the players and winning games, and winning the title."
Uncommon Knowledge
Newsweek is committed to challenging conventional wisdom and finding connections in the search for common ground.
Newsweek is committed to challenging conventional wisdom and finding connections in the search for common ground.