Donald Trump Jr. on Wednesday took the stand in his father's business fraud trial in New York, and his testimony was marked by several instances of him stating he didn't remember details or events.
New York Attorney General Letitia James is suing former President Donald Trump for $250 million, accusing him of inflating his net worth by billions of dollars to obtain benefits such as better bank loans and reduced tax bills. Trump maintains his innocence in the case and has accused prosecutors of targeting him for political purposes.
James compelled testimony from Trump's three eldest children in the business fraud lawsuit. Trump Jr., who has served as an executive vice president of The Trump Organization after joining in 2001, was the first of the former president's children to testify in the civil trial.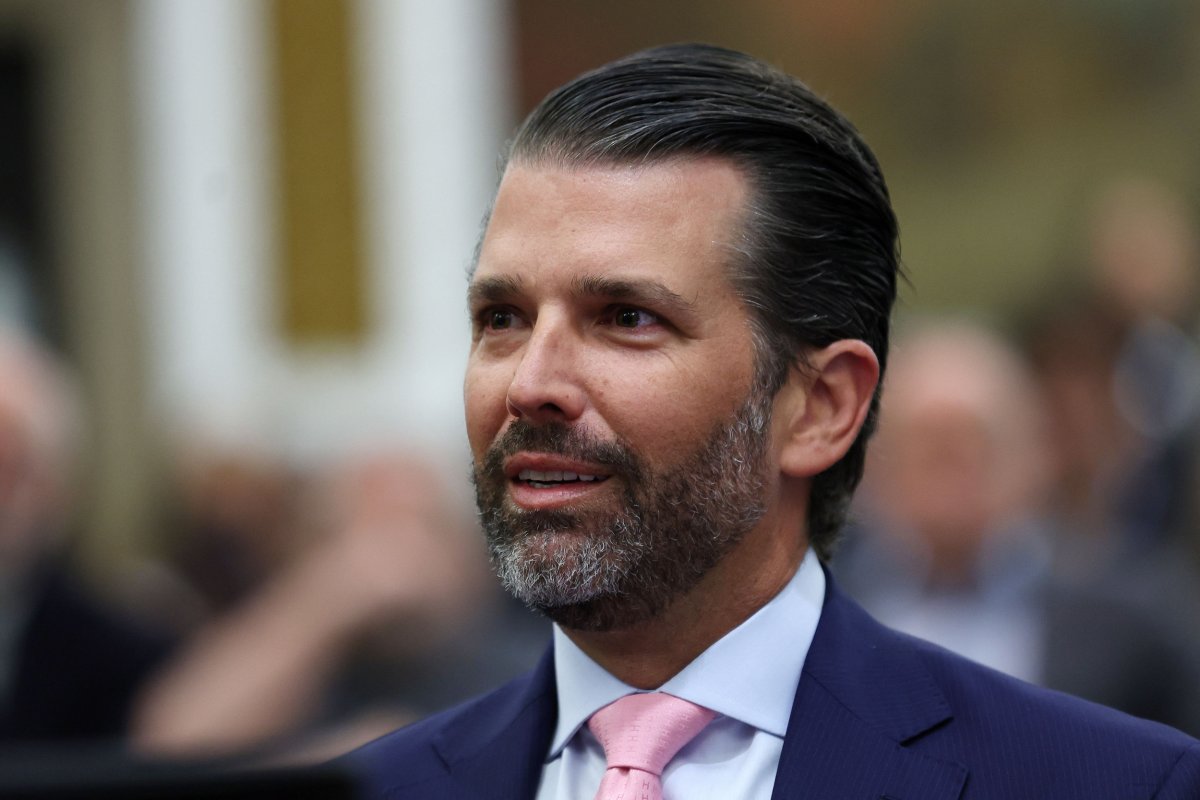 During his testimony, Trump Jr. insisted that he did not "recall" the answer to more than one question involving his father and the family business. When asked whether he worked on his father's statement of financial condition—a document central to the fraud case—he responded, "not that I recall."
Trump Jr. also expressed uncertainty about the timeline of events concerning the Donald J. Trump Revocable Trust, which holds the former president's assets. He claimed to have no memory of a brief period in 2021 when he was removed, then restored as a trustee.
Prosecutors responded by producing a 2014 document showing that Trump Jr., his father and former Trump Organization Chief Financial Officer Allen Weisselberg were listed as trustees and responsible for the contents of the financial statement.
After being directly asked whether his father was still a trustee, Trump Jr. said, "I don't recall." He also said that he had "no understanding" of accounting practices and heavily relied on company accountants in business dealings.
Newsweek reached out for comment to the office of James on Wednesday evening.
Trump Jr. did answer some questions about his role in The Trump Organization during his testimony and joked that he "should have worn makeup" when he was photographed after taking the stand.
New York State Supreme Court Justice Arthur Engoron told Trump Jr. to speak more slowly at one point during his fast-paced testimony, prompting him to apologize and say that he "moved to Florida but kept the New York pace."
The former president called Engoron, who has already ruled that Trump is liable for fraud, "a disgrace to the legal profession" in a Truth Social post hours before the trial resumed on Wednesday. He also warned the judge to "leave my children alone."
Trump Jr. is expected to continue his testimony on Thursday. Eric and Ivanka Trump are both scheduled to join their brother by testifying at the trial next week.
In addition to the New York trial and other civil cases, the former president is facing 91 felony charges across four criminal indictments. He has pleaded not guilty to all charges and claims that all of his legal troubles amount to "election interference" as he campaigns in the 2024 presidential election.
Uncommon Knowledge
Newsweek is committed to challenging conventional wisdom and finding connections in the search for common ground.
Newsweek is committed to challenging conventional wisdom and finding connections in the search for common ground.