Tom Brady knows a little bit about how to stay healthy and productive in the NFL for a long time.
After all, only six NFL players have played 23 or more seasons, and Brady is one of them. He threw for 4,694 yards in his final season with the Tampa Bay Buccaneers at age 45 and won his sixth and final Super Bowl at age 43.
So if Buffalo Bills quarterback Josh Allen hopes to have a long NFL career, the 27-year-old might do well to listen when Brady described (in no uncertain terms) one key to longevity that Allen might be ignoring.
"I think sometimes … he wants to run it because he knows he can gain yards," Brady said on his Let's Go podcast Monday. "There's a lot of confidence in it. But the only problem is, from my standpoint, you're putting yourself in harm's way. And when you put yourself in harm's way, it doesn't take much for someone to land on you. …
"Not that he shouldn't run, but when he does run, f—ing slide and make sure no one hits you, because I don't ever want to see him ever get hurt and I want to see him out there playing out there because he's such a f—ing stud, and he can do a lot of things I couldn't do back there, but at the same time, I want to see him play another 10-12 years and really see how he can maximize potential."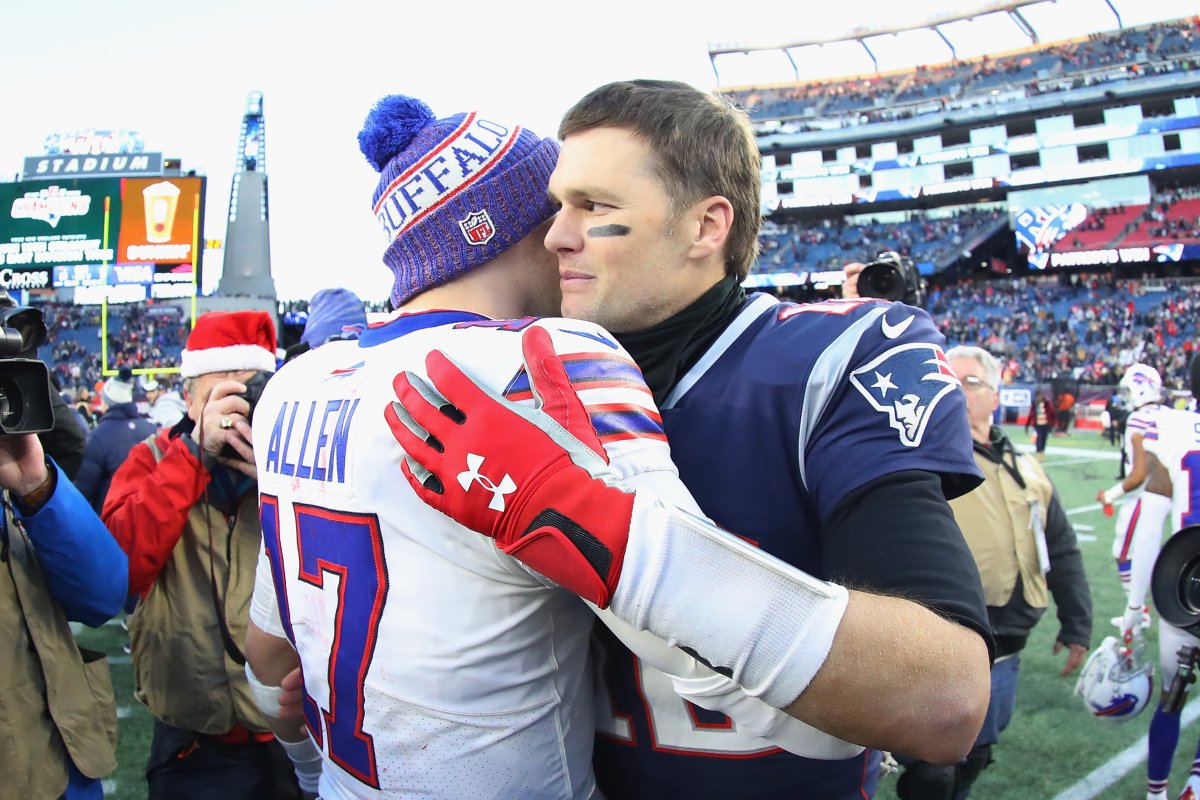 Allen, who appeared on the podcast with Brady and co-host Jim Gray, admitted that sliding isn't something he wants to do when he's at his most competitive.
"That's where the flip for me is so hard to turn off, because I just care so much about winning football games," Allen said. "Sometimes it does cause the risk to be a little bit higher than maybe even the reward."
Allen is much more likely to rush for yards than Brady ever was. Just six years into his career, Allen (3,276 yards) has nearly tripled Brady's output in 23 seasons as a rusher (1,123 yards).
Brady acknowledged with a smile that Allen is always going to do things his own way.
"He's like my oldest son," Brady said. "I try to tell him, but in the end, he's just got to do it his way. Speaking from a few experiences, he still wants just to do it his way."
Gray needled Brady by reminding him that Allen is significantly closer in age to Brady's 16-year-old son Jack than he is to the 46-year-old Brady.
"I can add too," Brady quipped. "You don't need to add that. You're right."
Still, Brady wanted to make sure his point was understood: Playing quarterback often means doing your best to mitigate risk.
"For example, you could throw a ball into tight coverage and go, 'You know, look, sometimes, you've just got to make throws into tight coverage,'" Brady said. "Or sometimes, you can just throw the ball to a guy that may be a little bit more open and gain a few less yards. That's my point. We have to sometimes make decisions in certain moments to check the ball down, or to gain a few yards and move on."
Allen and the Bills take on the Cincinnati Bengals at 8:20 p.m. ET Sunday on NBC.
Uncommon Knowledge
Newsweek is committed to challenging conventional wisdom and finding connections in the search for common ground.
Newsweek is committed to challenging conventional wisdom and finding connections in the search for common ground.