A Mississippi woman has found herself with a new frequent guest after the local tomcat began making regular appearances in her home via the doggy door.
Stephanie had observed the elusive tomcat wandering around her neighborhood for approximately a year, often spotted loitering in her carport. However, it wasn't until the end of October that she realized the feline intruder had made himself at home indoors, too.
"I noticed cat prints on my fridge around the 27th October, but officially saw him on the 31st," she told Newsweek.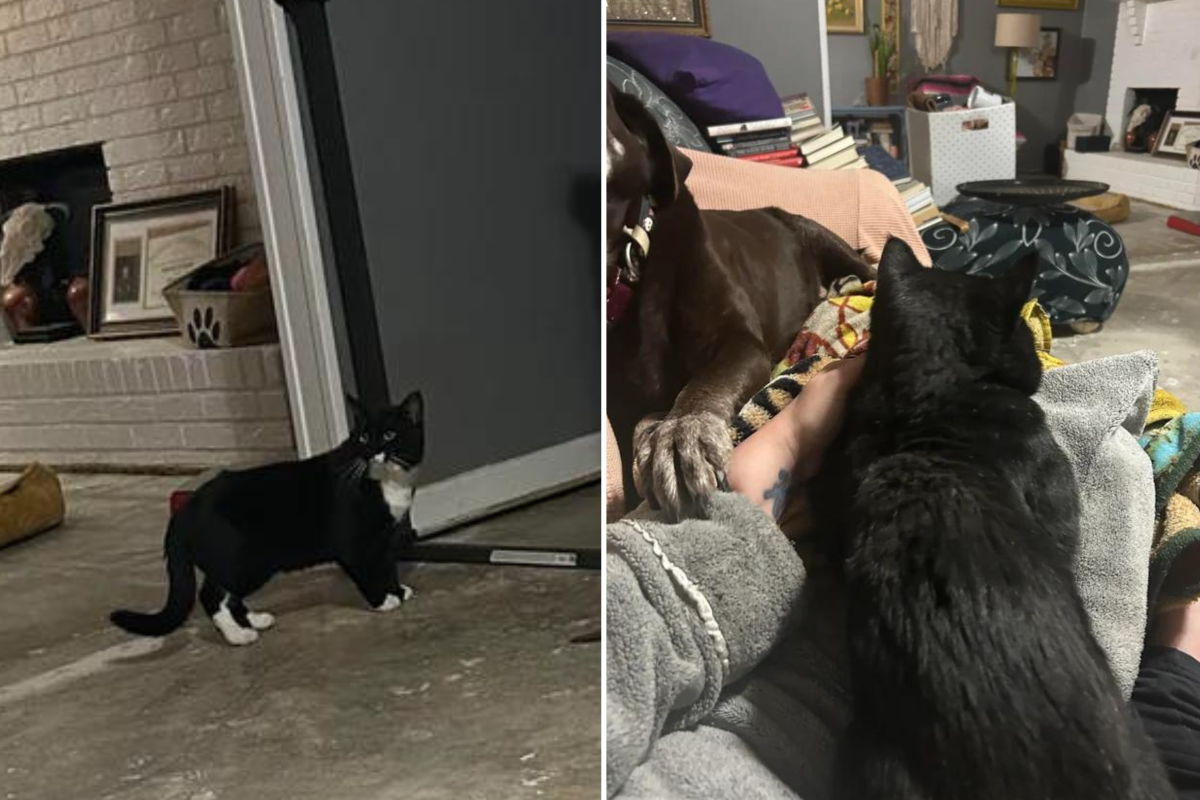 "I'm starting to think my dog was in on it too because she was way too comfortable with him from the start," Stephanie laughed. Her dog, it seems, had no qualms about the uninvited guest in the house.
The unnamed black and white tomcat keeps making himself at home, even sitting on top of Stephanie's knee and curling up near her dog.
Though Stephanie remains uncertain about how to handle the situation, she's considering some proactive steps. "I mean honestly, I'm not sure what I will do," she said. "[I'll] definitely get him neutered and any vaccines, and flea and tick prevention. He seems trusting, but it's a different game when the cat carrier comes out, so we will see."
While trying to figure out her next steps, she took to Reddit's r/cats community to ask for advice.
"So this big guy has figured out my dog door and has been squatting in my house," she said on Reddit, alongside two pictures of the adorable culprit. "He's clearly being fed and is adorable, but I don't want him hanging in my house."
"I reached out to Reddit because, well, I'm a big Redditor, so why not," she explained. "I've never dealt with this, and the great thing about the internet is I know someone else has. Responses have been very helpful and also funny and cute."
The post quickly gained attention, accumulating more than 9,000 upvotes and hundreds of comments from people sharing their feline visitor experiences and offering suggestions for what she can do next.
"First thing I'd do is have words with the dog. The whole 'protect the house' things seems to have fallen off his radar," joked Reddit user Meatrocket_Wargasm. While user Bryllant said it was just time for Stephanie to accept that she had a cat now: "Congratulations, you have been selected by an awesome cat."
"You're a guest in his home now," agreed dxing2.
St2826 advised: "[The first] step is to take him to your vet to see if he is chipped, if not you could then get him neutered so he doesn't spray your house—it will also be so good for him, no more fighting over the ladies and lots of health benefits.
"You could set him up with a nice little house of his own outside and feed him there in the hope he won't come inside your house?" she added. "A doggy door with a chip so only pooch can get inside? But your best option would be to accept you have been chosen and let him live a happy comfy life with you."
With the help of online strangers, Stephanie is determined to find a harmonious solution for herself and her new feline friend, who has gained a place in hearts all over the internet.
Do you have funny and adorable videos or pictures of your pet you want to share? Send them to life@newsweek.com with some details about your best friend and they could appear in our Pet of the Week lineup.
Uncommon Knowledge
Newsweek is committed to challenging conventional wisdom and finding connections in the search for common ground.
Newsweek is committed to challenging conventional wisdom and finding connections in the search for common ground.