Former President Donald Trump on Thursday took the stage at a rally in Houston, Texas, to a song recorded by a group of jailed men facing charges in the January 6 siege on the U.S. Capitol.
"Thank you very much, and you know what that was," Trump said of the song, which played after a rendition of "God Bless the USA" by country star Lee Greenwood. "I call them the 'J6 hostages,' not prisoners."
The song, "Justice for All," is credited to a group known as the J6 Prison Choir. The track consists of a rendition of "The Star-Spangled Banner" interspersed with Trump reciting the pledge of allegiance. Upon's the single's release in March of this year, it quickly rose to No. 1 on the iTunes singles chart, which Trump referenced in Houston.
"When that came out, it went to the No. 1 song. It was beating everybody. It beat Taylor Swift. It beat Miley Cyrus," he said.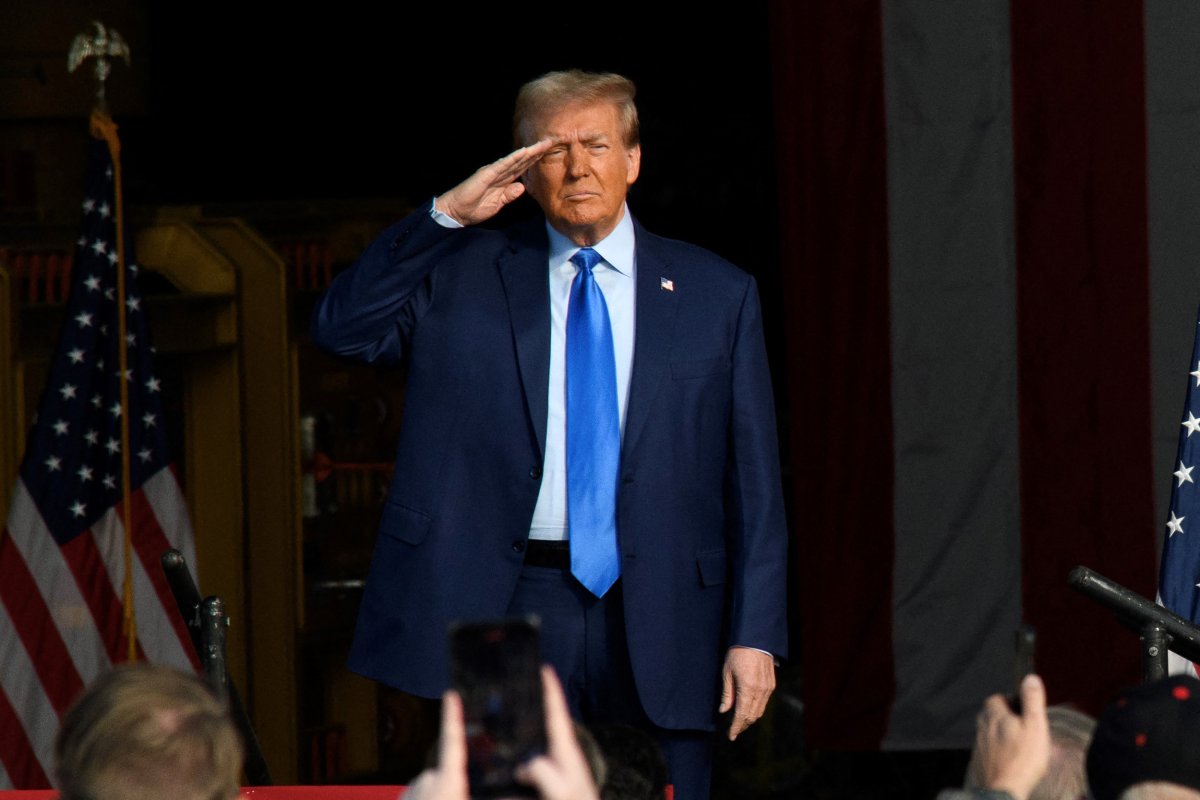 The X, formerly Twitter, account for Republican Accountability posted a clip of Trump onstage as "Justice for All" ends before he offers his words of praise for the J6 Prison Choir song.
When "Justice for All" was released, a video for the song premiered on Steve Bannon's War Room podcast. The clip includes moments from Trump's time in office blended with footage of the 2021 attack on the Capitol.
The video ends with the words, "supporting certain prisoners denied their constitutional rights" on the screen, and profits from the track are reportedly donated to the legal aid of people incarcerated in the January 6 riot.
When the single topped iTunes, Trump reacted with a post on his Truth Social media platform that simply read: "Wow!"
Newsweek reached out to a representative for Trump via email for comment Thursday night.
Trump has frequently called for those incarcerated over January 6 to be released. He has also stated that he would consider pardoning the sentences of those convicted if he wins back the presidency in 2024.
During his speech to the Houston crowd, Trump promised to cancel President Joe Biden's "electric vehicle mandate," as well as referenced rumors that Florida Governor Ron DeSantis, who is also seeking the 2024 Republican presidential nomination, wears lifts in his cowboy boots.
He wrapped up his remarks by praising Texas and encouraging his supporters to vote.
"It's the most important election of your lives," Trump said. "We're going to make America great again. We're gonna make it greater than ever before."
Uncommon Knowledge
Newsweek is committed to challenging conventional wisdom and finding connections in the search for common ground.
Newsweek is committed to challenging conventional wisdom and finding connections in the search for common ground.