U.S. Capitol police officer Harry Dunn issued a warning on Saturday about former President Donald Trump's "lies" that he believed caused the January 6, 2021, insurrection.
On January 6, 2021, at least 2,000 people broke into the Capitol building in Washington, D.C. Thousands of Trump supporters rallied outside to protest the 2020 election results after Trump had claimed, without any evidence, that the election was stolen via widespread voter fraud. More than 1,000 people have been charged, according to the latest data from the Department of Justice (DOJ), including more than 400 accused of assaulting or impeding law enforcement, which is a felony.
The DOJ's Washington, D.C., office said in early September that 623 people had been sentenced, though not all had been given jail time, while about 657 had pleaded guilty to federal charges, "many of whom faced or will face incarceration at sentencing."
During a Thursday campaign rally in Houston, Texas, Trump, who is the frontrunner in the 2024 GOP presidential primary, said: "I call them the J6 hostages. Not prisoners."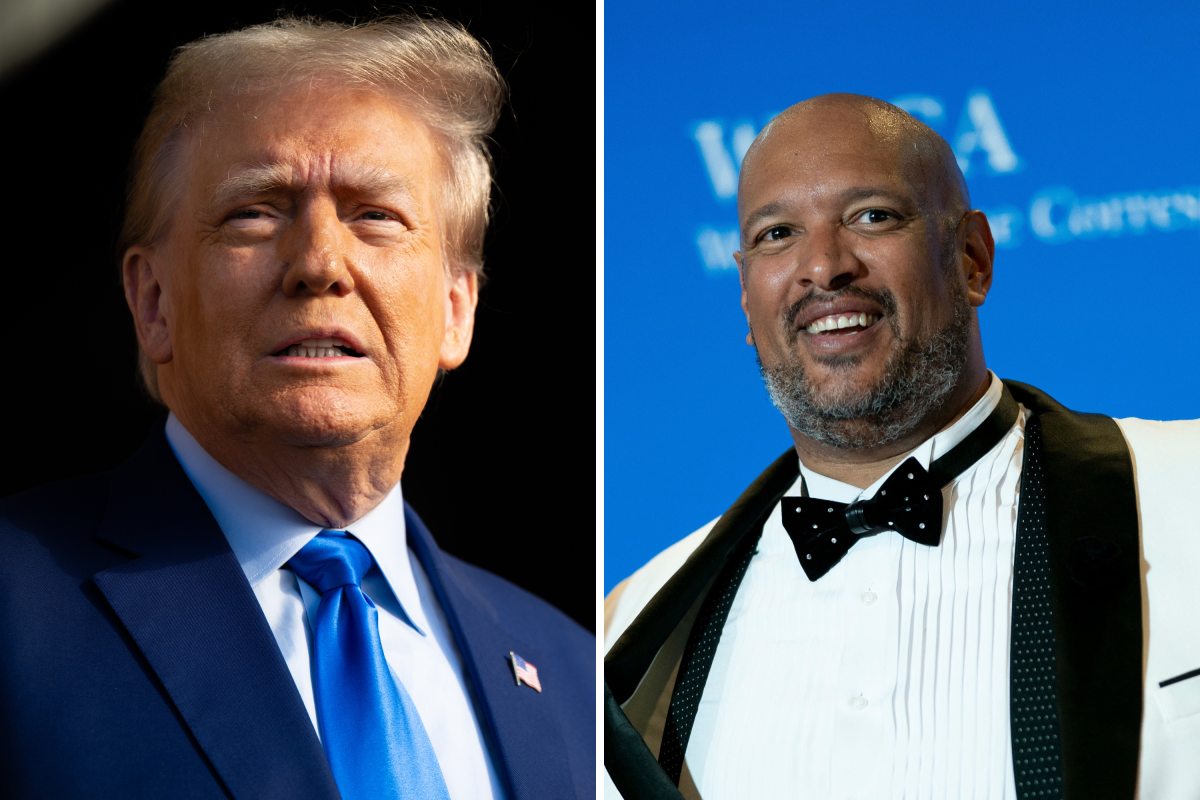 Appearing on MSNBC's The Saturday Show with Jonathan Capehart, Dunn spoke about the former president's comment.
"If they're hostages, they're hostages of his lies and of the MAGA [Make America Great Again] party," Dunn said. "The rhetoric that he spills, that is what this country is a hostage of."
He continued: "A lot of the things they said is just completely lies, not based on any fact or anything. And people are taking it and running with it…That's why people were there on January 6. They thought the election was stolen, despite the evidence showing that it wasn't. There was nothing that proved that it was."
Newsweek reached out to Trump's team and Dunn's agent via email for comment.
Dunn was among the officers who responded to the violent mob that besieged the Capitol and has been lauded as a hero for his efforts in protecting the members of Congress that day. In 2021, he provided testimony to the bipartisan House select committee in charge of investigating the insurrection. During his emotional comments, Dunn recalled being subjected to racial insults from people participating in the riot.
Dunn also said he was still receiving counseling for the trauma he suffered that day and also wrote a New York Times bestseller titled, Standing My Ground about his experience.
In light of the insurrection, Trump's team has been attempting to dismiss federal charges against the former president that accused him of conspiring to overturn the 2020 election. Trump was indicted on four counts by the DOJ, including conspiracy to defraud the United States; conspiracy to obstruct an official proceeding; obstruction of and attempt to obstruct an official proceeding; and conspiracy against rights.
The former president has denied any wrongdoing and pleaded not guilty in the case.
Uncommon Knowledge
Newsweek is committed to challenging conventional wisdom and finding connections in the search for common ground.
Newsweek is committed to challenging conventional wisdom and finding connections in the search for common ground.