House Speaker Mike Johnson has been put "on notice" by EMILYs List, a political action committee aimed at electing women who support abortion rights.
Johnson, a Republican from Louisiana, became second in line to the presidency after being voted in as Speaker by the GOP on October 25, following the ousting of Representative Kevin McCarthy, a Republican from California, on October 3.
Critics have pointed to Johnson's far-right conservative views, and called him an "extremist", when it comes to social issues like LGBTQ+ rights and women's rights.
Before his political career, Johnson served as senior legal counsel for the Alliance Defending Freedom, formerly Alliance Defense Fund, from 2002 to 2010. The ADF has been labeled a hate group by the Southern Poverty Law Center, which states that ADF called for the re-criminalization of sexual acts between consenting LGBTQ adults in the U.S.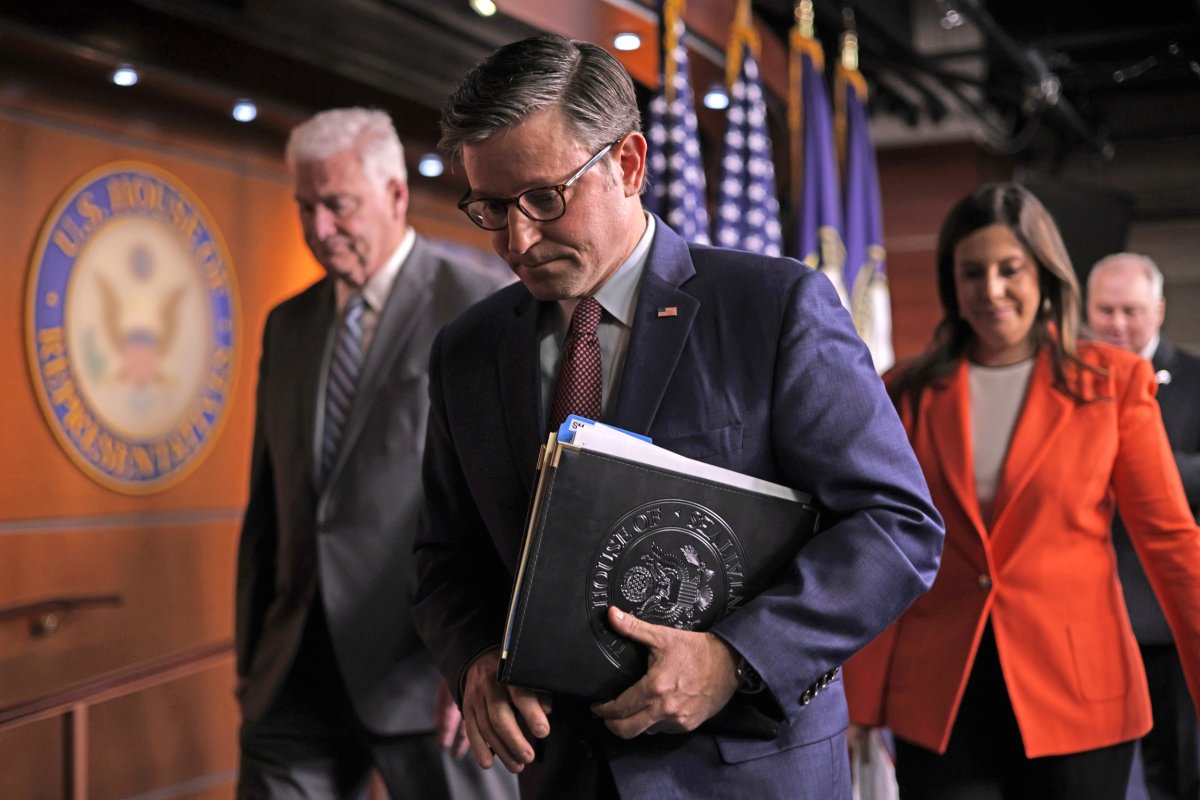 EMILYs List announced on Friday in a press release initially obtained by Punchbowl News that it was putting Johnson "On Notice" for 2024 "along with the 23 of his extremist Republican supporters." This is a list of incumbent representatives who support anti-abortion policies, which includes Lauren Boebert of Colorado, Mike Garcia of California, and George Santos of New York.
The PAC listed Johnson's "radical anti-abortion record" which included the Heartbeat Protection Act of 2021 that he co-sponsored. This bill, which was introduced in February 2021, would make it illegal for physicians to knowingly perform an abortion after determining that a fetus has a detectable heartbeat.
Johnson also co-sponsored the Defund Planned Parenthood Act of 2023, which would restrict federal funding for Planned Parenthood, its affiliates, or its clinics for one year. This bill was introduced in January 2023.
The congressman voted in favor of the Born-Alive Abortion Survivors Protection Act, which passed in the House in January 2023. This bill would require healthcare providers to attempt to preserve the life of an infant if that child is born alive during or after a failed abortion, which is rare.
Additionally, he voted against the Right to Contraception Act, which would protect access to birth control. This was passed in the House in July 2022.
EMILYs List Interim President Jessica Mackler said in the press release: "MAGA Mike Johnson and his supporters have made their plan to ban abortion crystal
clear. Every single one of the Republicans EMILYs List has already put 'On Notice'
voted to install Johnson as speaker, endorsing his radical agenda and showing their true priorities."
Mackler said that women's rights are "in jeopardy" with Johnson and his supporters representing Americans.
"There's no excuse for being, or supporting, an anti-abortion election-denying conspiracy theorist, and our fundamental rights are in jeopardy with this extremist and his supporters in office," Mackler said. "It's more critical than ever that we make our voices heard at the ballot box and vote Democratic pro-choice women into office who will protect our freedoms and fight to ensure every American has access to the reproductive health care they need."
Newsweek reached out to EMILYs List via email for comment.
Uncommon Knowledge
Newsweek is committed to challenging conventional wisdom and finding connections in the search for common ground.
Newsweek is committed to challenging conventional wisdom and finding connections in the search for common ground.