Russian authorities have closely monitored the public reaction to fake reports of the death of Vladimir Putin and may punish those who praised the demise of the Russian president, according to Ukrainian intelligence.
Andrii Yusov, a representative of Defence Intelligence of Ukraine, was responding to the claims emerging last week that Putin had died after a cardiac arrest and that those in his inner circle were planning a body double to replace him. Newsweek has contacted the Kremlin for comment by email.
The rumor emerged after a Telegram post by Russian gossip channel General SVR, which says it has insider Kremlin information. The channel said that Putin had died at his residence in Valdai on October 26, sparking a coup d'état in Russia.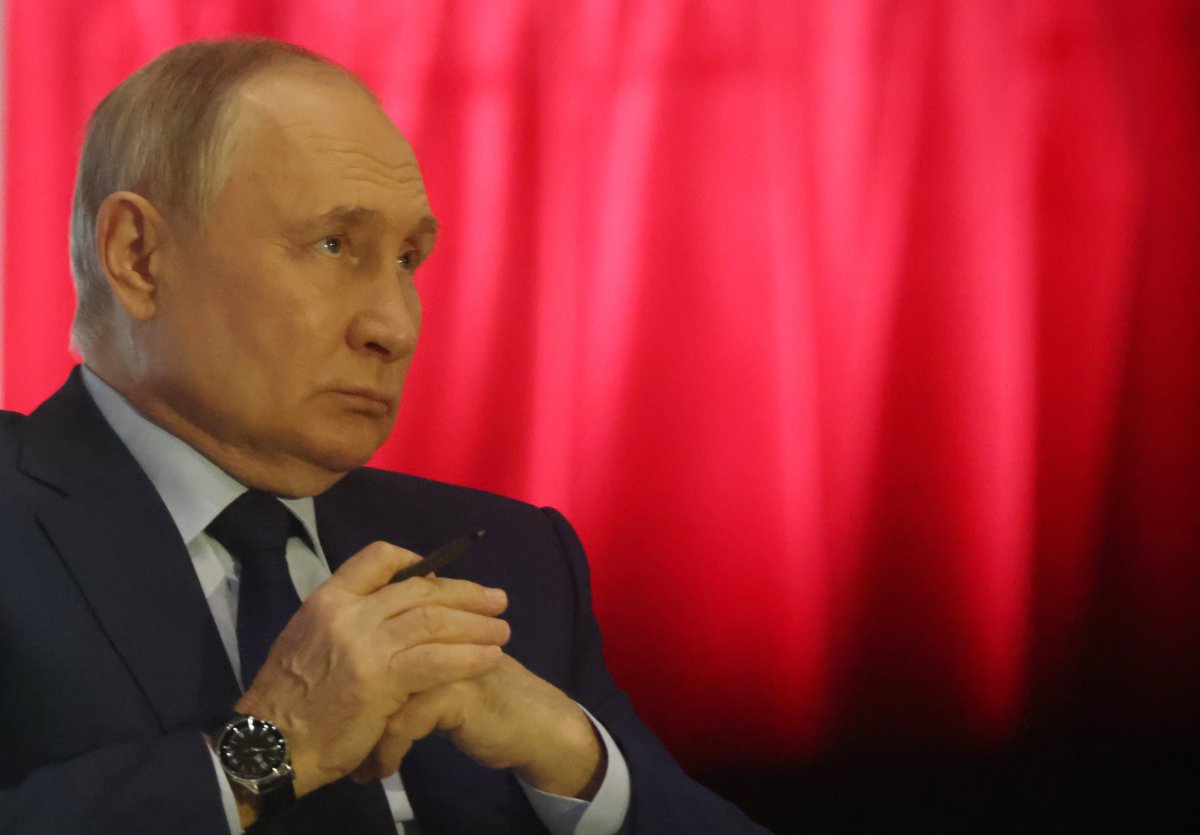 In what could have a plot line borrowed from the 2017 film The Death of Stalin, which satirizes the indecision among the inner circle of the former Soviet leader when he died in 1953, the post said medical staff had been "blocked in the room with Putin's corpse."
The rumors about Putin's alleged demise proliferated online, leading to a spike among Russians using the search terms "dead Putin, dying Putin, and Putin died," according to the Russian investigative site, Agentstvo. Kremlin spokesman Dmitry Peskov eventually called the reports a hoax, and Putin has since been seen in public.
Yusov told the Ukrainska Pravda talk show that Russian secret services had "photographed, literally screenshotted, all public reactions" to the online reports, such as comments and likes.
"Soon, someone will probably come for some of those who put smiley-face emojis under messages about Putin's death," Yusov said in the interview on Friday.
"We must understand that this is a Russian story, a Russian campaign," Yusov added. He was reiterating a point he had made on the same show two days earlier that the rumors of Putin's death had been disseminated by Russian propagandists to test the reactions of ordinary citizens.
In daily posts, General SVR has described the arrangements following Putin's alleged death and, on Friday, said that the head of the Russia's Security Council, Nikolai Patrushev, was planning a work schedule with the president's body double.
"A memorial service for the deceased Vladimir Putin is scheduled for tomorrow," General SVR wrote on Friday. "The former inner circle will gather. A sumptuous dinner has been ordered."
Rumors have abounded since the start of his full-scale invasion of Ukraine about Putin's ill health, with the Kremlin repeatedly saying that the Russian president is in good shape.
Oleksii Danilov, secretary of Ukraine's National Security and Defence Council (NSDC), said that reports about Putin's death were part of his preparations for a presidential campaign in 2024.
In an interview for the Ukrainian magazine Focus, Danilov said that Putin's death would not be enough to bring change within Russia: "If someone thinks that [Putin's death] will end everything, we don't think so. The territory that is modern Russia is saturated with inhumanity."
Uncommon Knowledge
Newsweek is committed to challenging conventional wisdom and finding connections in the search for common ground.
Newsweek is committed to challenging conventional wisdom and finding connections in the search for common ground.