Former President Donald Trump is leading President Joe Biden in five key swing states ahead of the 2024 presidential election, according to polling data published on Sunday.
In a New York Times/Siena College poll conducted from October 22 to November 3, with a sample size of 3,662 registered voters, Trump, who is the frontrunner in the GOP presidential primary, took the lead in a matchup with incumbent Biden in Arizona, Georgia, Michigan, Nevada, and Pennsylvania, despite having multiple criminal indictments.
According to the poll, Trump had a 11-point lead on Biden in Nevada, 52 to 41 percent. In Georgia, where the former president was indicted by Fulton County District Attorney Fani Willis on election inference charges in August, he is ahead of Biden by 6 points, 49 to 43 percent. Trump has maintained his innocence in the Georgia case.
In the 2020 election, Biden won Georgia by 0.2 percent, which was the narrowest margin of victory in the country that year. Following the outcome of the election, Trump claimed that the election was stolen from him, despite there being no evidence to prove this. Trump is also facing criminal charges by the Department of Justice (DOJ) in Washington D.C. for election subversion in its investigation of the January 6, 2021, Capitol riot; however, he has maintained his innocence.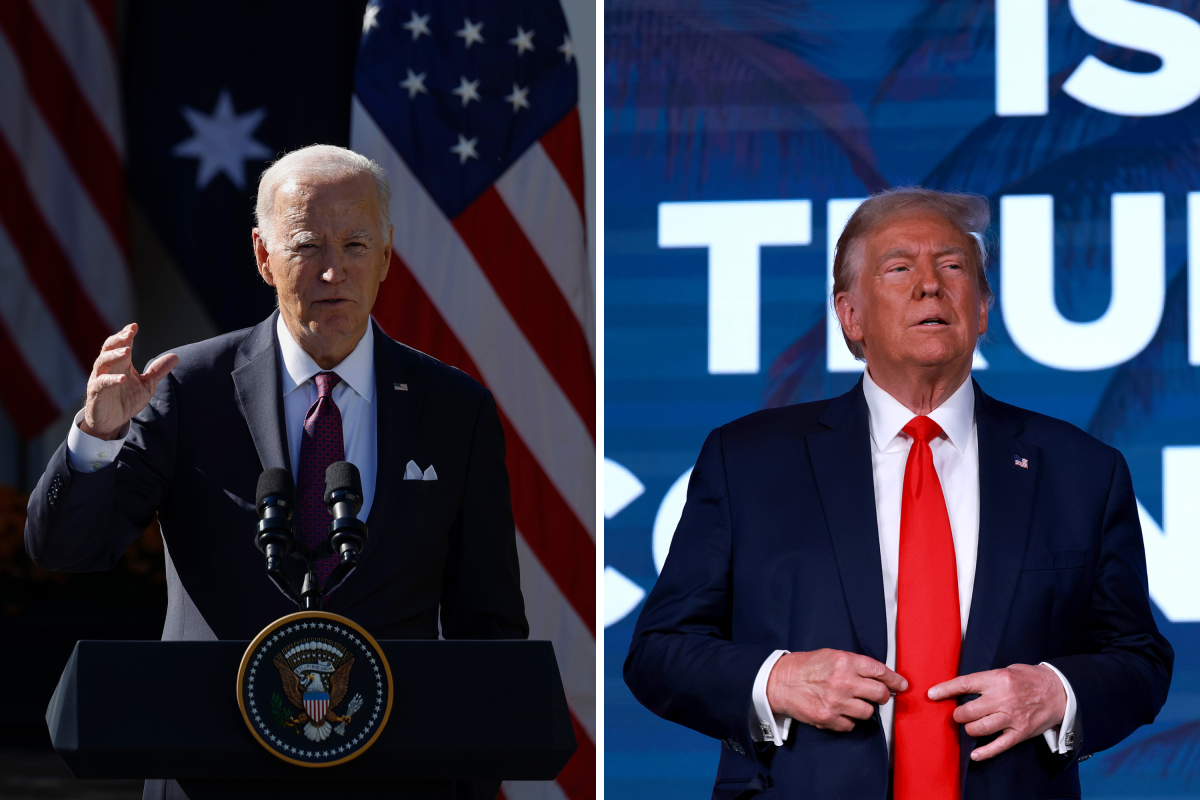 In the new poll, Trump gained 5 points on Biden in Arizona and Michigan, 49 to 44 percent and 48 to 43 percent, respectively. In Pennsylvania, the former president is ahead of Biden by 4 points, 48 to 44 percent. Meanwhile, Biden is leading in Wisconsin, 47 to 45 percent.
Biden won all six of these states in the 2020 election. However in this poll, the president trails behind by an average of 48 to 44 percent.
Kevin Wagner, a pollster and professor at Florida Atlantic University, told Newsweek via email on Sunday, "It is certainly a disconcerting result for the president and Democrats."
"While people are concentrating on the topline presidential race, the implications for the Democratic party are significant as well," Wagner, whose views do not represent Florida Atlantic University, said. "If President Biden cannot get a better result in some of these swings states, it may drag down Democrats in Congressional and state races with important implications for control of Congress and key state legislatures."
He continued: "However, it is important to remember that this is one poll, and it is over a year before the general election. This often means that voters are not concentrating on the race and answers that they give can be highly changeable this far out. In a year, many things can change in the political environment as well causing voters to shift."
When asked if voters approve or disapprove of the job Biden has been doing as president, 59 percent across all six swing states said they disapprove, while 38 percent said they approve.
Biden was seen as favorable by 41 percent of voters in all six swing states and unfavorable by 57 percent. When asked about Trump, 42 percent of voters had a favorable opinion of him while 56 percent did not.
The poll's margin of error when the swing states are joined together is plus or minus 1.8 percentage points for all registered voters and plus or minus 2 percentage points for the likely electorate.
Newsweek reached out to Trump's team and the White House via email for comment.
As Trump continues his campaign for president, he faces an array of legal challenges. He was indicted by the DOJ on 40 counts in relation to allegations he retained top secret and sensitive materials when he left the White House in January 2021, and then willfully obstructed the federal attempt to retrieve the documents from his Mar-a-Lago resort residence in Florida. Meanwhile in New York, Trump was indicted by Manhattan District Attorney Alvin Bragg on 34 counts for falsifying business records concerning hush money he arranged for his former attorney Michael Cohen to pay adult film star Stormy Daniels to keep an alleged affair the pair had a secret before the 2016 election. The former president has maintained his innocence in those cases as well.
Biden has been in some hot water with voters as a majority (approximately 53 percent) in the Times/Siena poll said his policies have personally hurt them, while 35 percent said that his policies have helped them. Additionally, 62 percent of voters believe that Biden does not have the mental sharpness to be an effective president compared to 35 percent who believe he does.
Uncommon Knowledge
Newsweek is committed to challenging conventional wisdom and finding connections in the search for common ground.
Newsweek is committed to challenging conventional wisdom and finding connections in the search for common ground.