A rescue puppy who was left heartbroken after being returned to a shelter less than 72 hours after being adopted has finally got his happy ending.
Newsweek previously reported on the story of Scrabble, a seven-month-old pup who, along with his brother Checkers, was saved from almost certain death at a shelter in Tennessee by a foster carer linked to Shultz's Guest House dog rescue center in Dedham, Massachusetts.
"He was in a high kill shelter," Merrill Fortier, from Shultz's Guest House, told Newsweek. "Our foster carers in the south keep a close eye on euthanasia lists and pull dogs that they see have the opportunity to live a better life and be adopted out through our shelter."
While Scrabble's story up until that point was a painfully familiar one for anyone who has witnessed the rising numbers of dogs in animal shelters across the U.S., his path was to take another devastating twist once he had been adopted.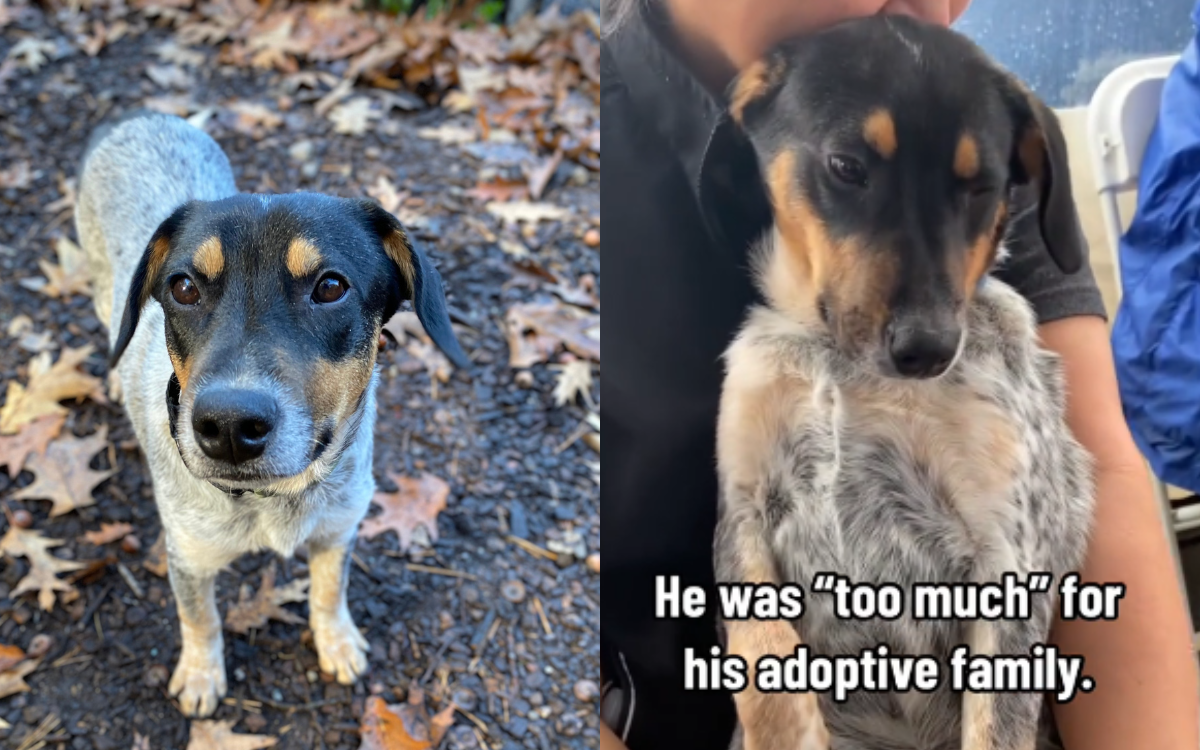 Despite seemingly finding his forever home, within 72 hours of leaving the shelter, Scrabble was back. Heartbreaking footage of the returning pup was posted to the Shultz's Guest House TikTok page, capturing the young dog's sadness and confusion over what was unfolding.
Fortier has seen dogs returned anywhere between 24 and two weeks after being adopted for a multitude of reasons, and despite the best efforts of staff at Shultz's Guest House to vet anyone looking to take on the responsibility of owning a dog.
"All of our adoption coordinators reiterate these aspects prior to adopting, that owning a dog is a lifetime commitment, but the excitement of bringing home a cute new puppy sometimes outweighs the rationale," she said.
Scrabble's situation was made all the more painful by the fact that, while he was desperately trying to find a home, his brother Checkers had already been adopted and was settled with a new family.
Fortier had been at a loss to explain why Scrabble, who was adored by staff as an "incredibly sweet and loving pup" had failed to find a home, particularly after his recent rejection was compounded further when a family who had been keen on taking him home, opted to adopt a 10-month puppy instead.
But then something amazing happened. Buoyed by Shultz's Guest House's social media appeal and the dog's own natural charm, Scrabble was finally adopted and this time it sounds like it's definitely for keeps.
"He has gone to a new home," Fortier said. "He'll be living in North Attleboro with Cindy and David on several acres of land. The family is in love with him and said 'he will never be coming back!'"
Fortier said Scrabble is adjusting well to the change in surroundings and making new friends. He's now called Timmy too.
"He's already settling in very well and curious but respectful of his two kitty siblings," she said. "His new owner's older children live close by and are already in love with him as well!"
Timmy will eventually be reunited with family. "He has connected with the family who adopted Checkers (now Sammy) and they will plan to get together for playdates in the future!"
Fortier said the shelter has been blown away by the response to the social media post. She's now encouraging those who were interested in taking on Scrabble/Timmy to look closer to home for ways they can help.
"Shelter pets everywhere are in need of homes," she said. "So please check and adopt through your local shelter!"
Do you have funny and adorable videos or pictures of your pet you want to share? Send them to life@newsweek.com with some details about your best friend and they could appear in our Pet of the Week lineup.
Uncommon Knowledge
Newsweek is committed to challenging conventional wisdom and finding connections in the search for common ground.
Newsweek is committed to challenging conventional wisdom and finding connections in the search for common ground.