Deion Sanders wanted to be sure he was receiving proper recognition during his press conference on Tuesday. But not as a coach, as a father.
A local reporter asked Sanders for his take, both as a dad and former NFL player, on the professional football outlook for Shedeur Sanders—Colorado's starting quarterback and the 21-year-old son of "Coach Prime." But before the question had even been completed, the Hall of Famer, eight-time Pro Bowler and two-time Super Bowl champion boasted that he's also deserving of some accolades as a parent.
"I'm a great dad," Sanders said. "As a dad, I'm a great dad. So let's stop right there. As a dad, I am ballin'. As a dad, I am a Hall of Famer. As a dad, I'm an All-American. As a dad, I'm a Pro Bowler. As a dad, I'm a flat-out winner. As a dad. Exclamation mark. I'm him."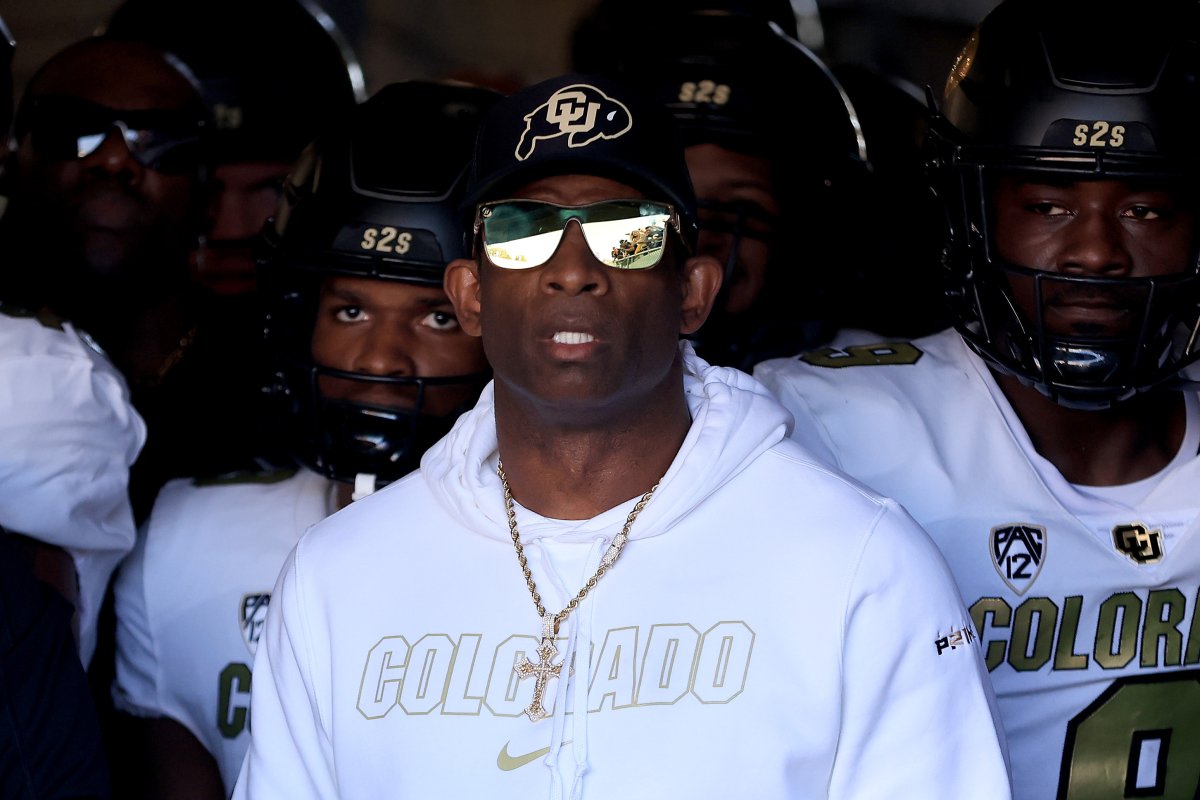 Sanders has quickly become one of the most quotable figures across college football in his first season at Colorado. From comparing himself to Santa Claus to mentioning his previous divorces, Sanders reliably drops a memorable line when speaking with reporters.
And that was no different this week.
The 56-year-old eventually heard the rest of the question, specifically if there would be any reason for Shedeur Sanders to enter the NFL Draft after this season.
"Why would there be when we're having a great time here?" the coach responded. "When we appreciate and we love where we are, it's hard to look at somewhere else."
Shedeur, along with 23-year-old Shilo, are both Deion's sons and starters for Colorado. Both players followed their father from Jackson State and have excelled in their first Power Five seasons. Shedeur Sanders has completed 70.3 percent of his passes for 2,882 yards, 24 touchdowns and only three interceptions despite facing constant pressure behind a weak offensive line. Shilo Sanders, a safety, is second on the team in tackles (48) and has picked off a pass, scored a touchdown and forced three fumbles on defense.
Deion Sanders, who earned national attention when he admitted to ranking his children earlier this season, has been adamant that he wants both players to return for the 2024 college football season rather than enter the NFL Draft. And the topic came up again earlier on Tuesday during an appearance on The Dan Patrick Show.
Patrick asked Sanders if he would like to coach in the NFL, which the former Defensive Player of the Year brushed off. But would that change if he got the opportunity to coach Shedeur and Shilo at the next level?
"Man, I'm trying to win a game," Sanders said. "I'm not thinking down the street that far."
Colorado is 4-5 this season and has lost three games in a row. A 3-0 start that saw the Buffaloes earn a spot in the Associated Press rankings just one year after going 1-11 has since gone downhill, with a 36-point loss to Oregon and a blown 29-0 lead to Stanford particularly painful.
"Coach Prime" and Colorado will host Arizona (6-3) at 2 p.m. ET on Saturday. The Buffaloes need two wins in their final three regular-season games to secure bowl eligibility.
Uncommon Knowledge
Newsweek is committed to challenging conventional wisdom and finding connections in the search for common ground.
Newsweek is committed to challenging conventional wisdom and finding connections in the search for common ground.