New York Attorney General Letitia James was seen cracking up during former President Donald Trump's testimony, according to reporters in the courtroom.
Trump took the witness stand on Monday in the $250 million civil fraud trial in New York that James filed in 2022, alleging that Trump and top executives including his sons at The Trump Organization conspired to increase his net worth by billions of dollars in an attempt to make deals and secure loans.. Trump, his two eldest sons Donald Trump Jr. and Eric Trump, as well as The Trump Organization, are co-defendants in the civil case.
In addition to the New York civil fraud trial and other civil cases, Trump is facing 91 felony charges across four criminal indictments. The former president has denied all wrongdoing and claims that all of his legal woes are due to a political "witch hunt" against him as he campaigns in the 2024 presidential election.
Newsweek reached out via email on Monday to representatives for Trump and James for comment.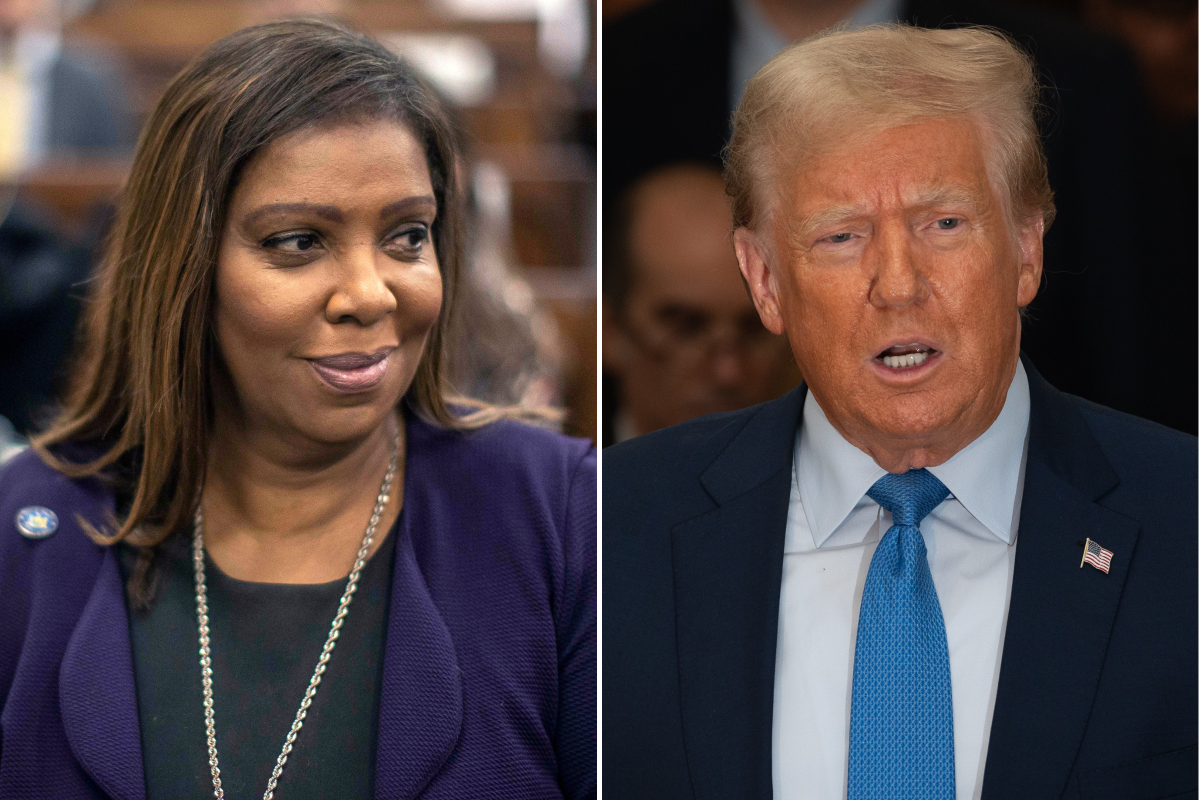 In September, New York Judge Arthur Engoron, who is overseeing the civil fraud trial, ruled that Trump, his adult sons, their businesses, and executives committed fraud. Engoron found that they had overvalued several of Trump's properties and exaggerated his net worth to secure loans and business deals. While the court has yet to rule on six other accusations, including falsifying business records, insurance fraud, and conspiracy claims, the result could see the former president barred from conducting business in the state as well as lose some of his iconic properties, which includes 40 Wall Street.
Trump holds the ground lease for the 72-story, 1930s neo-Gothic property in New York City's financial district, where he leases luxury apartments directly opposite the New York Stock Exchange.
Trump, who has previously blasted James on his Truth Social platform, calling her "corrupt and racist," lashed out at the attorney general while on the stand, prompting her to laugh at one of his comments, according to reporters who were in the courtroom on Monday.
Adam Klasfeld, a senior legal correspondent for news outlet The Messenger, said in a post on X, formerly Twitter, that after Trump claimed James didn't "even know what 40 Wall Street is," the attorney general was seen cracking up in response.
"Trump, on NYAG Letitia James: 'She doesn't even know what 40 Wall Street is," Klasfeld posted. "NYAG is visibly cackling at the remark for a bit, then puts her head down to compose herself."
New York Daily News staff reporter Molly Crane-Newman, who was also in the courtroom, noted in a post on X that James' NYC office is "right next door" to 40 Wall Street.
"Trump says the AG 'doesn't even know what 40 Wall Street is,' getting a laugh out of James," Crane-Newman posted. "Besides investigating Trump's stake in it for ~3 years, her office is literally right next door."
James posted about Trump's testimony on X, saying the MAGA leader "resorted to bullying" on the witness stand.
"This morning, Donald Trump resorted to bullying and name-calling, he gave rambling answers and hurled insults from the witness stand to distract from the truth," the attorney general posted. "But make no mistake, he committed fraud. Numbers and facts don't lie."
On Monday evening, Trump shared a post on Truth Social referring to James as a "political hack."
The trial will resume on Wednesday, with Ivanka Trump expected to testify. Trump's oldest daughter was previously a co-defendant, but was later dismissed. She also fought to prevent herself from being called as a witness, but last month, Engoron issued a ruling compelling her to take the stand.
Uncommon Knowledge
Newsweek is committed to challenging conventional wisdom and finding connections in the search for common ground.
Newsweek is committed to challenging conventional wisdom and finding connections in the search for common ground.