Britney Spears' charming childhood home in Kentwood, Louisiana, has gone on the market—and fans can snap it up for $1.2 million.
The 2,300-square-foot house serves not just as a home but a preserved slice of musical history, thanks to such details as markings on the wall, drawings reportedly sketched by Spears as a child, and the original dance studio where she honed her skills.
Spears' memoir, The Woman in Me, was released in October. The bestselling book saw the pop star, 41, set the record straight on a number of areas of her life that had been speculated on in the decades since she rose to fame. She has also shared experiences that were not previously known to the public.
Set in just under 1.9 acres of land, the ranch-style abode has three bedrooms and three bathrooms, while notable features include an eat-in kitchen with a rustic stone and marble island. The kitchen opens onto the cozy living area.
Much of the original furniture from when Spears lived with her family at the home remains on the property. Listing agent Yvonne Hulsey of Keller Williams Realty Services reveals this in her online description of the house.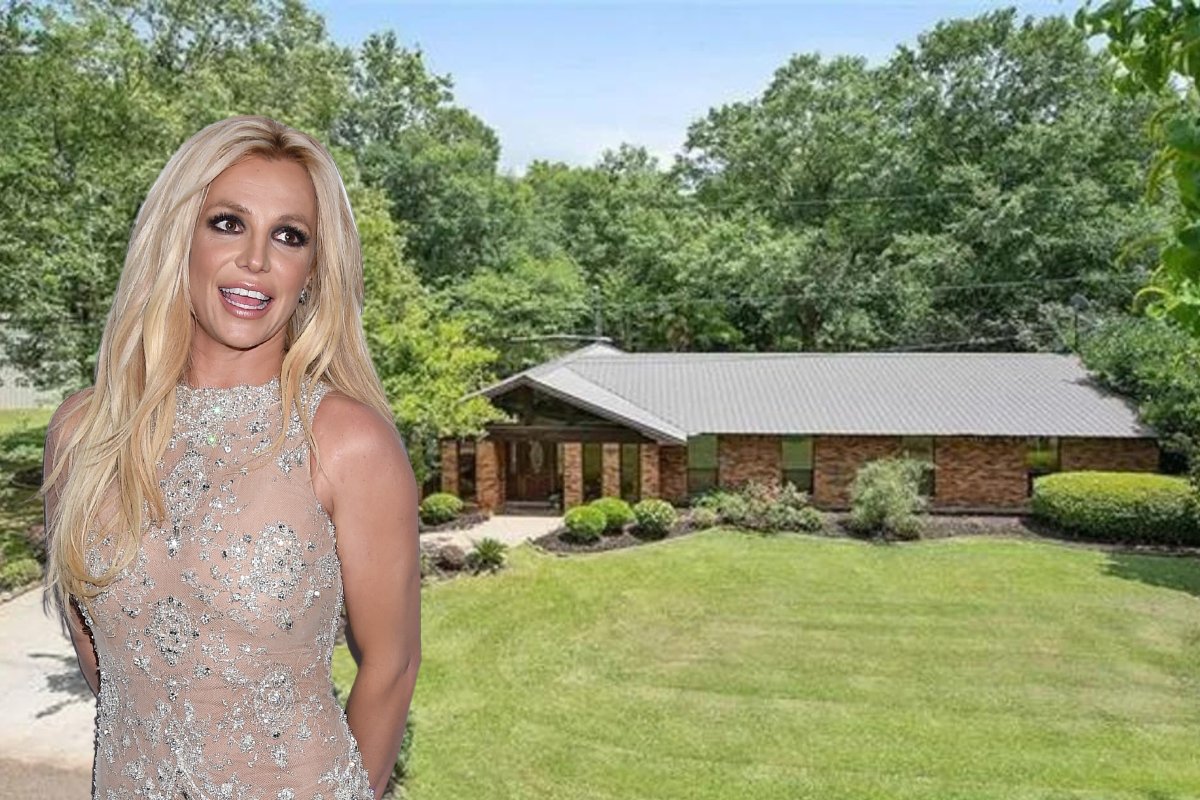 Spears grew up in the house with her parents, Jamie and Lynne Spears, as well as her older brother, Bryan Spears, and younger sister, Jamie Lynn Spears. The property remained in the family until 2021, when it was sold by Jamie Spears for around $275,000.
Outside of the house itself, the property is surrounded by green space that includes mature trees. There is also a furnished porch for incoming residents to relax on.
"We're selling a legacy—we're selling Louisiana history. Pop history. We're not selling square footage," listing agent Hulsey told People magazine.
"This is going to take a unique buyer. An investor," Hulsey added. "Somebody that might want to turn the home into an Airbnb or a museum, or somebody who just wants to own a piece of music history."
Among the history on display are stickers bearing Britney Spears' name, as well as something of a small shrine to NSYNC, the chart-topping boy band in which her ex-boyfriend Justin Timberlake rose to fame.
Another possible nod to an era of music past is a marking on the inside of a cabinet door that reads: "Christina sucks, Brit rules." While the Christina in question isn't specified, it is no secret that Britney Spears and Christina Aguilera were once fierce chart rivals after becoming childhood friends on The Mickey Mouse Club.
Noting one of the house's notable features for music historians, Hulsey said: "You'll see the dance studio that Britney started in when she was 2 years old, and then she ended up teaching aerobics there at 12 years old. That's pretty much where everything began."
In an interview with Conan O'Brien back in 2000, Britney Spears revealed that fans often trekked to visit her home—and took unusual souvenirs.
"At first, it was really weird because I'd be calling my mom up and I would be like, 'Mom, who's at the house?" And she's like, 'Oh, there's just some fans and I'm serving them tea.' I was like, 'What are you doing?'" the singer told O'Brien at the time.
"Sometimes [the fans] would come and steal dirt," Spears added. "I don't know why."
The singer, who was born in and attended school in nearby McComb, Mississippi, wrote about growing up in her family's Kentwood home in her recently released memoir.
"Everyone knew everyone in Kentwood," she wrote. "Doors were left unlocked, social lives revolved around church and backyard parties, kids were put in matching outfits, and everyone knew how to shoot a gun."
"We had a little brick house with green-striped wallpaper and wood paneling," Spears added. "As a girl I went to Sonic, rode go-karts, played basketball, and attended a Christian school called Parklane Academy."
As for the grounds surrounding the home, the singer added that when she was "a little girl I walked for hours alone in the silent woods behind my house in Louisiana, singing songs. Being outside gave me a sense of aliveness and danger."
Writing that she often wandered outside to escape her now-divorced parents constantly arguing, the grounds near Spears' home also became the place where she would dream about a bright future.
"Before going home, I would follow a path to our neighbors' house, through a landscaped yard and past a swimming pool," Spears said. "They had a rock garden full of small, soft pebbles that would trap the heat and stay warm in a way that felt so good against my skin.
"I would lie down on those rocks and look up at the sky, feeling the warmth from below and above, thinking: I can make my own way in life. I can make my dreams come true."
Uncommon Knowledge
Newsweek is committed to challenging conventional wisdom and finding connections in the search for common ground.
Newsweek is committed to challenging conventional wisdom and finding connections in the search for common ground.