Representative Rashida Tlaib is not backing down from her stance on the war between Israel and Hamas despite bipartisan criticism from her colleagues in Congress.
Tlaib, a Michigan Democrat who is the only Palestinian American member of Congress, responded to her critics in a statement released Tuesday morning, ripping her colleagues for efforts to "silence" her.
The congresswoman has been among the handful of elected Democrats calling for a ceasefire in the conflict. She has voiced concerns about the number of civilian deaths in Gaza and has been a leading voice criticizing the Israeli government's treatment of Palestinians in both Gaza and the West Bank.
On October 7, Hamas launched thousands of missiles into southern Israel from the Gaza Strip. Israel subsequently launched its own rockets into Gaza, also cutting off supplies of water, food and electricity. Israeli Prime Minister Benjamin Netanyahu has said his country is at war with Hamas, launching a ground operation into Gaza.
As of Tuesday, 10,300 people have been killed in Gaza, the Associated Press reported citing the Gaza Health Ministry. An estimated 1,400 people have been killed in Israel, the AP said.
Israel has received support in the U.S. from both Republicans and Democrats, including President Joe Biden, as both parties generally view the country as a key ally in the Middle East.
"It's a shame my colleagues are more focused on silencing me than they are on saving lives, as the death toll in Gaza surpasses 10,000. Many of them have shown me that Palestinian lives simply do not matter to them, but I still do not police their rhetoric or actions," Tlaib wrote her statement.
The congresswoman ripped her colleagues for "distorting" her positions in "resolutions filled with obvious lies." She called for a mutual ceasefire, the release of all hostages, the delivery of humanitarian aid and for every American to be returned home.
"I have repeatedly denounced the horrific targeting and killing of civilians by Hamas and the Israeli government and have mourned the Israeli and Palestinian lives lost," she wrote.
Newsweek reached out to Tlaib's office for comment via email.
The statement follows a wave of backlash after Tlaib posted a video featuring the chant "from the river to the sea," a phrase that has different meanings for different groups.
The Anti-Defamation League describes the chant as a "call for a Palestinian state extending from the Jordan River to the Mediterranean Sea, territory that includes the State of Israel, which would mean the dismantling of the Jewish state."
Tlaib views it as an "aspirational call for freedom, human rights, and peaceful coexistence, not death, destruction, or hate," she wrote in a post to X, formerly Twitter.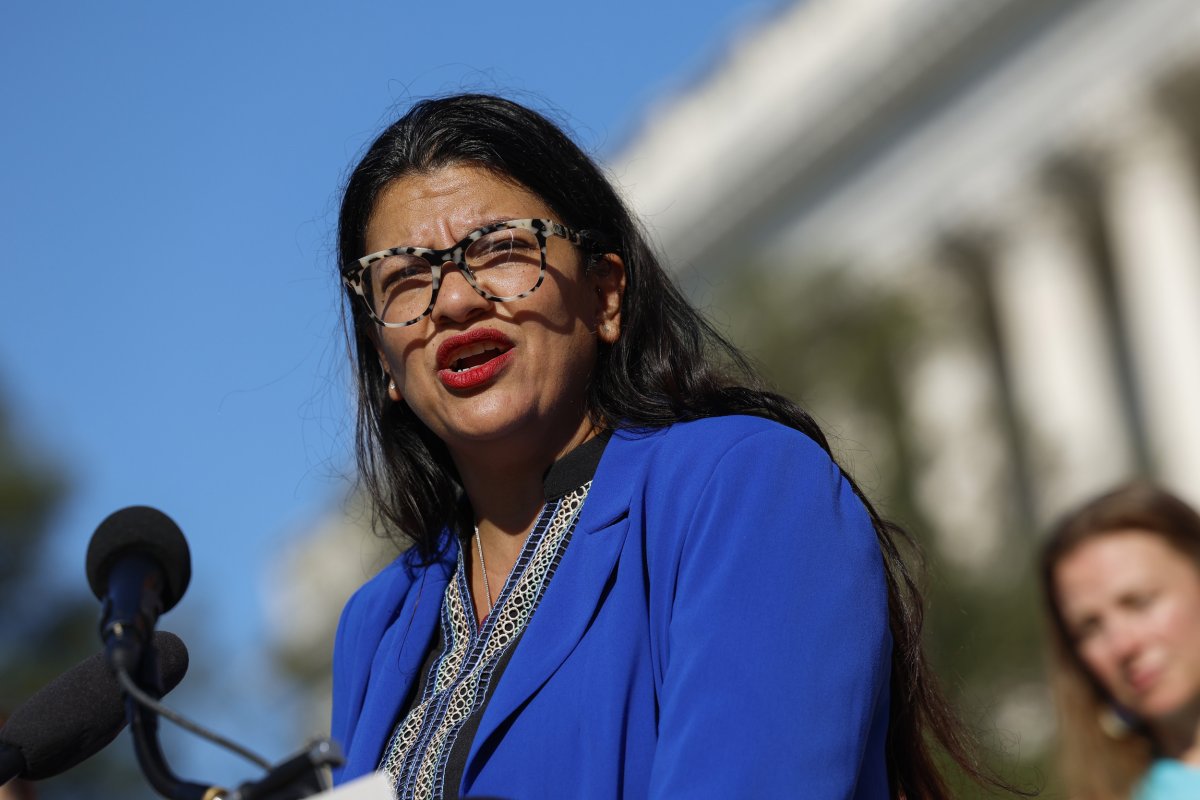 Representative Elissa Slotkin, a Michigan Democrat running for Senate, was among the bipartisan group of lawmakers who criticized her post.
"As the only Jewish member of MI's congressional delegation, I have worked to reach out to Arab & Muslim constituents who I know are feeling fear and anguish right now, & I have tried to reflect that empathy in my approach to this crisis. I ask the same of @RepRashida," Slotkin wrote on X.
"The phrase 'from the river to the sea' is one of division & violence, & it is counterproductive to promoting peace. None of us, especially elected leaders, should amplify language that inflames a tense situation & makes it harder for our communities to find common ground."
On Tuesday, Representative Rich McCormick, a Georgia Republican, introduced a resolution to censure Tlaib over the post. His resolution accuses Tlaib of "promoting false narratives regarding the October 7, 2023, Hamas attack on Israel and for calling for the destruction of the state of Israel."
A previous censure motion introduced by Representative Marjorie Taylor Greene, also a Georgia Republican, failed due to bipartisan opposition.
Uncommon Knowledge
Newsweek is committed to challenging conventional wisdom and finding connections in the search for common ground.
Newsweek is committed to challenging conventional wisdom and finding connections in the search for common ground.