An animal shelter is pleading with people to consider adopting a 12-year-old cat whose previous owner surrendered her when they wanted to get a kitten instead.
After spending her whole life as part of a family, Biscuit thought she was settled forever and that they would see her through her senior years. Unfortunately, when their other cat passed away, the owners chose to surrender Biscuit to Chesapeake Feline Association (CFA) in Maryland, as they were willing to have her put down.
Biscuit is incredibly loving and has no health concerns, so Jaclene Commers from the shelter was devastated by the thought of having her euthanized, just because the new owners wanted a kitten instead. Commers, treasurer of the CFA, told Newsweek that "it's the most heartbreaking thing to witness" when an older cat is surrendered because their owners no longer want to care for them.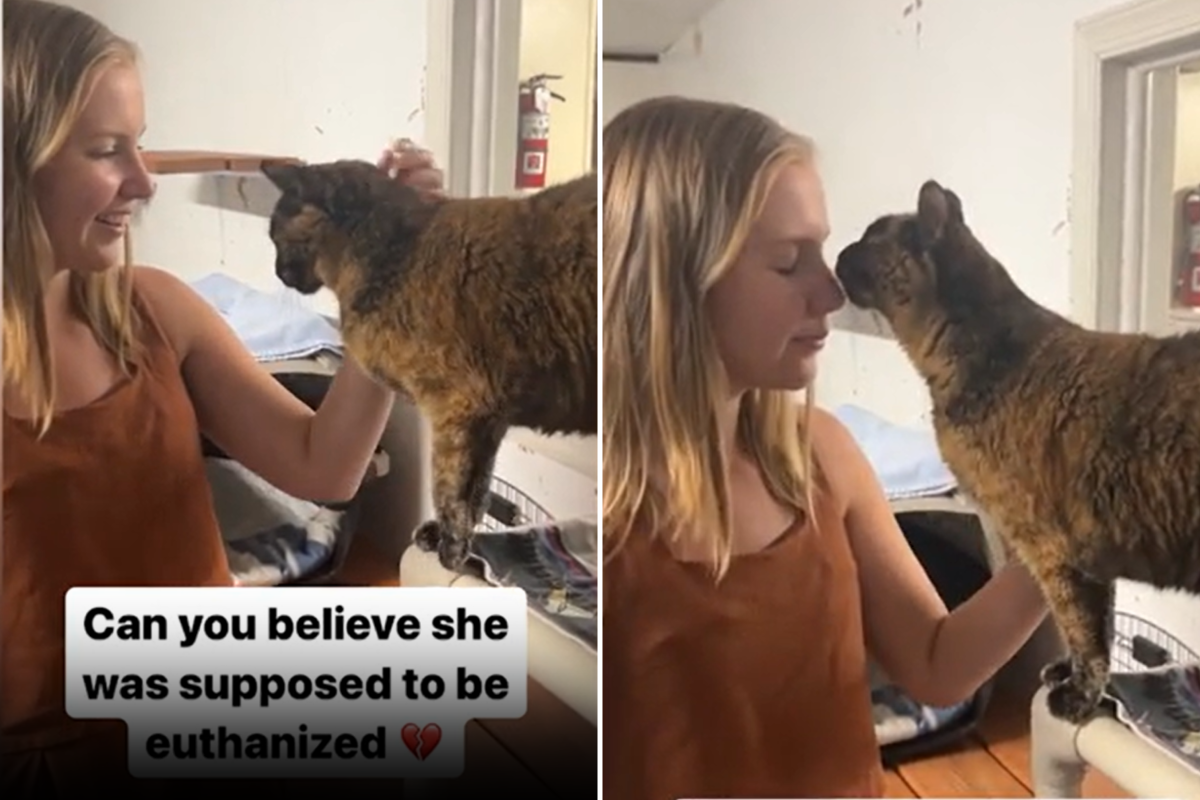 The kind hearts at CFA refused to euthanize Biscuit. Instead, they are focusing on finding a loving new home for her, where she can spend the remainder of her years in peace.
"As far as the owner not wanting her, it's a tale as old as time that we see in cat rescue. Once they get older, they get surrendered, and the owners go out and get a new kitten," Commers said.
"At the moment, she is doing great. She is one of the friendliest, most attention-seeking cats at the shelter. Whenever someone walks in, she will start rubbing her head against the screen to try and get them to come and pet her. Biscuit just loves being around people, but nothing compares to a real family," Commers added.
Sadly, this is a familiar tale for many animals. The American Society for the Prevention of Cruelty to Animals estimates that 6.3 million pets wind up in shelters across the country each year. Of those animals, it's thought that 3.2 million are cats, and just 2.1 million of them get adopted afterwards.
As the CFA tries to generate as much interest as possible for Biscuit, the shelter shared a post on its TikTok account (@chesapeakefeline), saying how "she was supposed to be euthanized." Since the heartbreaking video was posted on October 25, it has been viewed thousands of times.
While the shelter is yet to receive any applications for the sweet senior cat, Commers remains hopeful that they will come. "We know the right family is out there," she added.
"For anyone in our area, I'd love to encourage them to come and visit our shelter. All of the cats will melt your heart; an hour there feels like 10 minutes," Commers said.
Many TikTok users have commented on the post to share their sadness that Biscuit was given up by her owners. The shelter hopes that the more attention it generates, the most people will see what a wonderful pet she would make.
One comment reads: "I can not imagine doing that to a grieving animal! That sweet baby!"
One person wrote: "I really hate some people. Such a sweetie, she deserves a better home anyway."
"Someone adopt sweet Biscuit," commented another TikTok user.
Do you have funny and adorable videos or pictures of your pet you want to share? Send them to life@newsweek.com with some details about your best friend, and they could appear in our Pet of the Week lineup.
Uncommon Knowledge
Newsweek is committed to challenging conventional wisdom and finding connections in the search for common ground.
Newsweek is committed to challenging conventional wisdom and finding connections in the search for common ground.