A woman has been supported on the internet after a family finance nightmare saw her brother reject her pies for a potluck Thanksgiving.
As Americans face high inflation, many families are changing the way they celebrate Thanksgiving.
With inflation set at 3.7 percent and groceries, gas and housing costs still at extreme highs, some Americans are feeling the pinch ahead of Thanksgiving.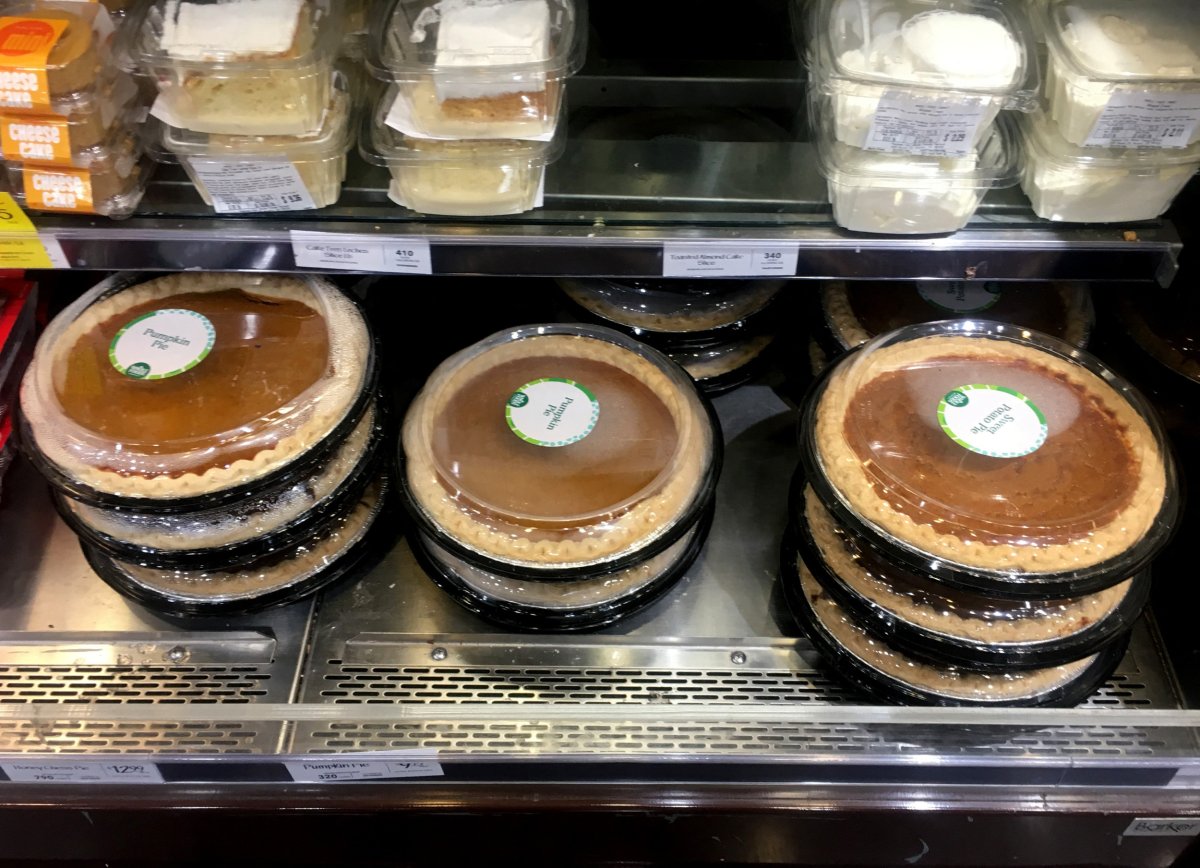 Pumpkin pies are viewed at a store on November 25, 2019, in Washington, D.C. A woman has been backed by the Reddit community after getting into a fight with her brother over unwanted pies.
OLIVIER DOULIERY/AFP via Getty Images
According to a Circana report, a third of Americans say they expect to pay more for groceries this year, but they'll also buy about the same. Among those looking for food bargains this Thanksgiving? Gen Z and younger Millennials with 44 percent saying they're going bargain shopping for Thanksgiving essentials.
Others have adapted their Thanksgiving celebration to be potluck-style to prevent one individual from dealing with the brunt of the costs.
These changes, while they reflect growing financial struggles, are also leading to challenging disagreements between family members.
A woman shared on the Am I The A**hole Reddit community her family's disagreement over what is an acceptable type of food to bring to a potluck Thanksgiving.
The 28-year-old Reddit user said she was going to her brother's Thanksgiving dinner in a different state this year. After asking if she could take on an assigned potluck item, the woman offered to bring two free pies from an event the day before Thanksgiving.
The brother's answer was an unequivocal no.
"He said he didn't want old pies that have been transported, and I should pick up what he tells me to pick up in his city on Thanksgiving," the woman shared on Reddit. "I am currently broke. I had a baby three months ago and just started a new job this week. The free pies are easiest for me."
The situation was exacerbated by the fact that the brother in question owes his sister a "significant sum of money."
The woman said her brother is a big spender, lives in a large home and just went on an expensive retreat.
"He yelled at me on the phone and said the way I spoke to him was disrespectful," she wrote on Reddit. "I may be the a–hole because of the words I picked. On the phone I said, 'You aren't in a position to be picky'."
How To Afford Thanksgiving
Those who are navigating how to best save money this holiday without causing any family disagreements have plenty of options though, savings experts say.
"Luckily, when it comes to potluck meals for Thanksgiving and Christmas, controlling the out-of-pocket expenses is possible by utilizing store promotions, coupons and rebate apps," Melissa Cid, a consumer savings expert for MySavings.com, told Newsweek.
"Choose a dish with ingredients that are on sale. From now until Christmas, grocery stores are running money-saving promotions on many popular food products for get-togethers."
Some families outline holiday financial expectations each year, mandating that everyone spends what they can afford while taking care of those who need a bit more help during the holiday season.
"In my family, the rule is that those with the most financial stability either host or at least shoulder the bulk of the expenses for hosting," Carter Seuthe, the CEO of Credit Summit Debt Consolidation, told Newsweek. "It's never really a problem if someone mentions they're having a tougher year financially and won't be able to host or contribute much in terms of food or gifts."
"This is generally what I would recommend for families or friend groups facing down this type of issue. It's okay for things to feel uneven, and if people are dissatisfied with splitting costs unevenly, it's also okay to bring the budget down to where the lowest earner feels comfortable contributing."
Philadelphia-based mental health therapist Noam Dinovitz said financial pressures often lead to arguments between family members, whether it concerns how much to spend on gifts or what to bring to a potluck.
And with the economy the way it is, Dinovitz expects even more turbulence in the weeks ahead.
However, there are steps you can take to prevent the arguments before they happen.
"One of the keys to combating these types of arguments is transparency and proactive conversation," Dinovitz told Newsweek. "That can look like having an open, honest conversation with family members about what their expectations are as well as sharing your own well before the holiday gets here. It's not always the most fun conversation but it's important not to be scared to talk actual numbers so that nothing gets lost in translation."
Compromising and meeting in the middle is likely to be expected during this process, and Dinovitz also encouraged taking into account sentimental value over just financial.
"Consider ways to swap spending with something that is meaningful that might not cost as much," Dinovitz said. "At the end of the day, most of us are looking to create good memories and good times with the people we love rather than meet a specific spending threshold."
Still, even if this type of setup works best for families during the holiday season, many Americans are feeling the pressure to overspend on loved ones.
Nearly one in three people said they feel pressured to overspend on their significant other this holiday season, according to financial services company Bread Financial.
More men (41 percent) are feeling this pressure compared to just 26 percent of women, but twice as many men (31 percent) expect extravagant gifts when compared to women (15 percent).
Internet Response
Reddit users were overwhelmingly on the side of the sister as she dealt with the man's pie rejection.
"Who needs enemies with a brother like that?" one user wrote. "You have so much going on and if Thanksgiving at bro's house seems overly stressful, excuse yourself and spend the day with your baby. Eat both whole pies for dinner and spend the whole day in pajamas. Tell your bro if he values your attendance to pay you back."
Others suggested blocking the brother out entirely and just showing up with the unwanted pies.
"Tell him you didn't want an old brother, but bam, there is he," another Reddit user said. "Don't accept any calls from him. Show up with your pies and enjoy yourself. If he brings up 'old' pies, smile at him and sweetly say, "I was planning to bring something else but couldn't since you never gave me back the $$ (whatever the amount) I loaned you. Then walk away."
Yet another chimed in on the side of the woman and recent mother:
"What kind of fantasy world is he living in where stores are baking pies Thanksgiving day? And that's the least of it," they wrote. "You can tell him that traveling with a 3 month old baby is just too much for you right now and you will not be able to pick up pies on the way in a strange city. You can spend the day at home resting with your baby or you can go to your brother's, do what is best for you and your baby."
Uncommon Knowledge
Newsweek is committed to challenging conventional wisdom and finding connections in the search for common ground.
Newsweek is committed to challenging conventional wisdom and finding connections in the search for common ground.