Chicago Bears Coach Matt Eberflus opened his Wednesday press conference by saying quarterback Justin Fields, who is recovering from a thumb injury, has yet to be medically cleared to play and that rookie Tyson Bagent will start his fourth consecutive game this week.
But the situation got more confusing from there.
Fields, a limited participant in practice this week, is listed as doubtful on the injury report released by the team on Wednesday. Eberflus, though, announced that Fields would not play Thursday night in a primetime matchup with the Carolina Panthers. Confused? So were many people in the room, several of whom sought some clarification on the subject.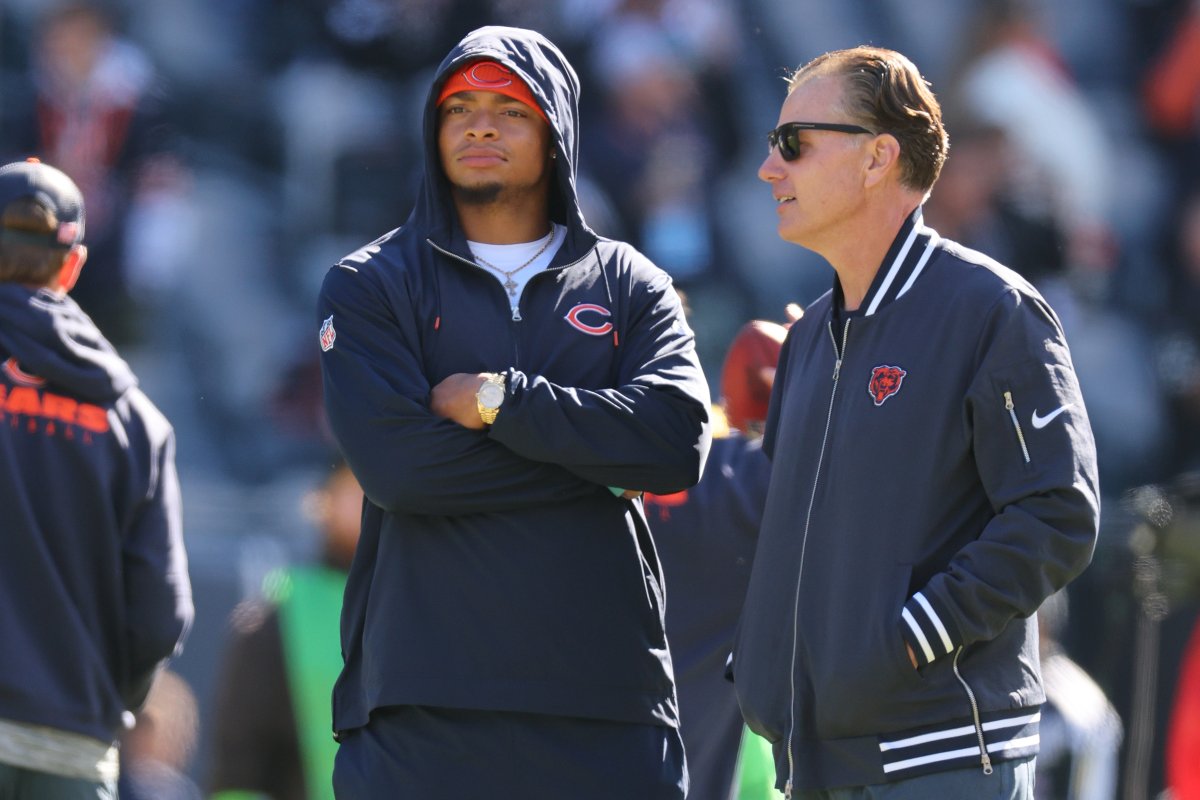 "Just to see," Eberflus said when asked about Fields' injury designation being doubtful instead of out even though he's not medically cleared. "We've got to give him one more day. Give him one more day. But he's working hard, and it's getting better every day. So we'll see where it goes."
"He's not playing?" a reporter in attendance asked.
"Yeah, he's not playing," Eberflus said.
Fields dislocated his right thumb during a Week 6 loss to the Minnesota Vikings. The third-year QB out of Ohio State is progressing every day, Eberflus said, and his accuracy and grip strength are starting to return as his thumb heals. Fields avoided a stint on injured reserve but has still missed nearly a month. And his return to the field won't take place in Week 10.
Or at least, it probably won't. Eberflus was again pressed on the confusing injury situation and took a different approach to answering the question.
"Right now he's listed as doubtful," Eberflus said. "We'll see where it goes. The chances are, doubtful. (It's) 51% that he's in or out. We'll see where it is. We've got a little time left. But again, we'll declare him out when he's out. Right now, we're still listing him as doubtful."
So, to clarify: Fields is listed as doubtful. Eberflus, though, said he will not play. Except the Bears want to wait one more day in case Fields miraculously feels a whole lot better to rule him out. Got it.
The 24-year-old starter could go through a pregame warmup ahead of the Week 10 game against the Panthers, his second-year coach said, depending on how the next 24 or so hours go. But the expectation is that Bagent will start and veteran Nathan Peterman will back him up.
Chicago is 2-7 this season, including 1-2 in its last three games with Fields out. The Bears are coming off a 24-17 loss to the New Orleans Saints. Bagent, an undrafted rookie out of a Division II school, threw for 220 yards, ran for 70 more, and threw a pair of touchdowns in the game. But he also threw three picks and lost a fumble. Three of those turnovers occurred in the fourth quarter.
"I think that when you throw three picks, you're leaving the field pretty disgusted with yourself," Bagent said on Wednesday. "But then you look at the film and you realize, man, 45 minutes, 48 minutes, I was playing pretty good. We were operating very well. Just clean up those last 12.5 minutes and I think there's a different outcome to the game and I probably feel a little bit different leaving the stadium that day."
The Bears host the Panthers (1-7) at 8:15 p.m. ET on Thursday. The game will air on Amazon Prime. And this primetime matchup will be a significant one for Bears receiver D.J. Moore, who spent the first five years of his NFL career in Carolina. The Panthers sent Moore to the Bears as part of a deal for the No. 1 pick, which was used on QB Bryce Young.
Moore said he is happy to be where he is in the aftermath of the trade. Now, it's up to Fields—or, likely, Bagent—to get him the ball against his former team.
"I don't have no hard feelings about being here," Moore told reporters on Wednesday. "I'm loving it here. We're going to get this thing turned around and that's going to be the best of it."
Uncommon Knowledge
Newsweek is committed to challenging conventional wisdom and finding connections in the search for common ground.
Newsweek is committed to challenging conventional wisdom and finding connections in the search for common ground.