American Horror Story star Emma Roberts attended her co-star Kim Kardashian's recent VIP event, and her red-carpet appearance didn't go unnoticed.
Kardashian joined AHS for its 12th season, with Roberts showing her support by attending her Swarovski X SKIMS launch party on Tuesday.
Skims is a shapewear and clothing brand co-founded by Kardashian, Emma Grede, and Jens Grede. The brand partnered with Swarovski to create a sparkling range of body jewelry, intimates and ready-to-wear pieces.
Seen in a black dress with an impressive array of jewelry around her neck, Roberts attended the event as captured by Pop Crave on X, formerly Twitter.
In the short video, the Scream Queens actress took a selfie or two, making her trademark tongue facial expression, but it wasn't her tongue that pulled focus. It was the fact that she was standing alone on her phone, battling for space with other attendees. Her solo styling to look busy resonated with some fans, but struck others as odd.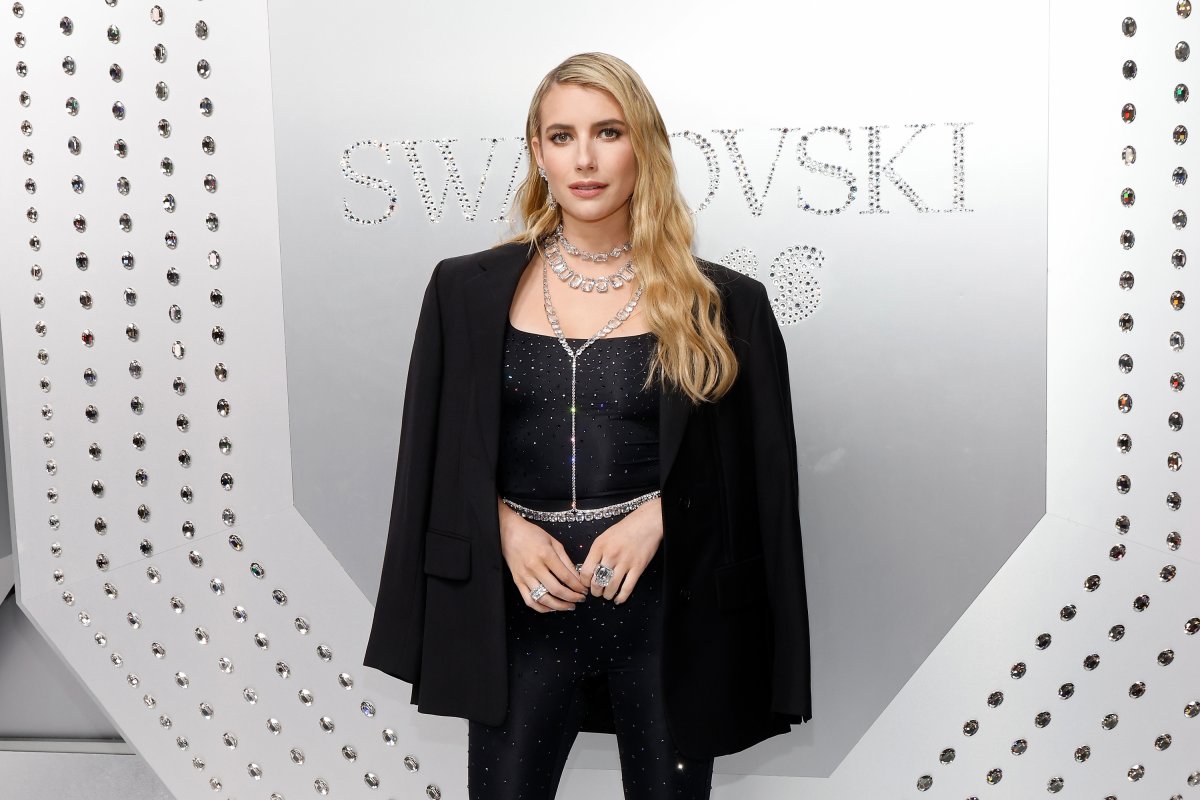 At the time this article was published, the video had been viewed by social media users over 580,000 times and racked up hundreds of retweets and comments.
Fans of the star and social media users commented on the "awkward" video, with some questioning how she could be "alone."
One onlooker said: "She looks like she got social awkwardness."
"How can she be seemingly all alone in that sea of people??" a second added, while a third said: "Using her phone as her escape cus no one is entertaining her lmao."
"She's so awkward lol," someone chipped in.
One X user joked and defended Roberts: "Her on her phone, she's me at every family function."
Others commented on how stunning she looked with statements like: "She is beautiful," and: "When she was going to take a selfie with her lips pouted but then realised there were people who could see her and immediately pretended not to be doing that….. I understand her on a profound level."
A body language expert has, however, said the clip shows what can happen when there is a PR faux pas and if you attend a high-profile event without a plus one.
Judi James, a leading TV body language expert in the U.K., told Newsweek: "Anyone craving the social thrill of the celebrity party should take a look at Emma's body language here and see what can happen when you go without a plus one, get hemmed in by the crowd and, more importantly, your momentum stops as you stand still and take a pause. Social mingling is all about momentum and if you get to a place where you're standing still and alone, every second can feel like an hour."
She also commented on her "awkward" presence, and talking to Newsweek she said: "Emma does look awkward and a little lost here and although she's trying to style it out, the way she's holding her coat over one arm in a barrier gesture suggests she's naturally rather uncomfortable. Her eyes dart around and when she does seem to spot someone, her smile and wave looks relief-based rather than genuinely happy and the look of mild anxiety returns when she finds she can't find a gap in the crowd to get to them."
The expert also pointed out that her behavior was a clear sign of how one acts to disguise the fact they are alone at an event.
James continued: "This is a lousy dilemma for anyone, let alone a leading celeb. The selfies and the phone-checking are a very common ploy to resort to when you feel isolated in a crowd as it helps stop you looking as though you have no-one to speak to, which in turn is a rather humbling look for any actor. It's one reason why celebs arrive in an entourage or drag along a plus one to have someone to interact with."
But it might not be all Roberts' doing, James said, pointing out to Newsweek: "It can also be a PR glitch too. Normally, if you invite a celebrity to one of your parties it's possibly nice if you make sure they will be hosted rather than isolated. Hopefully they were busy sending out a search party here for Emma at this very moment."
Roberts' public appearance comes just months after a video resurfaced of her AHS castmate calling her out for her behavior on set.
Pose star Angelica Ross accused Roberts of making a transphobic comment on the 2019 season, called American Horror Story: 1984.
The post on Pop Crave also received several comments regarding those allegations, such as one social media user saying: "Her having the same, exact attitude at events, as I do! Social anxiety, yes, but I don't f with transphobes!"
Newsweek has contacted Emma Roberts' publicist for comment via email.
Uncommon Knowledge
Newsweek is committed to challenging conventional wisdom and finding connections in the search for common ground.
Newsweek is committed to challenging conventional wisdom and finding connections in the search for common ground.