Nearly two dozen Democrats joined Republicans to censure Representative Rashida Tlaib on Tuesday over her comments on the Israel-Hamas war.
Tlaib has sparked backlash from members of her own party for her critical comments of Israel in the wake of the attacks on October 7. Tlaib has called Israel an "apartheid" state, accused President Joe Biden of supporting the "genocide" of Palestinians and came under fire for blaming Israel for the attack on a hospital in Gaza, despite U.S. intelligence clearing Israel of wrongdoing.
While Republicans blocked Representative Marjorie Taylor Greene's effort to censure Tlaib last week, another resolution was put forth on Monday night by Representative Rich McCormick. It was brought to the floor for a vote, where 22 Democrats joined nearly all Republicans voting in favor of censuring Tlaib, the only Palestinian American in Congress, according to Axios.
Full List of Democrats Who Voted to Censure Rashida Tlaib
Steve Cohen
Jim Costa
Angie Craig
Don Davis
Lois Frankel
Jared Golden
Daniel Goldman
Josh Gottheimer
Greg Landsman
Susie Lee
Kathy Manning
Jared Moskowitz
Wiley Nickel
Chris Pappas
Marie Gluesenkamp Perez
Pat Ryan
Brad Schneider
Kim Schrier
Darren Soto
Ritchie Torres
Debbie Wasserman Schultz
Frederica Wilson
Four Republicans voted against the measure, including Representative Ken Buck.
"It's not our job to censure somebody because we don't agree with them," Buck said. "Let the Ethics Committee look at it. Let others look at it, but I will not be voting for a motion to censure unless it's very serious conduct."
Newsweek reached out to Rashida Tlaib's press secretary via email but did not receive a response in time for publication.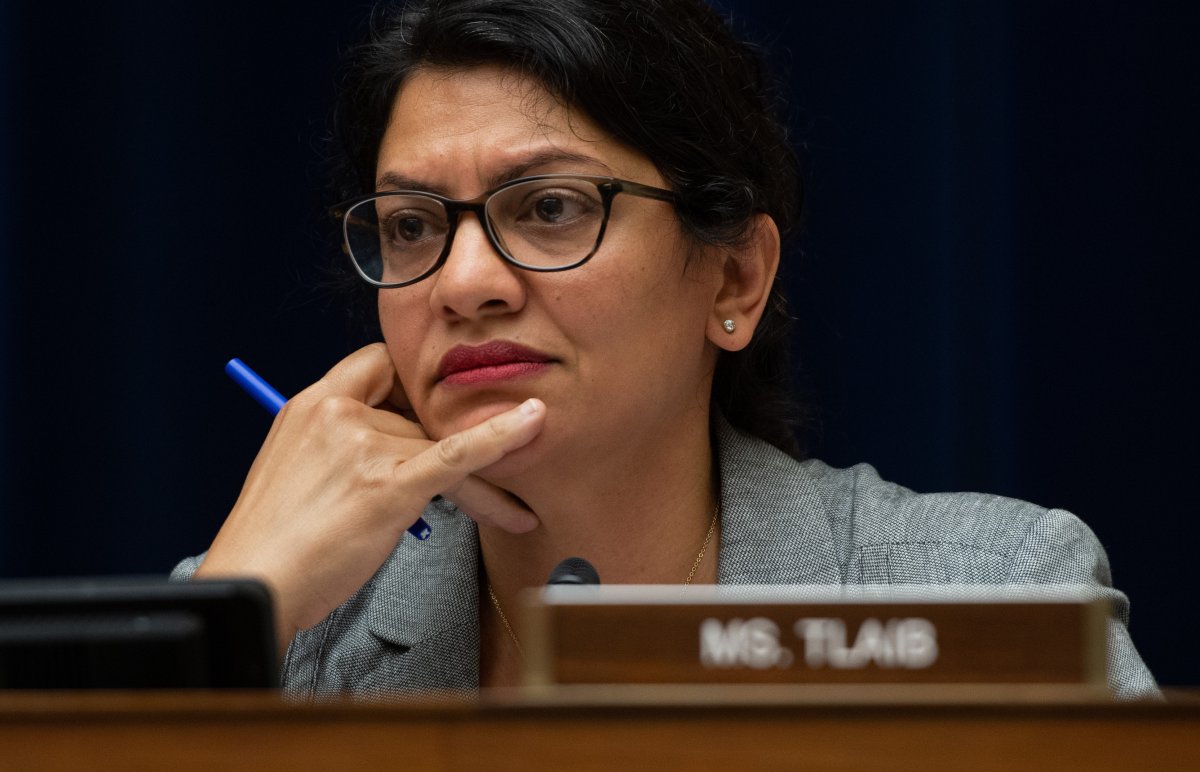 McCormick's resolution condemns Tlaib for using the word "resistance" in her statement about the Hamas attacks. In the statement, Tlaib criticized Israel's "apartheid system" for creating "suffocating" conditions that "can lead to resistance." The censure also focused on her comments about the hospital attack, which she later called for an independent investigation into, and her use of the slogan "from the river to the sea."
On Friday, Tlaib posted a video that included footage of pro-Palestinian protesters chanting "from the river to the sea." It's a reference that's been categorized as anti-Semitic by the Anti-Defamation League and is widely regarded as a call for the eradication of Israel.
Tlaib defended the slogan, calling it an "aspirational call for freedom" and not "death, destruction and hate."
Ahead of the vote, Tlaib called it a "shame" that her colleagues are more focused on "silencing" her than saving lives. She added that her colleagues have shown her that Palestinian lives "simply do not matter to them," but said she doesn't "police their rhetoric or actions."
During her speech on the floor, Tlaib said "Palestinian people are not disposable" and garnered support and comfort from Representative Ilhan Omar. Representative Ayanna Pressley also defended Tlaib and accused the resolution of being Islamophobic, anti-democratic and "an utter waste of time."
However, Democrat criticism of Tlaib has been mounting and Minority Leader Hakeem Jeffries said usage of the "from the river to the sea" slogan is not productive and only increases division.
Representative Brad Schneider, a Democrat from Illinois, said in a statement that Tlaib's comments cannot "go unanswered" and accused her of "trying to gaslight the world."
Uncommon Knowledge
Newsweek is committed to challenging conventional wisdom and finding connections in the search for common ground.
Newsweek is committed to challenging conventional wisdom and finding connections in the search for common ground.