Claudia Conway, the daughter of former Donald Trump adviser Kellyanne Conway, has branded Representative Marjorie Taylor Greene a "clown" over the Georgia Republican's criticism of Transportation Secretary Pete Buttigieg.
Late Tuesday, the House of Representatives approved a bill introduced by Greene that would see Democrat Buttigieg's salary slashed to $1. Greene stated that she wanted his taxpayer-funded salary slashed because he "has failed to serve the American people."
The House, where Republicans hold majority control, sided with Greene, voting in favor of her bill, an amendment to the 2024 Financial Services and General Government Appropriations Act that funds the Securities and Exchange Commission and General Services Administration, among other agencies.
Greene's political stance puts her at odds Claudia Conway, who despite, having a mother who served in Trump's White House, is a vocal critic of the former president and a number of GOP politicians and pundits. Greene, who remains among Trump's MAGA faithful, opposes a number of issues that the 19-year-old backs, including abortion and LGBTQ+ rights.
Delivering her speech about Buttigieg this week, Greene said: "He has been busy calling roads racist and forcing equity action plans and implementing climate change initiatives, rather than strengthening our nation's transportation infrastructure systems and responding to emergencies like the train derailment in East Palestine."
"He stated there is racism physically built into some of our highways," she continued. "I would argue people driving on dirt roads every single day in rural America may feel that way."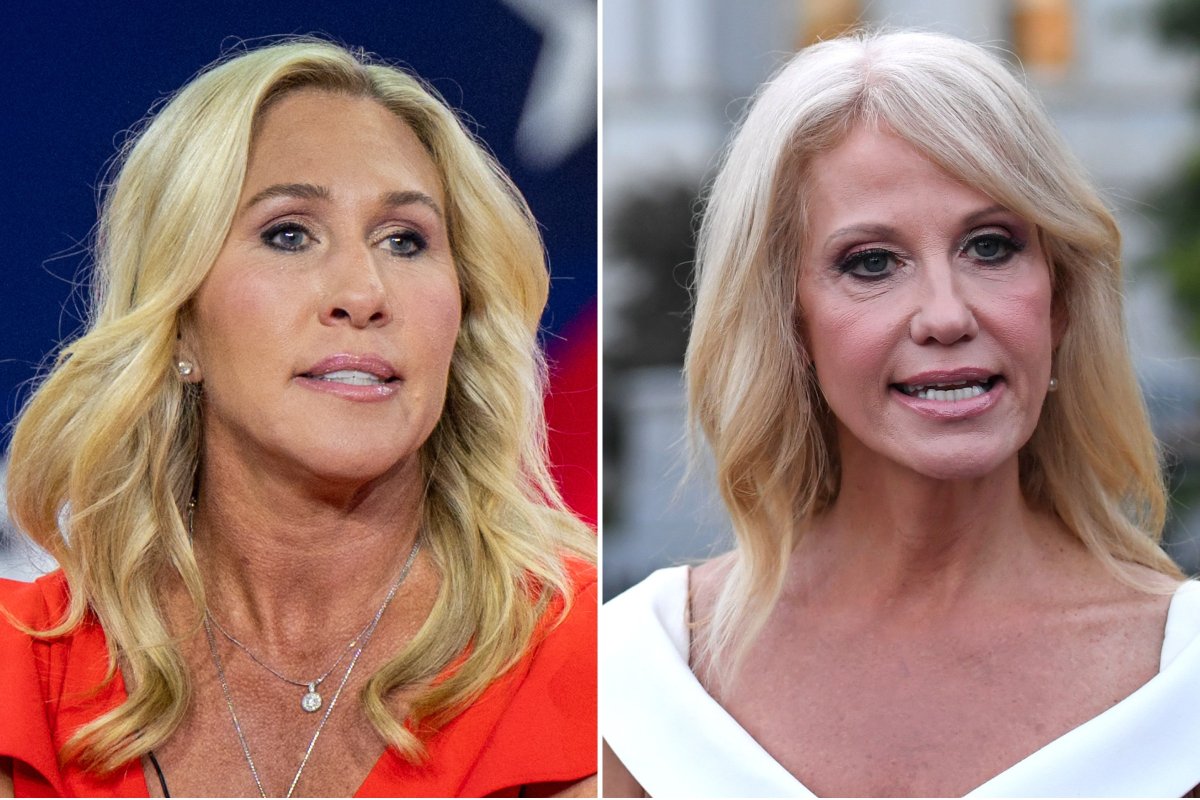 "But our Secretary of Transportation Pete Buttigieg, doesn't care about Americans in rural America… He's more interested in declaring that roads are built on skin color and racism, ensuring he also stated ensuring equity and accessibility for every member of the traveling public is one of the Department of Transportation's highest priorities. Again, I'll point to rural America."
In June 2022, Buttigieg launched the $1 billion Reconnecting Communities program, which allows cities and states to apply for federal aid to rectify issues caused by roadways that were built mainly in lower-income Black neighborhoods after the 1950s.
The new project could lead to such changes as bike lanes and safer pedestrian walkways over the roadways, as well as rapid bus transit lines, repurposing disused rail lines, and providing green spaces via caps built on top of highways.
In her speech this week, Greene also accused Buttigieg of "failing the American people when it comes to transportation while implementing his tyrannical climate agenda through his office and preaching for the government to curb carbon emissions."
Greene added that Buttigieg "has reportedly taken at least 18 taxpayer-funded flights on private jets managed by the FAA [Federal Aviation Administration]. One of these flights was taken to receive an award from [a] Canadian gay rights organization for advancing LGBTQ rights. American taxpayers don't want to pay for Pete Buttigieg to get awards for the way people have sex."
In September 2022, Buttigieg received the Laurent McCutcheon Award from Québec LGBTQ+ organization Fondation Émergence. At the time, Buttigieg was in Montréal to represent the U.S. at the International Civil Aviation Organization General Assembly.
Discussing the passage of the bill on X, formerly Twitter, Greene shared a video of her speech detailing why she felt Buttigieg's salary should be slashed. However, in her accompanying caption, she incorrectly stated that the vote would see Buttigieg dismissed from his position.
"BREAKING: I'm proud to announce my amendment to FIRE Pete Buttigieg just PASSED the House," Greene wrote. "Pothole Pete staged fake bike rides to the White House and used private planes funded by taxpayers to receive awards for the way certain people have sex.
"American taxpayers should not be on the hook for paying for his lavish trips or his salary."
Responding to Greene's post, Claudia Conway, who has long been a vocal critic of Trump and Republicans, wrote on X: "What a clown."
Newsweek has contacted representatives of Buttigieg, Greene, and Claudia Conway via email for comment.
This is not the first time Greene has lashed out at Buttigieg. Back in March 2022, she took aim at Buttigieg during a rally in Commerce, Georgia, headlined by Trump.
"You know what? Pete Buttigieg can take his electric vehicles and his bicycle, and he and his husband can stay out of our girls' bathrooms," she said, eliciting cheers.
Asked what she meant, Nick Dyer, a spokesperson for Greene, told Newsweek at the time: "It's pretty simple. Congresswoman Greene wants biological men to stay out of women's bathrooms."
Meanwhile, Claudia Conway and her father, Lincoln Project co-founder George Conway, emerged in 2020 as vocal critics of Trump and his presidency, despite Kellyanne Conway's positions in his administration.
Kellyanne Conway is a former pollster who rose to national prominence as the manager of Trump's successful 2016 presidential campaign, later transitioning to a senior adviser role in the Trump White House. She has also developed a reputation as a Trump media surrogate, known for defending his many claims and stances across various news outlets.
Over the years, and throughout a tumultuous period in relationship with her mother, Claudia Conway has remained vocally opposed to the former president and many conservative political pursuits, including the overturning of Roe v. Wade.
Around the time she first began publicly speaking out against Trump in 2020, Claudia Conway also hinted at turmoil in her relationship with her parents, claiming at the time to be "officially pushing for emancipation."
In the summer of 2021, Claudia Conway revealed in a TikTok post that she was on good terms with her mother, despite their political differences. On July 7, she tweeted a screenshot of a text exchange in which her mother excitedly informed of the release of a new Taylor Swift album. She also often has friendly online interactions with her father.
Telling Bustle last December that she and her mother had been going to therapy sessions together, Claudia Conway said: "I'm not going to talk about my mom's trauma because it's her story, not mine. But when you have trauma that you have held onto for, let's say, 40 years of your life, and you have children, it is so hard to not pass that down to them."
The younger Conway added that she now has "all the respect in the world" for her mother for dealing with her past with her in therapy: "Being so young, it's really hard to understand why someone is treating you the way they are, especially when they're your mother and you look up to them so much. I've learned so much about her."
Uncommon Knowledge
Newsweek is committed to challenging conventional wisdom and finding connections in the search for common ground.
Newsweek is committed to challenging conventional wisdom and finding connections in the search for common ground.