Republican 2024 presidential contenders faced high stakes in the third primary debate, but some candidates fared better than others Wednesday night in Miami, Florida.
Candidates sparred over issues from federal spending, Ukraine and China in the showdown, which arrived roughly two months before the first votes of the election will be cast in the Iowa caucuses. Five candidates—former South Carolina Governor Nikki Haley; Florida Governor Ron DeSantis; ex-New Jersey Governor Chris Christie; South Carolina Senator Tim Scott; and entrepreneur Vivek Ramaswamy—verbally wrangled on the stage.
The GOP race front-runner, however, was again a no-show. Former President Donald Trump, who continues to hold a substantial lead over his Republican rivals, skipped the debate, as he did the first two. He has pointed to his poll numbers as the reason for his snubbing of the debates. Trump's absence left the other five qualifying candidates aiming to prove they deserve the GOP nomination.
Here's an overview of who won and who lost on the big stage.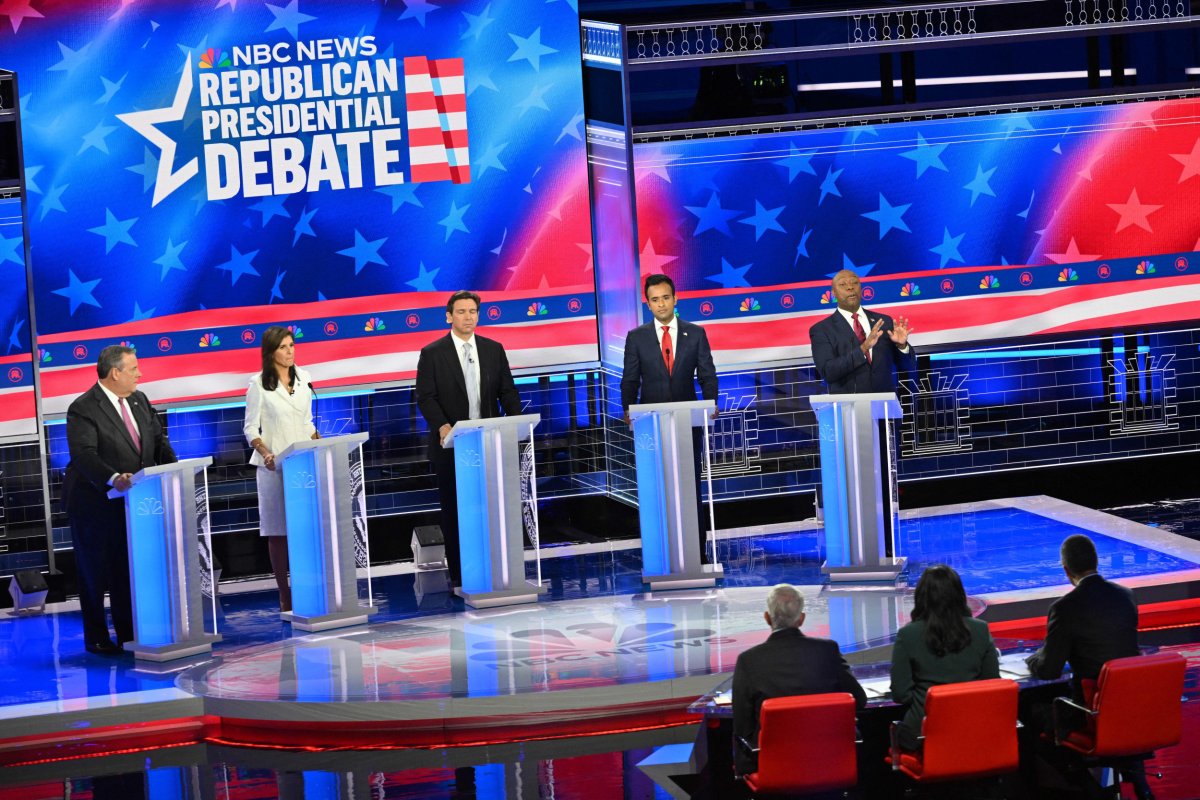 Winner: Israel
Israel emerged as a major victor during the debate. Candidates rallied behind the nation amid its war against Hamas, which on October 7 launched thousands of missiles into Israel from the Gaza Strip. Israel has since cut off food, water and electricity to Gaza, launching its own attacks, including a ground operation.
Candidates all voiced support for Israel, saying they would tell Prime Minister Benjamin Netanyahu he has the right and responsibility to respond to the Hamas attack.
"The last thing we need to do is to tell Israel what to do. The only thing we should be doing is supporting them in eliminating Hamas," Haley said.
Loser: Ukraine
Ukraine, however, emerged as a loser. Candidates, as in past debates, voiced disagreement over whether the United States should provide aid for Ukraine as it defends itself against the invasion from Russia. More traditional conservatives, such as Haley, have called for continued support, but more MAGA-aligned candidates have called for more limits on aid.
DeSantis said he would not send U.S. troops to Ukraine, while Scott said he disagreed with coupling aid to Israel and Ukraine, a move that Ukraine aid supporters hope would boost its chances of passing Congress.
Ramaswamy took a stronger stance against Ukraine, calling President Volodymyr Zelensky, who is Jewish, "a Nazi."
"[Ukraine] has celebrated a Nazi in its ranks, the comedian in cargo pants, a man called Zelensky," he said.
Winner: Donald Trump
Moderators opened the debate by directly asking Trump's rivals why they would make a better president than him. Candidates continued lines of attacks from previous debates—questioning why he is skipping the debate, and knocking him over the national debt.
But those attacks have not proven to be effective, as Trump withstood them following the second debate, after which his poll numbers continued to hold steady.
Loser: Vivek Ramaswamy
Ramaswamy sparked boos from the crowd over launching a personal attack against Haley. The former South Carolina governor has supported a ban on TikTok, a Chinese-owned app that has come under scrutiny for national security concerns. She criticized Ramaswamy for using the app to campaign, and he responded by saying that Haley's daughter previously used the social media platform.
The remark elicited loud boos from the crowd, and Haley responded by calling him "scum."
In a post-debate interview on NBC, Haley brushed off Ramaswamy's jab, saying "I don't even give him the time of day. He has proven he's not worthy to be the president of the United States."
As with the other candidates, Ramaswamy was tough on border control, but moved beyond the pack by suggesting that America build a wall on the northern border with Canada as well the southern border. "We need to skate to where the puck is going," Ramaswamy said, despite northern border encounters making up 5% of all Customs and Border Patrol encounters in September 2023.
Winner: Nikki Haley
Haley faced new attacks from DeSantis about her record on China, but largely turned his critiques back on him, raising concerns about his recent record on the matter.
Haley earned praise following the first two debates from analyst, who have said her past performances suggest she may be able to win over more moderate and independent voters. She held steady during Wednesday's debate, drawing a contrast from other candidates on Ukraine and abortion, an issue that again proved difficult for Republicans in Tuesday night's elections, which saw Republican defeats in Virginia's legislative races and Kentucky's gubernatorial race.
She also earned praise from social media users for her response to Ramaswamy's attack on her daughter's past use of TikTok, telling him, "Leave my daughter out of your voice."
Losers: Ron DeSantis, Tim Scott
DeSantis and Scott entered the debate in different positions. DeSantis needed a breakout moment during the debate to prove he can go head-to-head against Trump, whose polling lead has only grown since the last debate. Scott, meanwhile needed a particularly strong performance after struggling in the polls.
Neither had any major slip-ups and remained steady, but they also lacked a major moment as they hope to boost their polling numbers.
Loser: TikTok
Republican candidates were united on banning social media app TikTok due to concerns that the Chinese government could access the personal data of American users. But the conversation extended past privacy to point to TikTok's impact on young minds. "This is China trying to further divide the United States of America," Christie said.
The idea of a TikTok ban resonates with many Americans. In a March 2023 study by the Pew Research Center showed supporters of a ban outnumber opponents of a ban by more than 2 to 1.
Winner: Debate Moderators
Holt, Welker and Hewitt faced a separate challenge—controlling the candidates. The second debate in October received backlash from viewers after allowing candidates to frequently disrupt each other.
Tonight's moderators, however, took a different approach. Holt told the audience to "restrain" themselves when they erupted into thunderous applause early on in the debate.
"Let's not go down this road," he said.
Welker, meanwhile, took attack from Ramaswamy, who argued she should not be moderating the debate over conservative personalities such as Elon Musk or Tucker Carlson. However, she declined to engage in the attack, drawing praise on social media.
"Smart move by Lester and Kristen Welker not to take the bait and give Vivek the attention he wanted from his cheap stunt," wrote journalist Matt Lewis.
Winner: Social Security … for Current Seniors
All of the candidates on stage were effusive in their support for Social Security entitlements and made clear that they didn't want to impact any current recipients. "My mama and every other mama out there — I will protect your social security," said Scott.
On the subject of keeping the program solvent, most evaded specific answers on whether the entitlement age should be raised.
Christie came out as a clear supporter of raising the retirement age "a few years" for Americans in their 30s and 40s, but doesn't think new funding should come from tax increases. "We are already overtaxed in this country and we shouldn't raise taxes," he said.
Scott firmly said no to a raise on the retirement age. DeSantis seemed to lean away from a change to retirement age, noted that life expectancy is currently declining, so tethering entitlement dates to life expectancy doesn't make sense.
Both Christie and Haley brought up limitations on benefits for the wealthy, with Christie specifically calling out Warren Buffett by name.
Ramaswamy was vague on solutions, but vowed to keep benefits for current seniors intact. When pushed for answers on entitlement reform for future generations, he responded "It'll take a CEO from the next generation to do it."
Uncommon Knowledge
Newsweek is committed to challenging conventional wisdom and finding connections in the search for common ground.
Newsweek is committed to challenging conventional wisdom and finding connections in the search for common ground.