Donald Trump again chose to skip the Republican presidential primary debate, hosted Wednesday in Miami, Florida, but as the front-runner for the GOP nomination, the former president's name was mentioned throughout the night.
According to polling data compiled by FiveThirtyEight, as of Tuesday, Trump was leading the GOP primary race on average by over 42 points. The runner-up is Florida Governor Ron DeSantis, who across national polling is averaging at about 13.9 percent. Former South Carolina Governor Nikki Haley is next in line, earning 9 percent of voters' support.
Other candidates who spoke from the stage Wednesday during the third GOP debate were former New Jersey Governor Chris Christie, South Carolina Senator Tim Scott and entrepreneur Vivek Ramaswamy, and all five participants took turns directing attacks at each another. But moderators opened the event by asking each candidate why they deserved voters' support over Trump, and nearly all of those on stage seized the opportunity to criticize the former president.
DeSantis and Haley, however, offered the most criticism of the former president's administration.
"There is no question that Trump will eventually watch tonight's Miami debate and will certainly be irked by the opening moments of the evening," Aaron Kall, political commentator and director of the debate program at the University of Michigan, told Newsweek via email Wednesday.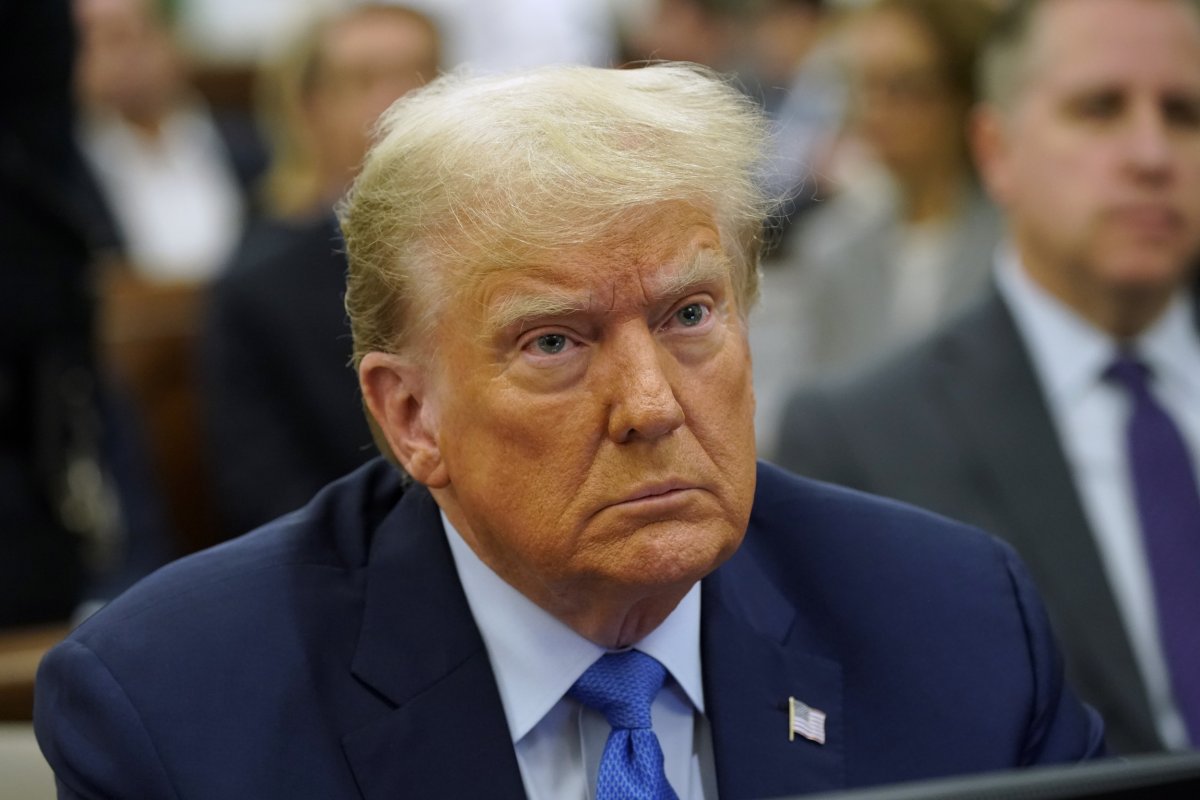 Newsweek reached out to Trump's press team via email Wednesday night for comment on the debate.
DeSantis: Trump Should Be on Stage to 'Explain' Himself
DeSantis was handed the first question of Wednesday's debate, which asked candidates to explain why voters should look to them over Trump for the 2024 election. The Florida leader—once an ally of the former president who is now often the target of attacks by Trump—said that the former president was "a lot different guy than he was in 2016" when he won the presidential race.
"He owes it to you to be on this stage and explain why he should get another chance," DeSantis continued. "He should explain why he didn't have Mexico pay for the border wall. He should explain why he racked up so much debt. He should explain why he didn't drain the swamp. And he said Republicans were going to get tired of winning. Well, we saw last night. I'm sick of Republicans losing."
Tuesday's election proved to be wildly disappointing for the GOP across state and local races. Trump has faced criticism in the past for the Republicans' string of upsetting election results, including in the 2022 midterms, when the GOP secured only a small lead in the House of Representatives.
The former president has said that he sees no need to participate in the primary debates due to his polling numbers, and instead spent Wednesday night at a campaign rally in South Florida.
Haley Calls Out Trump on National Debt
During her first answers of the night, Haley also criticized the former president's past administration, hammering on the economic issues that many American voters are plagued with today.
"You know, everyone wants to talk about President Trump," Haley said. "Well, I can talk about President Trump. I can tell you that I think he was the right president at the right time. I don't think he's the right president now."
"I think that he put us $8 trillion in debt, and our kids are never going to forgive us for that," Haley added.
"I think we've got to go back to the fact that we can't live in the past, we can't live in other headlines, we've got to start focusing on what's going to make America strong and proud," she continued. "And that's what I'm focused on doing."
During Trump's time in the White House, the national debt grew by roughly $7.8 trillion—a roughly 39.2 percent increase in four years. That ranks the third-highest of any U.S. president in history, Newsweek previously reported, although much of the deficit spending came as a result of Trump's attempts to mitigate the COVID-19 pandemic.
DeSantis Promises to Make Mexico Pay for Border Wall
DeSantis again dug into Trump's administration while speaking about his policy plans for the U.S.-Mexico border Wednesday night, claiming that, unlike the former president, he intends to have the Mexican government provide the funding for a wall to mitigate migration across America's southern border.
"I'm going to build a wall and have Mexico pay for it like Donald Trump promised," the Florida governor told supporters from the stage.
Trump vowed repeatedly throughout his 2016 campaign that Mexico would pay for the border wall, which would need to span some 1,933 miles to completely encapsulate the frontier with Mexico. Only a little over 450 miles of wall was built.
The former president recently attempted to backtrack on his former statements during a campaign speech in Iowa late last month, stating that he had only promised that Mexico would pay for "a piece" of the wall. CNN fact-checked the former president's false statement.
DeSantis has previously promised on the campaign trail that Mexico will pay for the border wall under his administration, telling The Hill during an interview in October that he is not going to make "excuses" like the former president did.
"There actually was a way he could have [made Mexico pay]," DeSantis said. "He could have imposed fees. And I will do this as president."
Haley Equates Trump's Approach to Social Security to Biden, Pelosi
While filtering questions regarding Social Security benefits, Haley targeted Trump for aligning himself with former House Speaker Nancy Pelosi and President Joe Biden's approach to such programs.
Candidates were asked if they would choose to adjust the retirement age if they were elected to the White House, a touchy subject amid Republican lawmakers who have repeatedly been accused by Democrats of wanting to "sunset" programs like Social Security and Medicare to cut down on federal spending.
Haley said from the stage Wednesday that the retirement age, which currently sits at 65, should be readjusted to "reflect more of life expectancy. It doesn't do that now."
"Any candidate that tells you they're not going to take on entitlements is not being serious," she added.
She lumped Trump's approach to programs like Social Security to that of DeSantis, Biden and Pelosi, who Haley said will not take on reform for entitlements despite the programs heading for bankruptcy in 10 years. Trump's campaign has said that the former president would "always protect entitlements." He also previously said that Republicans should not vote to "cut a single penny from Medicare or Social Security."
Attacks May Bother Trump, But They're Unlikely to Change His Mind
Kall, who attended Wednesday's debate as a media member, noted that the attacks directed at the former president will "no doubt be displeasing to Trump, but he mostly emerged unscathed throughout the rest of the night."
"His top-tier opponents repeatedly attacked one another and his decision to skip the debate and instead participate in a nearby campaign rally looks sound," Kall added in his statement to Newsweek. "Despite solid individual debate performances by other candidates, Trump continues to enjoy major leads in national and early state polling and nothing that occurred in Miami will likely impact the overall trajectory and the unique debate boycott is probably here to stay."
Update 11/8/2023, 11:05 p.m. ET: This article has been updated with additional comment from Kall.
Uncommon Knowledge
Newsweek is committed to challenging conventional wisdom and finding connections in the search for common ground.
Newsweek is committed to challenging conventional wisdom and finding connections in the search for common ground.