The Israel Defense Forces (IDF) have downplayed the White House's announcement of Israel agreeing to daily four-hour humanitarian pauses in operations being carried out against the Gaza Strip, saying there has been no shift from protocols already in place for the movement of civilians.
During a press call Thursday, National Security Council Strategic Communications Coordinator John Kirby hailed a "significant step forward" in Israel's decision to agree to the pauses in northern section of Gaza. Such a move, he argued, came after intensive bilateral discussions at various levels and would "serve multiple purposes," including to allow the safe distribution of food, water and medicine, the transfer of hostages being held by Hamas and other Palestinian factions as well as the movement of civilians fleeing combat zones.
Less than two hours later, however, IDF spokesperson Lieutenant Colonel Richard Hecht told reporters that the development "is not a shift." Rather, he said, it's something that the IDF has "de facto" been doing already.
"For the last days, we've been releasing these corridors, we've been notifying it through our Arab spokesperson, showing the corridor a few hours in advance, it's usually between 10 to 2, even 3," Hecht said. "We're going to expand it; we're going to keep doing it, as we have done before."
He emphasized, that "there's no ceasefire" and the four-hour windows constitute "tactical local pauses for humanitarian aid, which are limited in time and area."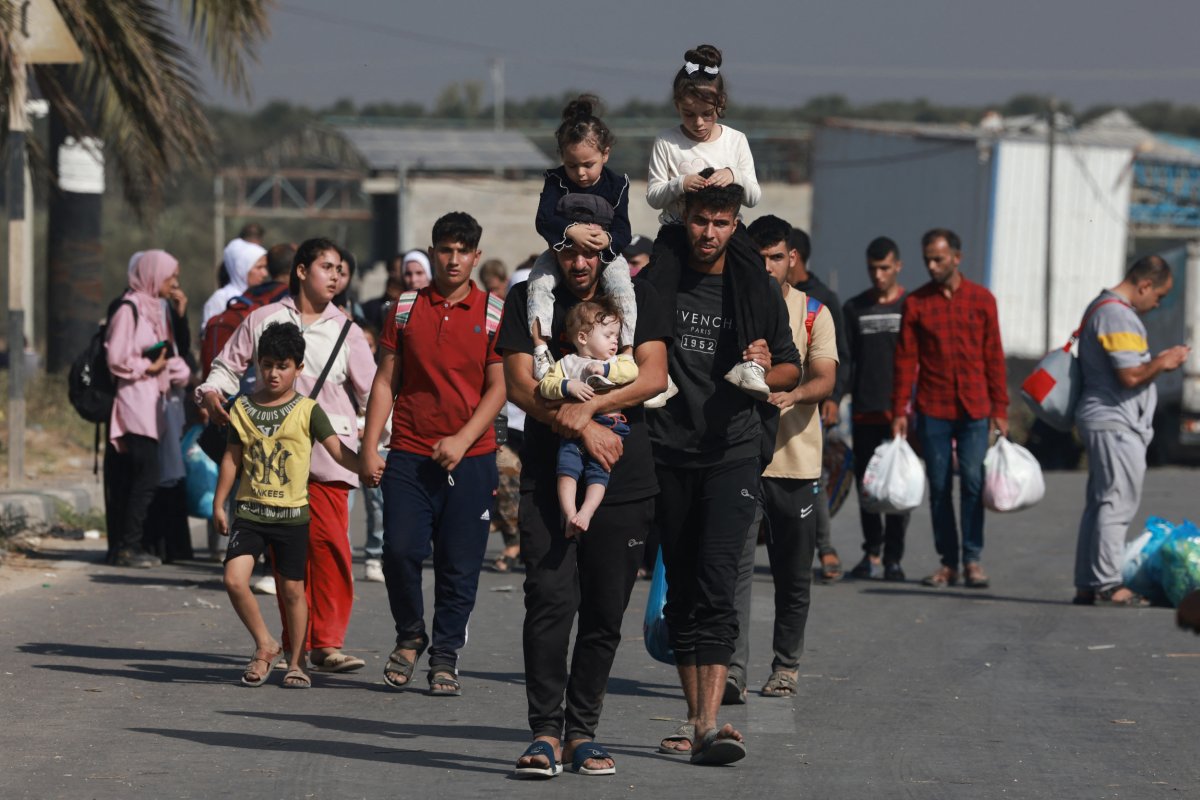 Israeli Prime Minister Benjamin Netanyahu has repeatedly stated that there would be no ceasefire until Hamas and other Palestinian factions released around 240 people taken hostage amid an unprecedented October 7 surprise attack on Israel. On Tuesday, however, the Israeli premier indicated for the first time that he was open to allowing for "tactical little pauses."
Discussions on instituting safeguards for humanitarian assistance and civilian movement in the Palestinian territory have come against the backdrop of growing international calls for a ceasefire in a conflict that has killed around 1,400 in Israel and more than 10,500 in Hamas-run Gaza, according to figures provided by local officials from the two respective sides.
The ongoing war is the deadliest flare-up in the 75-year Israeli-Palestinian conflict, and casualties continue to mount as the IDF presses on with a ground incursion into densely populated Gaza City.
Prior to launching land operations and about a week into the conflict, Israeli officials called on the roughly 1.1 million people—about half of Gaza's total population—living in northern Gaza to evacuate to the south. The IDF has accused Hamas of interfering with the movement of civilians, something the group has denied.
Hamas and other Palestinian factions have continued to launch attacks against Israeli forces and cities, while multiple other fronts have also intensified. The Lebanese Hezbollah is clashing with the IDF on Israel's northern border, Yemen's Ansar Allah movement—also known as the Houthis—is conducting missile and drone attacks across the Red Sea against Israel, and a coalition of militias calling itself the Islamic Resistance in Iraq claiming attacks against Israel and U.S. troops in Iraq and Syria.
Meanwhile, Hamas has appealed for more solidarity among pro-Palestinian communities across the globe.
In a statement published Thursday, the group issued a new appeal "to the masses of Arab, Muslim, and free peoples across the globe to escalate and multiply their rallies to exert more pressure on Israel to stop its US-backed genocidal war and horrific crimes of deliberately starving and cutting off the water supplies of our children."
"We urge also that these marches should not only denounce the US-backed aggression but also support Palestinians' rights to liberation, return, and self-determination," the group added.
The U.S. has called on Israel to ensure the safety of civilians in Gaza, but has asserted that Israel had the right to defend itself against Hamas and has also rejected international calls for a ceasefire.
This is a developing news story. More information will be added as it becomes available.
Uncommon Knowledge
Newsweek is committed to challenging conventional wisdom and finding connections in the search for common ground.
Newsweek is committed to challenging conventional wisdom and finding connections in the search for common ground.