Travis
Travis Kelce hinted Wednesday that his bye-week plans might include a visit to Taylor Swift.
Speaking with his brother, Jason, on their New Heights podcast, Kelce said he might go somewhere "closer to the equator." Viewed next to reports last month that he would visit Swift while she was in Argentina for her Eras Tour, Kelce seemed to be dropping a relatively obvious Easter egg for Swifties (a fanbase whose ability to find Easter eggs might be second to none).
Sure enough, Page Six reported Wednesday evening that Kelce's plans do include an international trip to see Swift. The outlet added that its source said Kelce will be back Sunday for practice. People also reported the news.
Newsweek reached out to Kelce's reps by email for comment.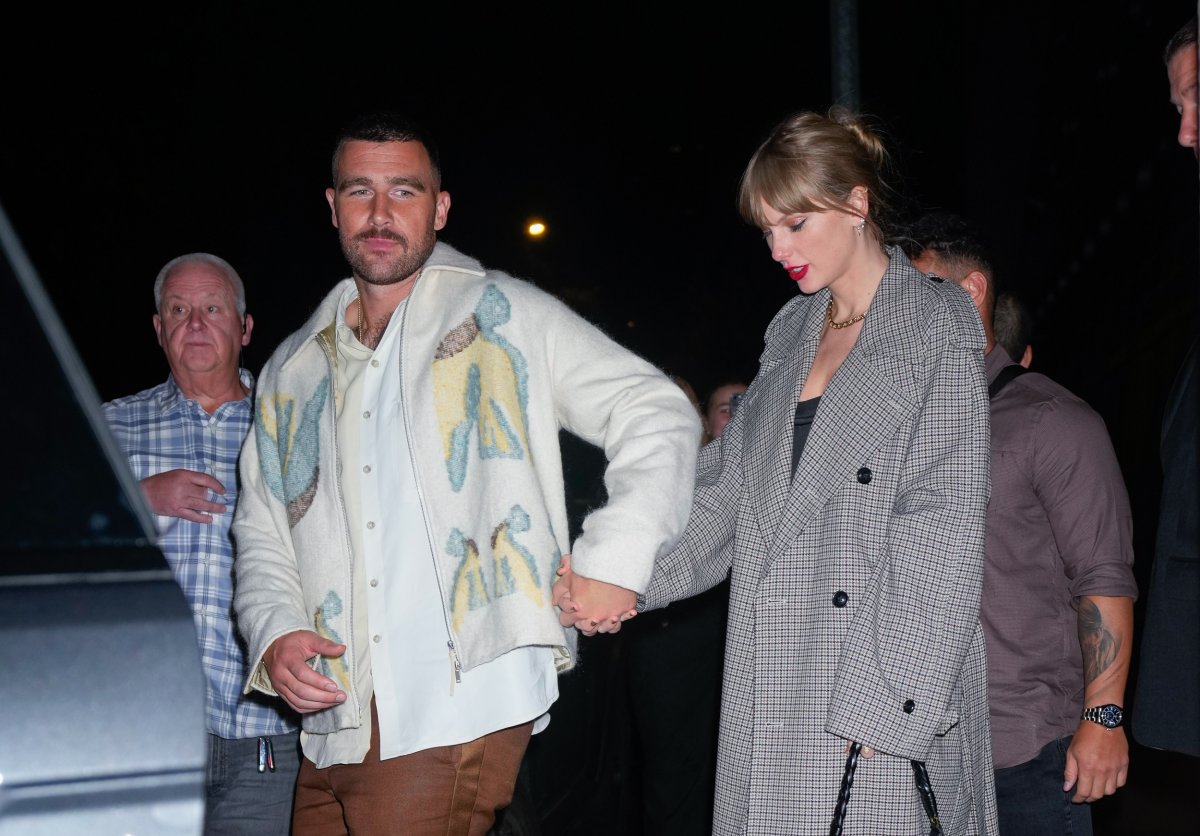 The Chiefs went into their bye week with an important Week 9 win over the Miami Dolphins in Frankfurt, Germany. Kelce snagged just three catches for 14 yards, but he did break Tony Gonzalez's franchise record for receiving yards.
Kelce has taken some criticism for his extensive in-season travel. Former NFL tight end Shannon Sharpe called out Kelce last month for traveling to the first game of the World Series on the Friday before the Chiefs lost to the Denver Broncos for the first time since 2015.
Kelce also attended the season premiere of Saturday Night Live with Swift, and the couple made impromptu cameos in SNL's sketches. Kelce also caught one of Jason's games in person, as well as an NLCS game between the Philadelphia Phillies and Arizona Diamondbacks.
The Chiefs will play their biggest game of the season to date when they return from their bye, taking on Jason Kelce and the 8-1 Philadelphia Eagles, who have the NFL's best record. The Chiefs are 7-2, tied for the league's second-best mark with the Baltimore Ravens.
On his podcast Wednesday, Travis Kelce said he plans to work on his body extensively during the bye week after a tough game against the Dolphins.
"You just don't know how healthy you are going to be," he said. "You don't know how you are going to feel. Whether you are winning or losing, I'm not trying to go and…be out and about if we are out here losing. Obviously, fortunate we are 7-2 and where we are at in the season, but I've definitely got the future in mind. Got to get this body right and get as healthy as possible going into arguably the biggest game we have on the schedule."
Uncommon Knowledge
Newsweek is committed to challenging conventional wisdom and finding connections in the search for common ground.
Newsweek is committed to challenging conventional wisdom and finding connections in the search for common ground.