The Sunbelt and Mountain West states are seeing economic prosperity during a time when most of the country is bracing for a slowdown. These states are getting a boost from investments in electric vehicle and semiconductor production facilities there, as well as population growth.
A flood of investment in semiconductor and electric vehicle production in the Sunbelt states—which is comprised of all or part of 18 states from coast to coast in the lower half of the country—has boosted economic activity in those areas, said Jackie Benson, an economist with Wells Fargo. Georgia, for example, has seen a $5 billion investment from electric car manufacturer Rivian. In Arizona, Intel and the Taiwanese firm semiconductor manufacturer TSMC are investing in plants in the state.
These pockets of economic activity are set to help these parts of as the nation is expected to enter a period of downturn. The U.S. economy is expected to slow down over the next year as the Federal Reserve's aggressive rate hikes to their current two-decade highs of 5.25 to 5.5 percent take a toll on the cost of capital and discourage business investment. Growth is forecast to expand by only 0.8 percent in 2024 compared to 2.4 percent this year, according to Wells Fargo economists.
Investments in new plants and migration of people to these states bolstered their labor market compared to the Northeast and Midwestern states, which have struggled to retain workers they lost following the pandemic.
"That's helped propel growth in manufacturing construction while the general manufacturing industry remains weak due to high interest rates," Jackie Benson, an economist at Wells Fargo told Newsweek. "That's another factor offsetting some of the harm that we see materializing next year."
The movement of people attracted by job opportunities, better weather and affordable quality of life to places like Texas and the Mountain West, which includes the likes of Arizona and Colorado, will help those regions cope with the effects of an economic slowdown.
"Population growth acts as a bit of a hedge against economic risk," Benson said.
More people means more demand for consumer goods and services, which in turn means an increased need for workers to meet the demand which eventually spurs economic growth, according to Benson.
"If there is a greater movement into a particular area, let's say for example, it could be in any industry like financial services. Let's say those workers need to get their coffee in the morning and they need to buy lunch in the afternoon, so their presence increases demand for labor and will result in additional hiring in the services industry," Benson said. "So that's how these knock-on effects of population growth beget economic growth."
Interest rate shock
On the flip side, regions of the West Coast, such as Seattle and San Francisco, host industries that are interest-rate sensitive, like the tech sector. The Fed's battle against inflation led to the most rapid rate raises since the 1980s, disrupting parts of the economy that rely on debt to operate.
"That was a big shock," Benson said. "When it comes to the tech sector, a lot of their interest rate sensitivity has come from how they raise money and how they borrow money and all of that with higher interest rates puts more strain on these tech entrepreneurs who are trying to expand."
For regions like New York and other East Coast states, their struggles have largely been due to a population decline that accelerated during the pandemic and has yet to recover.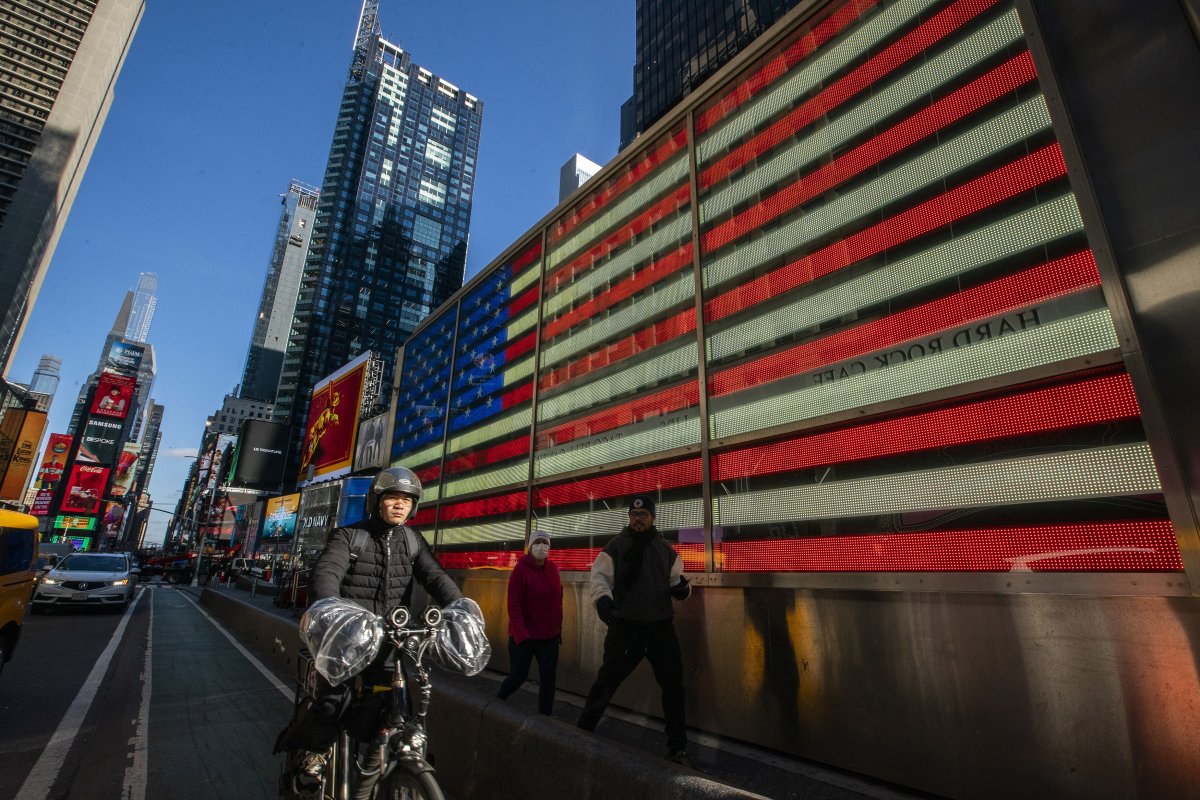 A delivery worker makes his way along Broadway at Times Square on January 24, 2023, in New York City. U.S. coastal regions are expected to struggle as the Sunbelt and Mountain States withstand the looming economic slowdown.
Eduardo Munoz Alvarez/VIEW PREPSS via GETTY IMAGES
"When an area loses population then you have less people there to buy goods and services and you have less workers there to produce the goods and services," Benson pointed out. "It's a drain on economic growth."
As interest rates rose and the cost of housing jumped with them, Americans moved to places where they could afford to buy a home, hurting expensive metropolitan areas in the East and West.
"I'm an example of this," Benson told Newsweek. "I lived in Washington, D.C., for seven years, and about a year ago, I moved down to Charlotte, North Carolina, because my husband and I were ready to buy a home but we were priced out of the D.C. housing market."
These parts of the country are adding workers but their search for affordable housing is also sparking construction of new homes, giving another boost to their local economies, Benson said.
Wells Fargo is forecasting two consecutive negative quarters of economic growth in 2024, with growth for the year of less than 1 percent.
Economic Cramps
"Now, is that a recession? I don't know because the definers of what a recession is, it's a group of economists in Washington, D.C., that look back and determine whether there was enough broad economic weakening in the economy to constitute a recession," Benson said. "So, the way we've been characterizing, it is an economic contraction."
The unemployment rate is expected to creep upwards to 4.5 percent by the end of 2024. Meanwhile, inflation is forecast to trend lower but at a slower pace before it can hit the Fed's target of 2 percent on a sustained basis, which could happen by 2025, according to Wells Fargo.
"Our expectation for a slowdown is relatively mild, especially in the historic context for the U.S.," Benson told Newsweek. "It's more of a product of the Fed's increasing interest rates hurting business activity and making it more expensive to borrow."
She added: "We're not forecasting anything close to a 2008 recession with the global financial crisis and, generally speaking, we expect [economic growth] should kind of resume at a pretty robust or at least normal pace for the U.S. in 2025."
Uncommon Knowledge
Newsweek is committed to challenging conventional wisdom and finding connections in the search for common ground.
Newsweek is committed to challenging conventional wisdom and finding connections in the search for common ground.