Gregory Mijares, who's accused of slamming his body into a police officer during the Capitol riot, wants to be allowed to possess a weapon, in part, because former President Donald Trump can.
Mijares is one of over a thousand people who have been charged in connection with the January 6, 2021, attack at the Capitol. Several defendants have tried to put the blame on Trump, telling judges that they were influenced by his claims the election was stolen, and that they were just heeding his calls to come to the Capitol.
In August, Trump was charged with four counts related to his efforts to overturn the election and the incidents of January 6.
In a recent court filing, Mijares' attorney, Jerry Ray Smith Jr., asked the judge to modify his pretrial release conditions to allow for his client to be able to possess a bow and arrows for hunting. Smith noted that Trump has also been charged but has not been restricted from having any firearms or weapons.
Prosecutors called the reference to Trump "unavailing," in part, because Trump wasn't charged with engaging in violence at the Capitol.
"President Trump is a high-profile protectee of the Secret Service, who obviously are well-armed at all times," U.S. Attorney Matthew Graves wrote in a court filing on Friday.
Newsweek reached out to former President Donald Trump's spokesperson via email for comment but did not receive a response in time for publication.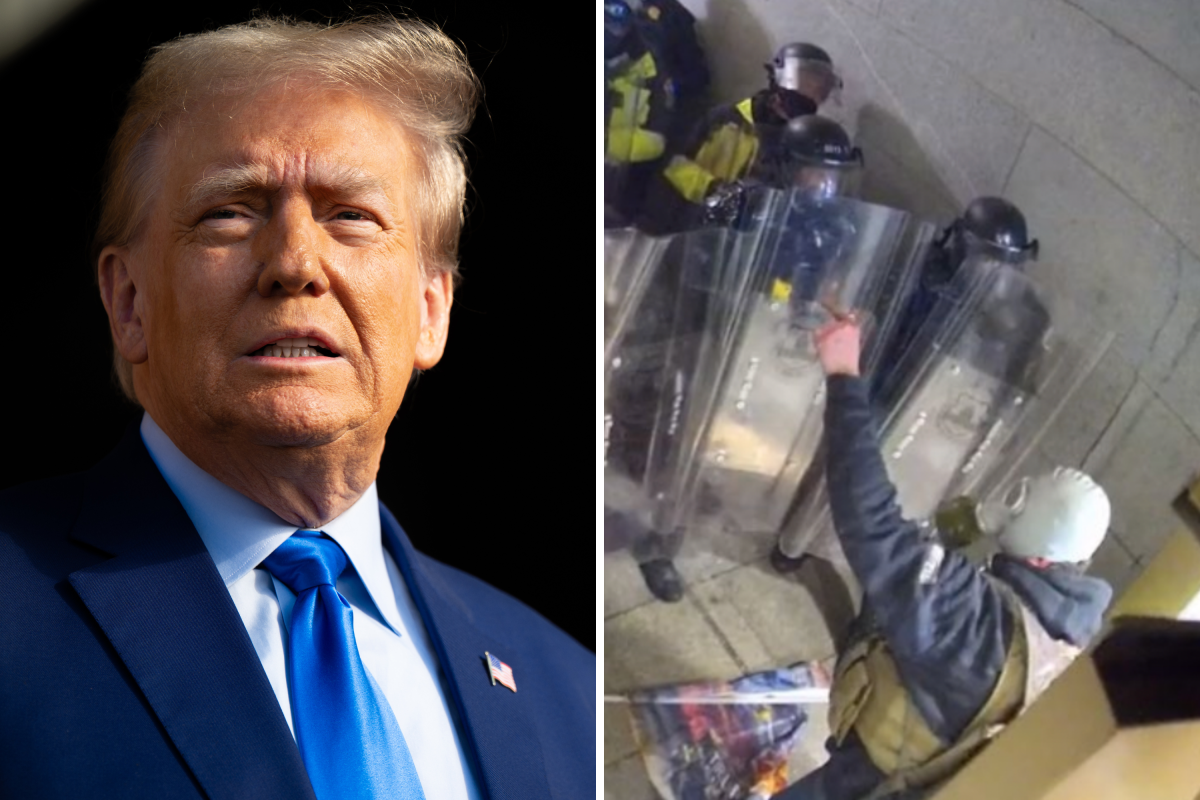 Trump faces four charges, including conspiracy to defraud the government and the corrupt obstruction of an official proceeding.
Special counsel Jack Smith accused Trump of recruiting fake electors in swing states and pressuring former Vice President Mike Pence to delay the certification of the election. Pence refused to do so, creating a divide between the two men. When Trump couldn't achieve what he wanted, he "exploited" the violence of the January 6 riot to try to convince Congress not to certify the election, according to the indictment.
Trump pleaded not guilty and has denied all the charges against him. He's accused Smith of engaging in a witch hunt in an attempt to keep him from winning the 2024 election.
Smith is expected to focus much of his case on the events of the Capitol riot. Expected to be a centerpiece of the trial, prosecutors argued in a recent filing that it was Trump's final effort to keep his power.
"One of the ways that the defendant did so…was to direct an angry crowd of his supporters to the Capitol and to continue to stoke their anger while they were rioting," senior assistant special counsel Molly Gaston wrote in the filing.
Mijares is accused of wearing a gas mask and tactical vest while being one of the first people to enter the Capitol on January 6.
Prosecutors claim that he opened doors into the Capitol that allowed the mob to move toward a group of police officers. When officers tried to push Mijares back with a riot shield, he slammed his body into the shield, according to court documents.
A two-hour fight between the rioters and the police ensued, and Mijares is accused of helping pass riot shields that were taken from police officers to rioters.
Mijares was charged with three counts in September and the court banned him from possessing weapons. Given the violence that Mijares allegedly engaged in at the Capitol, prosecutors asked the judge to continue to bar him from possessing weapons because he's a potential "danger" to the community.
Uncommon Knowledge
Newsweek is committed to challenging conventional wisdom and finding connections in the search for common ground.
Newsweek is committed to challenging conventional wisdom and finding connections in the search for common ground.