Chinese coast guard and maritime militia vessels "recklessly harassed and blocked" Philippine Coast Guard boats on their way to resupply a Manila-held outpost in the South China Sea, the Philippines said Friday.
Chinese coast guard crews conducted unsafe maneuvers around their Philippine counterparts, risking a collision, according to aerial footage published by local paper the Daily Tribune. One Chinese ship fired a water cannon at a supply boat, Philippine forces said.
Ship-tracking data showed at least two dozen Chinese vessels, including large ships of the China Coast Guard, descending on Philippine-controlled Second Thomas Shoal, where a rusting warship and a small contingent of marines are all that remains between Manila's claim and Beijing's control of yet another contested feature in the Spratly Islands archipelago.
Raymond Powell, a fellow at the Gordian Knot Center for National Security Innovation, said in a social media post that a ship tracker had revealed 24 Chinese ships, including coast guard and maritime militia vessels, to be operating in the area.
China's Southern Theater Command did not immediately respond to Newsweek's request for comment.
Second Thomas Shoal, which China claims as Renai Jiao, is in one of the most hotly contested zones in the energy-rich sea, most of which is claimed by Beijing—in contravention of a 2016 ruling in The Hague that rejected its assertions.
China's maritime forces have acted increasingly assertively near the feature, which falls within the Philippines' economic exclusive zone. This has been especially true since the inauguration of President Ferdinand Marcos Jr. of the Philippines, who has reversed course on the previous administration's frostier ties with Washington.
The Philippines is one of America's oldest allies in Asia, and President Joe Biden has pledged to honor their decades-old mutual defense treaty. The agreement obliges American forces to intervene in the event of an attack against the Philippines, including the South China Sea.
Philippine Senator Francis Tolentino called the Chinese actions on Friday a dangerous move that "undermines the principle of maritime safety and poses a direct threat to international peace and security."
"The continuous breach of China's obligations under international law covering maritime affairs is hard to explain, while its motivations may be clear," he added.
The Chinese coast guard said in a statement that it had "followed and supervised" two unauthorized Philippine transport vessels and three coast guard ships "in accordance with the law."
The statement said the Philippine supply mission had "violated China's territorial sovereignty and urged Manila to cease its violations.
The incident occurred less than three weeks after collisions occurred between Chinese ships and Philippine coast guard and supply boats. Footage released by Manila apparently showed the Chinese side attempting to block the mission to resupply Second Thomas Shoal.
U.S. Pacific Fleet Commander Adm. Samuel Paparo, whom President Joe Biden has nominated as the next head of the Indo-Pacific Command, spoke Wednesday to the trend of Chinese military pilots and crews exhibiting more aggressive behavior toward the U.S. and its allies.
"They are increasingly provocative and it's deeply concerning," he said. "At times, they've hazarded themselves, and they've hazarded the people that are in the vessels and aircraft they've interacted with."
Asked whether he thinks Chinese personnel during these incidents have acted independently, he said: "I believe they've been directed to be more aggressive and they have followed those orders."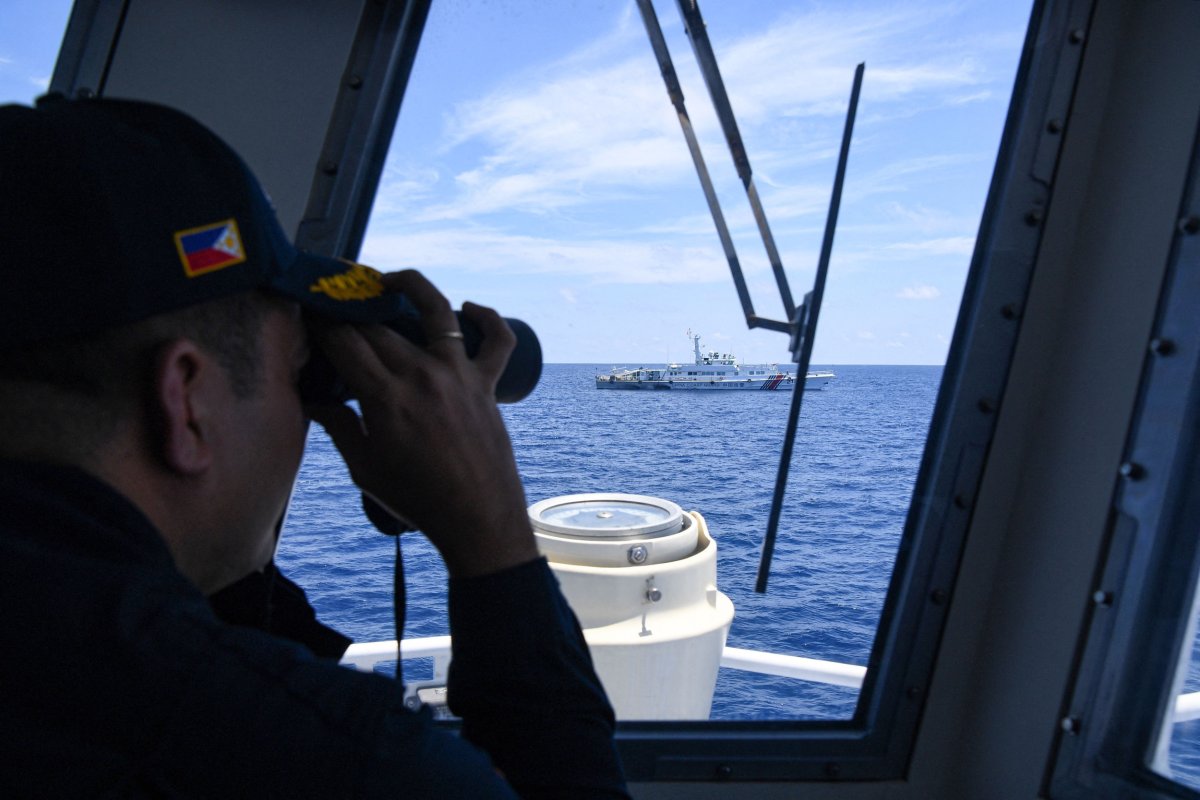 Uncommon Knowledge
Newsweek is committed to challenging conventional wisdom and finding connections in the search for common ground.
Newsweek is committed to challenging conventional wisdom and finding connections in the search for common ground.