The Princess of Wales and pop star Harry Styles have become the focus of a new viral video as social media fans on TikTok have resurfaced footage of the pair meeting at a charity event in 2014.
Kate and Harry were introduced during the annual Royal Variety Performance in London, which sees high profile acts invited to perform and raise money for people in the arts.
The performance is traditionally attended by members of the royal family and in 2014, Prince William and Kate took their seats in the royal box for the first time since their marriage three years earlier.
The line-up of stars for the evening included Ed Sheeran, Bette Midler, Shirley Bassey, Demi Lovato, Ellie Goulding and One Direction.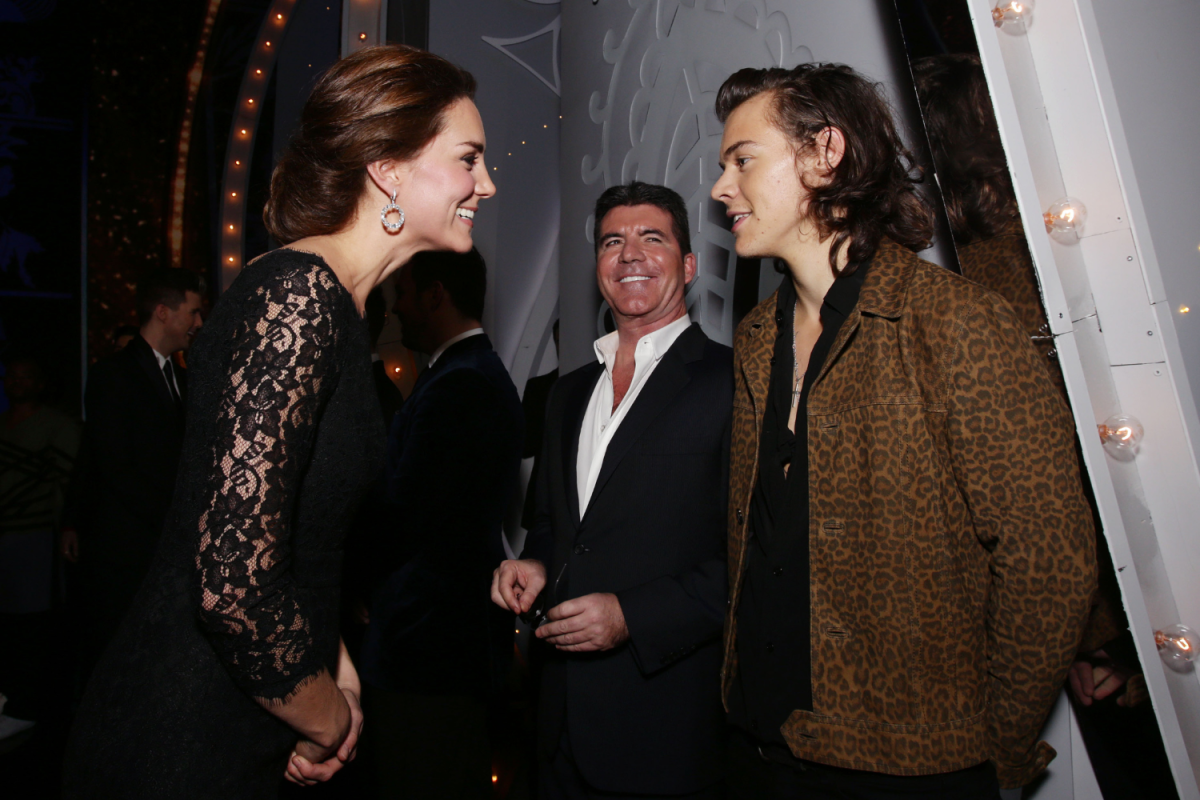 After the performances, the royals are photographed meeting the artists and a brief exchange between Kate and Styles was caught on camera.
Uploaded to TikTok by user the_blazing_royals, on November 6, the princess is seen chatting animatedly with the pop-star in the now viral video captioned: "Two stars together! When Harry Styles met Princess Catherine."
The clip has been viewed over 200,000 times on the platform so far and received in excess of 5,000 likes and numerous comments, many of which have praised both Kate and Styles.
"What a throwback!" one comment read.
"Look at Harry Styles he's all smiles meeting the beautiful Catherine princess of Wales," posted another user, with a further adding: "So charming."
Speaking after the event, Styles revealed some details about his chat with the royal, telling a British newspaper he "said congratulations on the bump…[Though] she didn't look bumpy."
At the time, Kate was expecting her second child, Princess Charlotte.
Kate's brushes with celebrities have often been picked up by royal fans and shared online, with the moments often occurring at events staged to raise money for charities she, or the monarchy, is connected with.
In 2021 the princess' attendance of the world premiere of the James Bond movie No Time To Die resulted in one of her most viral public appearances to date, not just for her glittering appearance in an all-gold caped gown but for her friendly interactions with actor Daniel Craig and other cast members.
Kate attended another movie premiere with Prince William in 2022, walking the Top Gun: Maverick red carpet in London wearing a sleek monochrome gown alongside Tom Cruise.
William and Kate have attended the Royal Variety Performances on four separate occasions during the course of their 12-year marriage and have even become the butt of some comedian's jokes during the event.
At the same 2014 event performed at by One Direction, British comedian Jack Whitehall addressed the royal box during his set to tell Kate that the pair had attended the same school, Marlborough College, together before she met William.
"I don't know whether its appropriate given the circumstances," he told the princess. "But you were probably my first ever crush."
Coverage of the show then cut to Kate who gave an embarrassed laugh.
Speaking after the event to broadcaster Jonathan Ross, Whitehall revealed that Prince William teased him about the joke later that night: "William came over and he was very funny, he was very nice but very passive aggressive [he said] 'Oh, so you were flirting with my missus? Oh no that was very funny.'"
James Crawford-Smith is Newsweek's royal reporter, based in London. You can find him on X (formerly Twitter) at @jrcrawfordsmith and read his stories on Newsweek's The Royals Facebook page.
Do you have a question about King Charles III, William and Kate, Meghan and Harry, or their family that you would like our experienced royal correspondents to answer? Email royals@newsweek.com. We'd love to hear from you.
Uncommon Knowledge
Newsweek is committed to challenging conventional wisdom and finding connections in the search for common ground.
Newsweek is committed to challenging conventional wisdom and finding connections in the search for common ground.