Using animals for cosmetic and medical testing remains a strongly contentious topic in society. Rabbits are commonly used animals in testing and research, second only to guinea pigs, according to the American Anti-Vivisection Society (AAVS). It says that over 144,000 rabbits were held in laboratories in 2021, with nearly a third used in experiments causing pain and distress.
Two rabbits that were lucky enough to escape the sad fate of dying young in a lab are Figaro and Donna, who were rescued by the Woodstock Sanctuary in upstate New York.
In the video posted to their TikTok account, the two rescue rabbits can be seen exploring their new home, a large enclosure complete with grass, sunshine, neighbors, and treats.
They were rescued by charity Save The Buns, which "rescued these rabbits from an animal research lab where they were going to be killed," reads the caption of the rescue video, which also revealed that their boarding and vet care before arriving at the sanctuary came to $1,981.
Rabbits are commonly associated with cosmetic testing, though thankfully this is far less common today. However, they are still used in chemical testing, including for the so-called Draize eye and skin irritancy test, "which are extremely painful and cruel," said the AAVS.
"Rabbits are widely used for experimentation and testing mainly due to practical, rather than scientific, considerations," it added. "They are small and usually docile, easily restrained, cheap to maintain, and readily breed."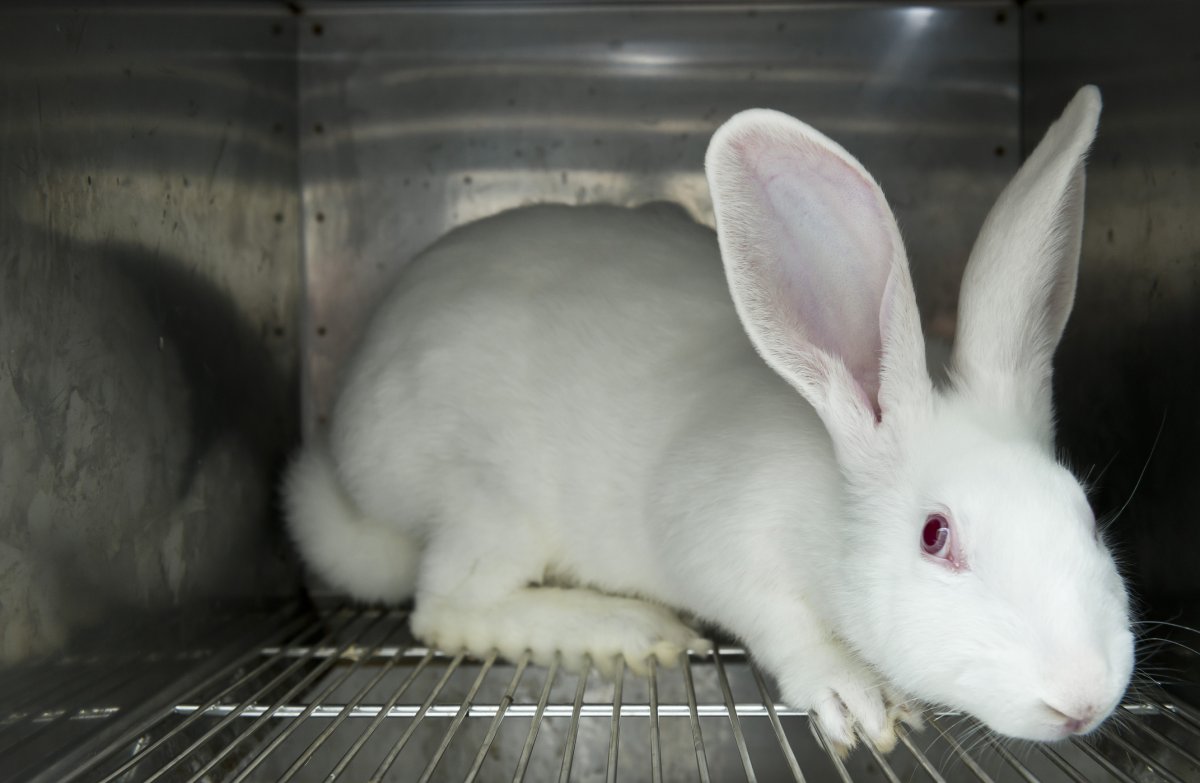 "Before arriving at the sanctuary, Donna and Figaro needed to see a vet," says the caption. "This was likely the first time they'd seen a vet, and we needed to ensure they were both healthy enough to be housed in the rabbit barn. We also had to provide short-term boarding for them while we prepared onsite. Rabbits are sensitive and social animals, and they can be very particular about their friendships. We boarded them with our friends at Reenies Rabbit Rescue to ensure they had a safe space to socialize and adjust while we prepared for them here."
The Draize eye and skin tests were developed in 1944 by John H. Draize and his colleagues.
"Non-anesthetized rabbits are held in full body restraints while test chemicals (liquid, ointment, paste, or solid) are dripped into their eyes or spread on their skin which has been shaved and scraped," says the World Animal Foundation. "The rabbit suffers extreme pain, swelling, ulceration, eye redness, and even blindness and then is killed to be studied.
"The test is used to measure irritation and corrosion caused to the eye or skin. Technicians observe and note the changes in the cornea, conjunctiva, and iris in a rabbit's eye(s) following exposure to test substances."
Symptoms of stress in lab rabbits include nausea, vomiting, self-mutilation, physical deterioration, aggression, tremoring, and more, the foundation says.
"Poor babies, my heart breaks for them. Thank you for saving them," commented one user, "Thank you so so much for rescuing them. Bunnies are amazing souls and I can't even begin to think what torture they've been through," said another.
Do you have funny and adorable videos or pictures of your pet you want to share? Send them to life@newsweek.com with some details about your best friend and they could appear in our Pet of the Week lineup.
Uncommon Knowledge
Newsweek is committed to challenging conventional wisdom and finding connections in the search for common ground.
Newsweek is committed to challenging conventional wisdom and finding connections in the search for common ground.