A student chapter of Jewish Voice for Peace (JVP) as well as Students for Justice in Palestine (SJP) were suspended by New York's Columbia University on Friday after carrying out demonstrations that Columbia said "repeatedly violated university policies."
JVP describes itself as "the largest progressive Jewish anti-Zionist organization in the world" and has been coordinating large demonstrations in support of Palestinians as Israel continues its airstrikes on Gaza in the wake of the October 7 Hamas attack. The assault on Israel left some 1,400 Israelis dead, according to the Associated Press, and since Israel began its airstrikes the Palestinian death toll has surpassed 11,000 as of Friday.
Organizations such as JVP and SJP have coordinated protests on college campuses and in major cities in opposition to Israel's actions, demanding a ceasefire in Gaza. Critics of the activists have accused the organizations and others involved in the pro-Palestinian movement of antisemitism. Some pro-Palestinian demonstrators have praised Hamas' attack on Israel and made statements that many view as threatening and hateful toward Jews.
College campuses have received substantial criticism for allowing pro-Palestinian demonstrations to continue. Some high-profile donors have threatened to stop contributing to universities where the activism has occurred.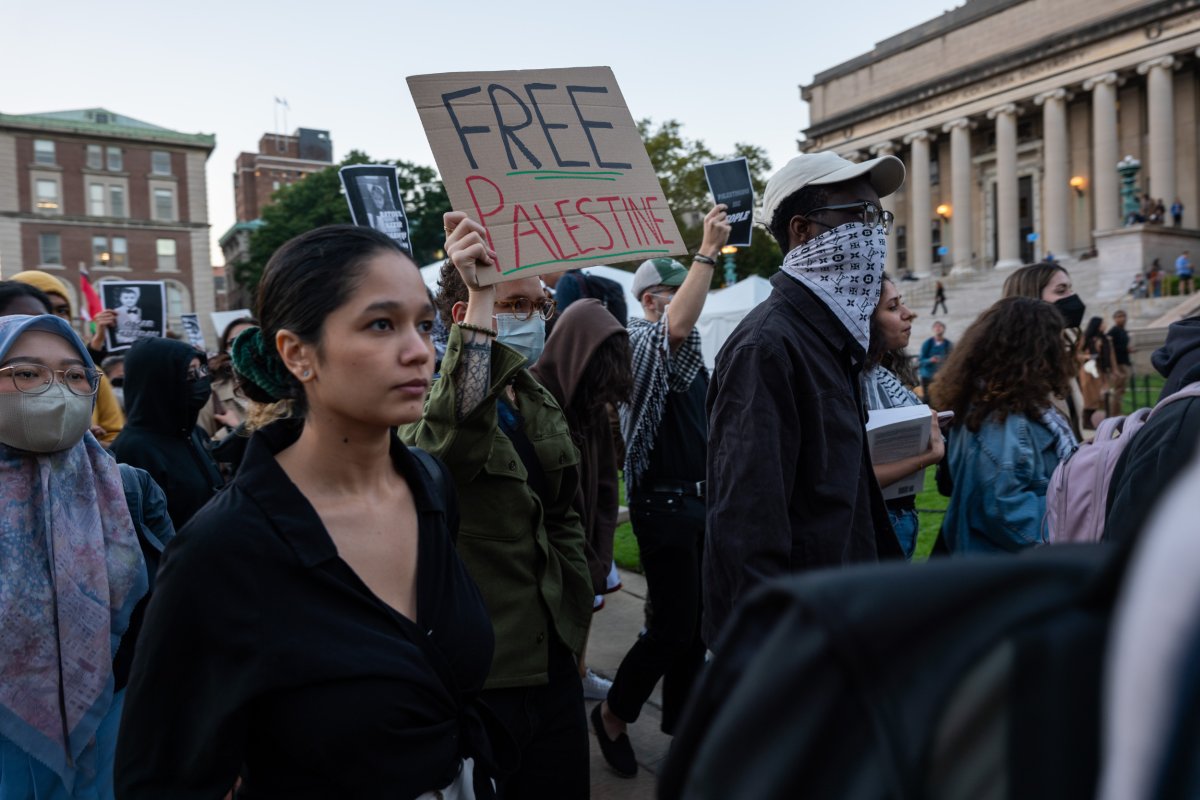 Gerald Rosberg, senior executive vice president of the university and chair of the special committee on campus safety, released a statement Friday explaining the institution's decision to ban the pro-Palestinian groups.
"This decision was made after the two groups repeatedly violated University policies related to holding campus events, culminating in an unauthorized event Thursday afternoon that proceeded despite warnings and included threatening rhetoric and intimidation," Rosberg said, according to a press release.
He went on: "Suspension means the two groups will not be eligible to hold events on campus or receive University funding. Lifting the suspension will be contingent on the two groups demonstrating a commitment to compliance with University policies and engaging in consultations at a group leadership level with University officials."
A Columbia spokesperson declined to comment further when contacted by Newsweek on Friday evening.
Sonya Meyerson-Knox, senior communications manager at Jewish Voice for Peace, told Newsweek: "Columbia University's decision to suspend Students for Justice in Palestine and Jewish Voice for Peace is a horrific act of censorship and intimidation. These are students doing exactly what we should all want our students to be doing: standing up for what they believe in and trying to make the world a better place."
The students "are trying to stop a war. They are calling for a ceasefire to save lives," she said.
Rosberg suggested that the groups might be able to operate on campus again, noting that, like all groups, they would be required to abide by university "policies and procedures."
"This ensures both the safety of our community and that core University activities can be conducted without disruption," he said.
Henry Swieca, a billionaire and the founder of Talpion Fund Management, resigned from the Columbia Business School's board on October 30, Columbia Spectator reported.
Swieca, who is Jewish, said his decision came because "blatantly anti-Jewish student groups and professors [were] allowed to operate with complete impunity."
He said this "sends a clear and distressing message that Jews are not just unwelcome, but also unsafe on campus."
Meyerson-Knox said Columbia is in "no way ensuring" student safety.
"Palestinian students, and students who support Palestinian rights, are being doxxed and receiving death threats," she said. "In suspending the JVP chapter, the administration is banning the one place on campus where Jewish students who do not support the acts of the state of Israel can gather and build community."
The American Jewish Congress, which describes itself as "an independent voice fighting for Jewish rights, interests, and values," said in a statement emailed to Newsweek that it welcomed Columbia's decision.
"We hope that today's decision indicates a reckoning by U.S. academic institutions' leadership about the gravity and scale of antisemitism on campus. Nevertheless, more needs to be done and we encourage Columbia to make this decision permanent," the group said.
Polling conducted by Data for Progress showed that 66 percent of voters "strongly" or "somewhat" agree that the U.S. should call for a ceasefire in Gaza. That included majorities of Democrats, Republicans and independents. The poll was carried out from October 18 to 19 and surveyed 1,329 voters, with a margin of error of plus or minus 3 percent.
More recent polling by Rasmussen Reports, from October 31 to November 2, showed that 68 percent of respondents backed Israeli Prime Minister Benjamin Netanyahu's statement that a ceasefire is tantamount to surrendering to Hamas. The survey polled 995 voters, with a margin of error of plus or minus 3 percent.
Massive pro-Palestinian demonstrations calling for a ceasefire have been held in cities around the world. Many critics of these protests say they are antisemitic and offer tacit approval for Hamas' actions against Israel.
Palestinian supporters say they are not antisemitic but oppose the Israeli government's actions. They accuse Israel of carrying out "collective punishment" and "genocide" against Palestinians.
Update, 11/10/2023 at 8:58 p.m. ET: Additional comment from American Jewish Congress was added.
Uncommon Knowledge
Newsweek is committed to challenging conventional wisdom and finding connections in the search for common ground.
Newsweek is committed to challenging conventional wisdom and finding connections in the search for common ground.