In a Friday opinion piece, the Sun Sentinel's editorial board addressed Florida Governor Ron DeSantis' "contradictions" when it comes to his "crackdown on Communist China," highlighting an aircraft made by a Chinese company that Florida law enforcement uses to track down migrants in the state.
As U.S. tensions grow with China, politicians, particularly those within the GOP, have said China is their biggest foreign adversary. One of the current hot-button issues is how to keep Chinese intelligence away from the United States, with Republicans calling for a ban of TikTok, a social media app owned by ByteDance, which is headquartered in Beijing, raising cybersecurity concerns.
DeSantis, a Republican who is running for president in 2024, signed a series of laws in May that was aimed at restricting Chinese influence and preventing China from gaining more economic power in Florida. The governor also banned TikTok from government devices and prohibited Florida government entities from conducting business with China and other foreign "countries of concern."
A few weeks before DeSantis' bill-signing ceremony, his administration signed multimillion dollar contracts to lease a twin-engine jet to locate and detain undocumented immigrants, particularly in the Florida Keys area, the Sun Sentinel, which is ranked the number one daily Florida newspaper in terms of circulation, reported.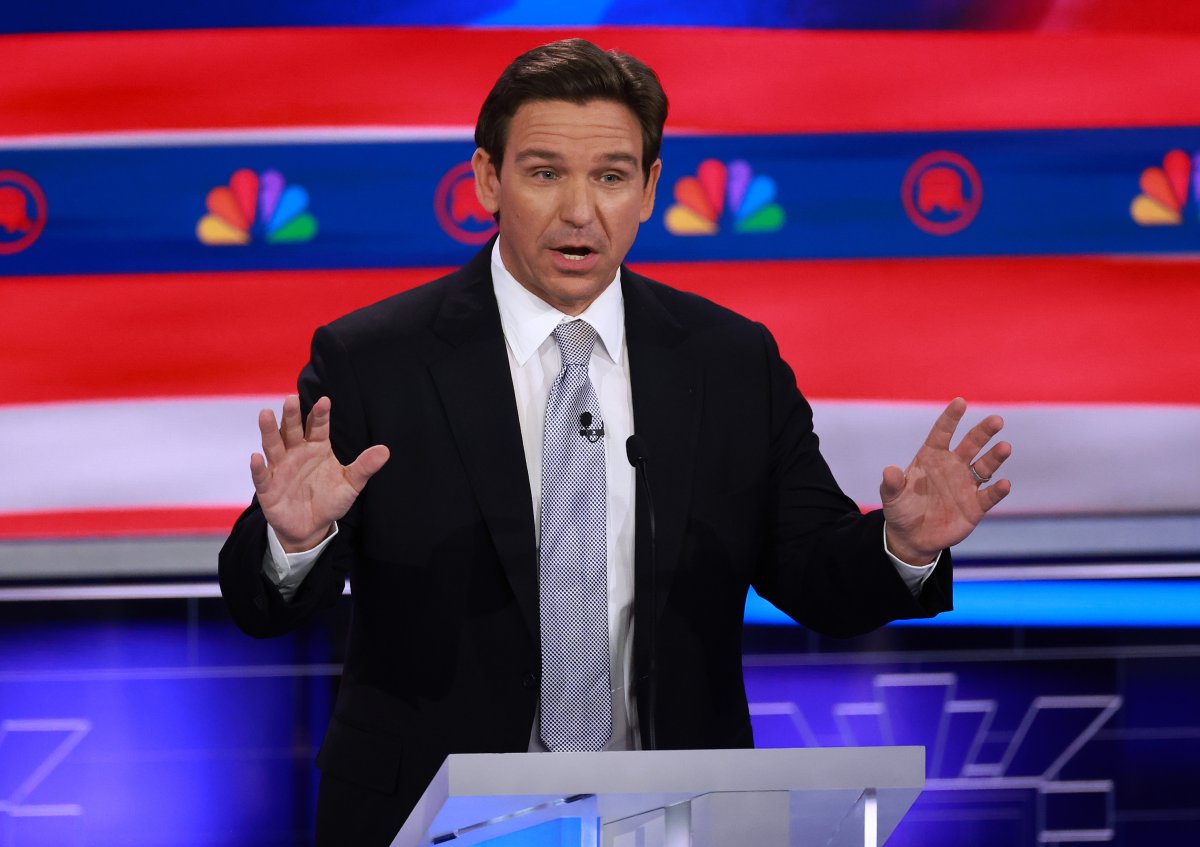 The jet, a Diamond DA62, was made by Austrian firm Diamond Aircraft, which in 2017 was bought by Wanfeng Aviation Industry Co. whose headquarters are in China, the newspaper wrote.
The newspaper also obtained the state's one-year contract with the Bank of Utah, which is a trustee for the aircraft's owners. According to state records, Florida will end up paying $2 million by next May.
When probed about the aircraft contract, a spokesperson from the Florida's Division of Emergency Management (DEM) told the Sun Sentinel, "The plane that DEM leased was from the Bank of Utah…In no way did we send a nickel to China. The narrative you are trying to pursue is purely false."
The editorial board then wrote in its piece: "No, Florida is not directly doing business with China here. The state is doing business with a bank that is doing business with a plane owner who's doing business with China (the state says the owner is North Sea Aviation Services of Belgium). The middlemen just allow DeSantis to keep his hands ostensibly clean, and show how porous this ban on doing business with Chinese companies really is. The state is shelling out a lot of taxpayer money for a politically inspired program that is obviously not a core function of state government: immigration enforcement."
Newsweek reached out to DeSantis' administration and campaign as well as the DEM via email for comment.
DeSantis' "more apparent contradictions," as the Sun Sentinel wrote, were put on display at the recent Republican primary presidential debate on Wednesday. Former South Carolina Governor Nikki Haley asked the Florida governor why he scrubbed the website for SelectFlorida, which is a partnership between the state's economic entities and its government leaders, of positive references to China.
In a dispute over China policy, DeSantis criticized Haley for having warm relations with Chinese businesses when she served as governor. He said Haley "welcomed them into South Carolina, gave them land near a military base, [and] wrote the Chinese ambassador a love letter saying what a great friend they were."
In response, Haley said: "Ron, you are the chair of your economic development agency that as of last week said Florida is the ideal place for Chinese businesses." Haley was referring to a report from 2020 that was removed off the FloridaSelect website that called Florida "an ideal business destination for Chinese companies."
Haley's campaign told Newsweek via email on Sunday: "Every governor running for president tried to recruit Chinese businesses to their state. Nikki Haley did it ten years ago. Ron DeSantis is aggressively recruiting Chinese companies now and just this month scrubbed the Florida government website of proof of his recruitment. The question is who will take on China as Xi Jinping ups the ante, and the clear answer is Nikki Haley."
In reference to the removal of information on the website, DeSantis' administration told The Messenger that it was the result of a website overhaul since a new state law dissolved SelectFlorida's predecessor, Enterprise Florida. They said that the items removed from the site was "outdated information on a website for an organization that the governor abolished, so it was updated accordingly."
Update 11/12/23, 2:17 p.m.: This article has been updated with comment from Haley's campaign.
Uncommon Knowledge
Newsweek is committed to challenging conventional wisdom and finding connections in the search for common ground.
Newsweek is committed to challenging conventional wisdom and finding connections in the search for common ground.