Donald Trump lashed out at the "team of losers and misfits" going after him in court, writing on his social media platform Truth Social that those in charge of the investigations against him would end up in a "mental institution" if he's reelected.
The former president has been indicted four times this year and is now facing a series of civil and criminal trials as he campaigns to run again for the White House in 2024.
"Deranged Jack Smith, Andrew Weissmann, Lisa Monaco, the 'team of losers and misfits' from CREW, and all the rest of the Radical Left Zealots and Thugs who have been working illegally for years to 'take me down,' will end up, because of their suffering from a horrible disease, TRUMP DERANGEMENT SYNDROME (TDS!), in a Mental Institution by the time my next term as President is successfully completed," he wrote on Truth Social on Monday.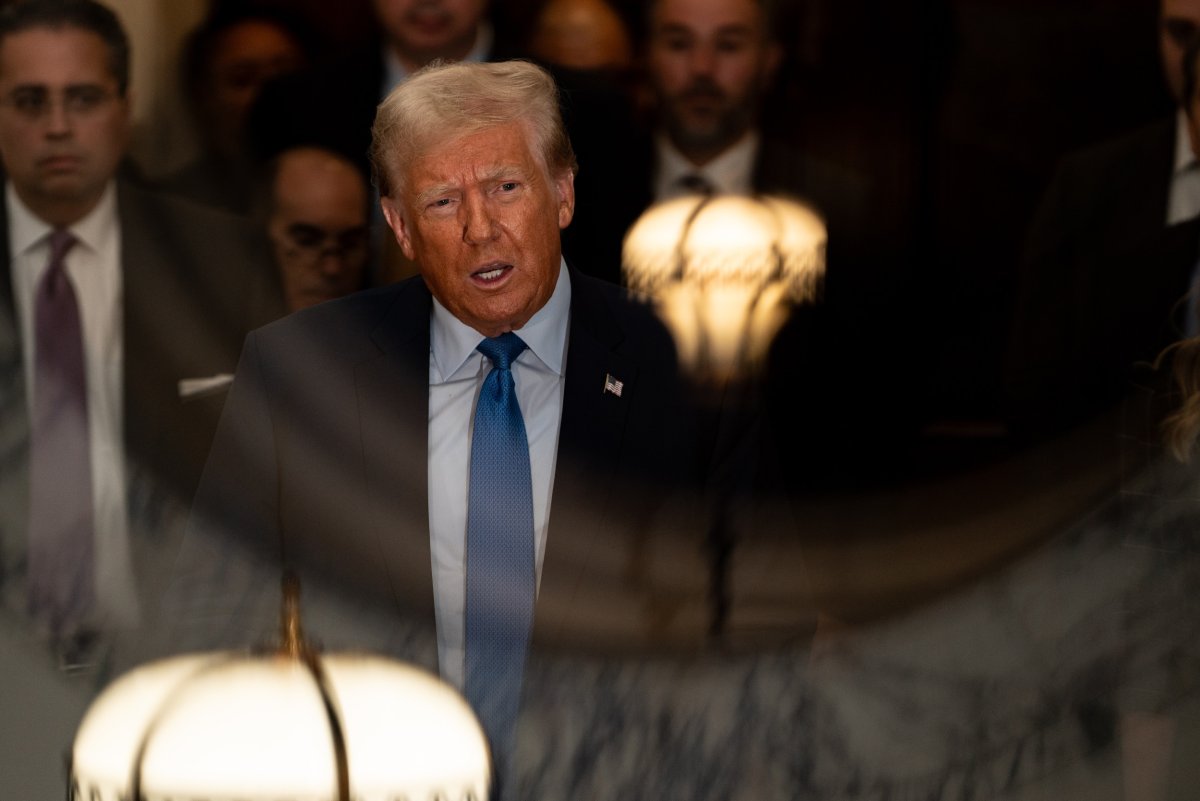 Special counsel Jack Smith has been overseeing federal investigations into Trump's alleged mishandling of classified documents, for which charges were filed in June, and into the former president's efforts to overturn the result of the 2020 election. Weissmann is a former Justice Department official, and Monaco is U.S. deputy attorney general. CREW designates the Citizens for Responsibility and Ethics in Washington, a watchdog organization that has recently sued to remove Donald Trump from the 2024 presidential ballot.
Trump has denied any wrongdoing in all criminal and civil cases brought against him, saying that the investigations were part of a political "witch hunt" against him aimed at weakening his stance as a 2024 candidate.
The former president has long been attacking Smith—as well as other prosecutors and witnesses involved in his cases—accusing them of being biased against him and maliciously going after him.
Previous similar comments on Smith, whom Trump has repeatedly called "deranged," got the former president a gag order from U.S. District Judge Tanya Chutkan—presiding Trump's election subversion case—which prohibits him from attacking prosecutors, court staff and witnesses.
Newsweek contacted the special counsel's office for comment by email on Tuesday, as well as Trump's 2024 campaign team.
Polls have put Trump the frontrunner of the 2024 Republican primaries, leading the pack at 56.6 percent as of November 13, according to a FiveThirtyEight average. His immediate rival, Florida Governor Ron DeSantis, trails him at 14 percent, followed by former ambassador to the U.N, Nikki Haley, with 8.7 percent.
The trial over charges that he conspired to overturn his 2020 presidential election loss is scheduled to take place in March 2024.
On November 6, Trump testified in a $250 million civil lawsuit brought forward by New York Attorney General Letitia James, who has accused Trump, his family, including his two eldest sons, and his organization, of scheming to inflate the value of his assets in order to secure more favorable loan and insurance policy terms. Trump has denied any wrongdoing.
Uncommon Knowledge
Newsweek is committed to challenging conventional wisdom and finding connections in the search for common ground.
Newsweek is committed to challenging conventional wisdom and finding connections in the search for common ground.