An ex-Saturday Night Live star has slammed the sonar being used for offshore wind farms in New Jersey, claiming that it is killing local whales.
There has been an unusual mortality event involving humpback whales occurring off the coast of New Jersey for the past few years, according to NOAA. However, there appears to have been a spike in the deaths throughout this year, and other marine mammals, such as dolphins, have also been washing up dead. Nine humpback whales have died in New Jersey in 2023, according to NOAA stats.
Many are blaming the deaths on offshore wind turbine projects in the area, but authorities have previously claimed there is no evidence that the projects affect the whales.
Jim Breuer, who was a cast member on the popular TV show from 1995 to 1998, recently released a documentary on YouTube called Big Wind & The Incidental Take, a story about New Jersey, Green Energy & Dead Whales, which explores the issue and links it with offshore wind farms.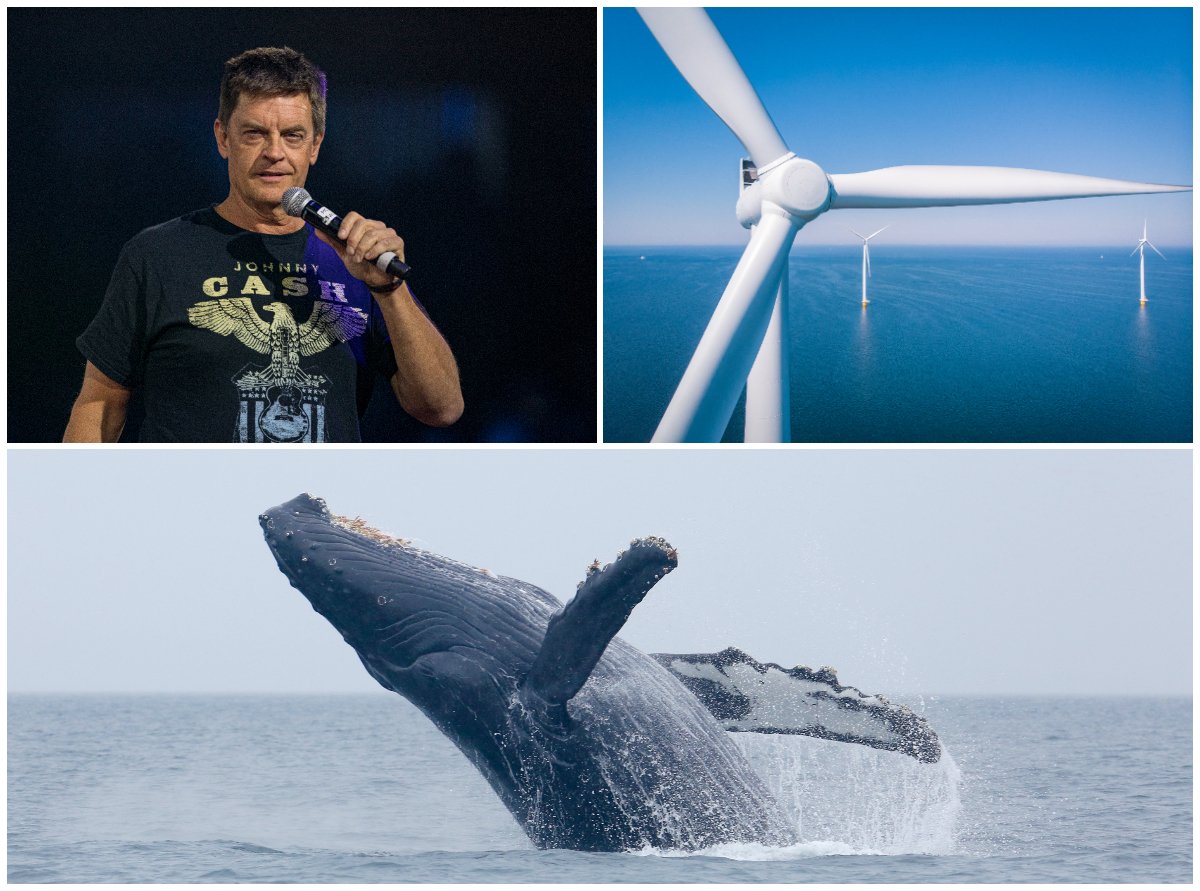 Breuer, along with other locals and environmentalists in the area, believes the sonar, used by authorities to map the seafloor for suitable places to put the wind turbines, is disrupting animals' movements.
He told the MailOnline that the whales are dying due to "the root of all demonic evil—greed and money."
"Sonar is how these mammals communicate, so you are paralyzing them," Breuer said. "I'm tired of politicians and any humanitarian cause that, at the end of the day, their true cause is greed and the love of money and the power of money to take advantage of humanity when they're slaughtering marine life."
Whales and other marine mammals can be affected by disruptions to their environment, however, climate change is also threatening species.
Breuer is not the only one to be concerned about offshore wind development, and its effect on marine life.
In March, several Republican members of Congress introduced a resolution that sought a moratorium on new offshore wind projects in order to "conduct investigations to determine the true impacts of offshore wind development."
In February, Georgia Representative Marjorie Taylor Greene also spoke about the issue on Sean Hannity's show, claiming that "no one seems to want to talk" about it.
Also in March, U.S. climate envoy John Kerry told Newsweek in an interview that there is a "disinformation campaign" surrounding the narrative around offshore wind and how it is affecting wildlife.
Experts have said that although there is no concrete evidence on how offshore wind projects effect the whales, it is possible.
"Indeed, there are a number of very large offshore wind farms that have been constructed in the coastal waters of Europe, and I am not aware of any reports that these wind farms have been directly associated with the mortality of whales in the region," Graeme Shannon, a professor in zoology at the School of Natural Sciences at the U.K.'s Bangor University, told Newsweek at the time.
"However, it is important to state that noise produced by offshore construction can have a behavioral and physiological cost to animals in the vicinity of these developments, but it is unlikely to be the direct cause of mortality. Nevertheless, it is crucial that scientists are supported in their attempts to explore the evidence and understand what has led to an increased number of strandings in this region."
Uncommon Knowledge
Newsweek is committed to challenging conventional wisdom and finding connections in the search for common ground.
Newsweek is committed to challenging conventional wisdom and finding connections in the search for common ground.