Republican Representative Marjorie Taylor Greene of Georgia's "Jewish space lasers" conspiracy has reemerged during a contentious interview with British broadcaster Piers Morgan.
While Greene did not publicly promote the conspiracy theory using the exact phrase "Jewish space lasers," the controversy originated with a 2018 Facebook post from the Georgia Republican that did reference Jewish people and lasers from space.
Greene's post touted a theory that suggested the Rothschilds, a wealthy Jewish banking family who are often central figures in antisemitic conspiracies, were profiting off of California wildfires supposedly caused by "lasers or blue beams of light" from space.
On Tuesday, Greene appeared in an interview on Piers Morgan Uncensored that featured several minutes of arguments and denials concerning the infamous theory. Greene, who was promoting her new book MTG, become visibly annoyed after Morgan suggested that she could be a "conspiracy theory wack job."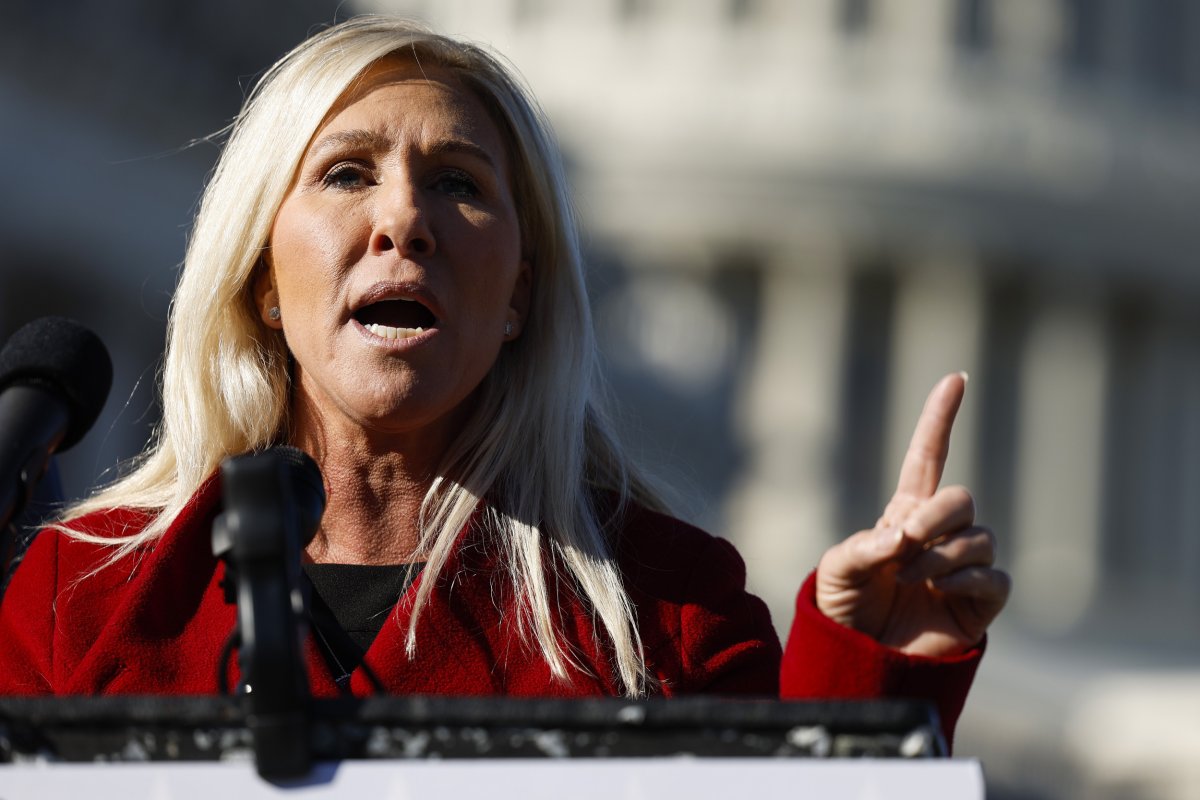 Morgan showed Greene a clip of his recent interview with Egyptian comedian Bassem Youssef, who suggested that Greene was among the prominent figures who professed to be pro-Israel during the ongoing Israeli-Palestinian conflict while being "antisemites themselves."
After the clip ended with Youssef noting that Greene was "very known" for the "Jewish space lasers" post, Morgan said that he had also read the deleted post, describing it as "complete gobbledygook."
Greene responded by insisting that Morgan and others in the media had "twisted" her words, arguing that she "never said" the exact phrase.
"I talk about Jewish space lasers in my book because that was something I never said," Greene said. "Excuse me, Piers, I never said that phrase. That was a lie about me. If you read my original Facebook post, I never said it. That's why I had to write this book."
"Because people like you, and whoever that guy was … [are] attacking me and calling me names," she added. "I'm not antisemitic at all. I support Israel."
Morgan said that he was "not calling [her] anything" before asking why she decided to make "this crazy post" in 2018.
"No," Greene replied. "The media lied about it and that's why I wrote this book, Piers. Because I'm setting the record straight."
Morgan went on to confront Greene by reading aloud parts of her original post, while pointing out that Greene herself had written the words.
"Well, you know, people have twisted my words non-stop and I guess that's what you're going to continue to do," Greene responded, smiling. "You're doing a great job of it, Piers. That's what you and your colleagues do all the time."
Morgan then held up a yellow highlighted version of Greene's Facebook post, saying "before we move on, you have to just accept what you wrote yourself."
Greene refused to directly respond to Morgan, instead shifting the topic to discuss her support for January 6 Capitol riot defendants.
A spokesperson for Greene declined Newsweek's request for comment via email on Tuesday.
Uncommon Knowledge
Newsweek is committed to challenging conventional wisdom and finding connections in the search for common ground.
Newsweek is committed to challenging conventional wisdom and finding connections in the search for common ground.