Senator Markwayne Mullin has defended challenging a union leader to a fight during a congressional hearing, suggesting the people of Oklahoma would be "pretty upset with me" if he didn't.
Mullin had several heated exchanges with Sean O'Brien, the president of the International Brotherhood of Teamsters, at the Capitol on Tuesday during a Senate Health, Education, Labor, and Pensions (HELP) Committee hearing on how unions can help working families, with both men hurling insults at each other as the long running feud between the pair continued.
At one point, Mullin read a post which O'Brien sent in June which accused the senator of being a "Greedy CEO who pretends like he's self made. In reality, just a clown & fraud." The post ends with O'Brien telling Mullin he could find him "anyplace, anytime."
Mullin told O'Brien during the hearing "this is a place," and that "we can finish it here." Mullin asked O'Brien if he wants "to do it now?" adding, "well, stand your butt up then."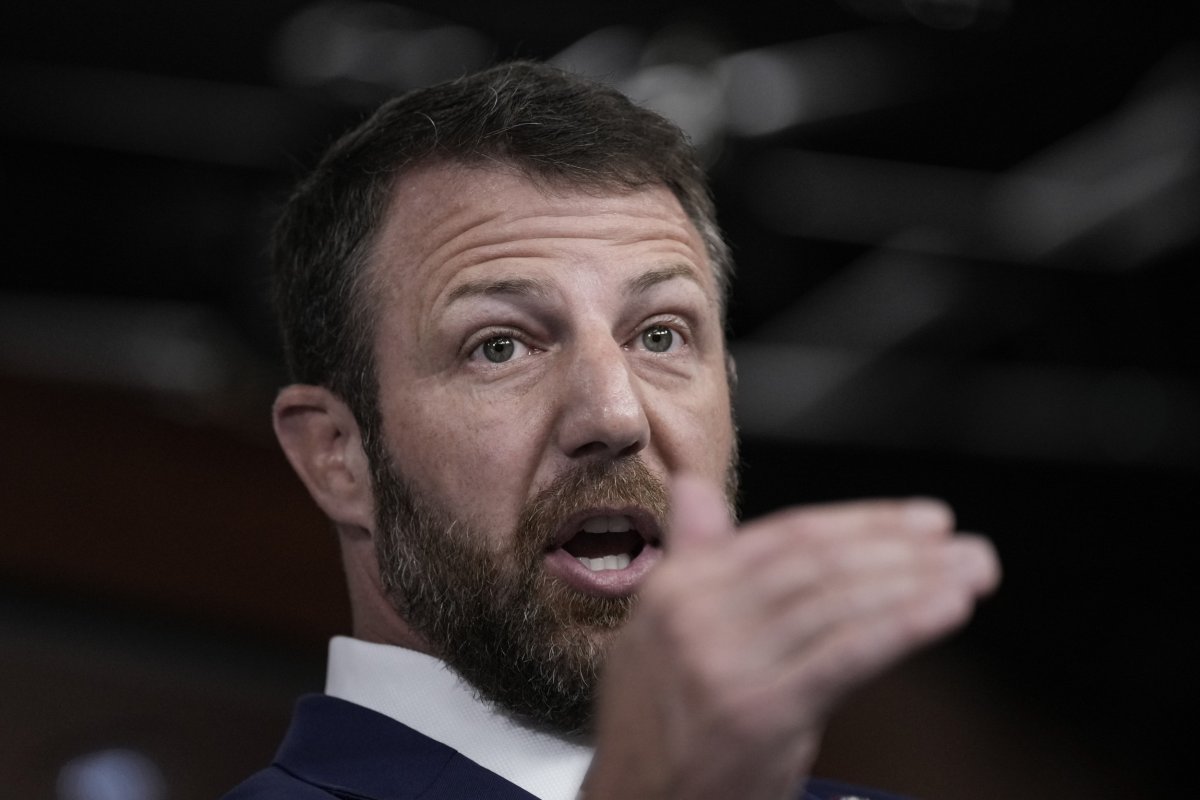 When O'Brien responded with "you stand your butt up," Mullin, who is a former mixed martial arts fighter, rose from his seat and appeared to start taking off his wedding ring. Vermont Senator Bernie Sanders, who was chairing the meeting, told Mullin: "You're a United States senator. Sit down."
In an interview with Fox News' Sean Hannity, Mullin defended his actions and suggested it was an appropriate response to attacks he had been receiving from O'Brien.
"I'm a guy from Oklahoma first, and in Oklahoma you don't do this. Maybe you run your mouth in New Jersey, I don't know I'm not from New Jersey," Mullin told Hannity. "But this is a mob boss, and you're supposed to be intimidated because he's the boss of the Teamsters.
"You're not going to run your mouth at me and expect me to sit there. And you should have seen the fear in his eyes when I stood up, I'm not joking. I'm not looking for a fight, I used to get paid to fight professionally, but I'm not going to sit back and let somebody do that and not call them out on it."
O'Brien's office has been contacted for comment via email.
Mullin went on to suggest that the controversy surrounding the confrontation is just "political correctness" and that people on the left shouldn't expect to "say whatever they want" and not get a response.
"I just don't think that he was expecting me to answer the call, and we need more of this to be quite frank—I'm not saying more violence—but we need more people to be taught a lesson and be called out on what they say," Mullin added.
"What do people want me to do? If I didn't do that, the people of Oklahoma would be pretty upset at me. That's how I was raised, to represent Oklahoma values."
In an interview with CNN after being challenged to the fight, O'Brien accused Mullin of "acting like a 12-year-old in a schoolyard because you didn't get your way" during the Senate hearing.
"He's one out of the elite to actually effectuate change in this country and he's focused on being a bully," O'Brien said. "We're not going to stand for it, and we definitely were brought up differently."
After the hearing, Sanders called the exchange "absurd."
"We were there to be talking about, and did talk about, the crisis facing working families in this country, the growing gap between the very rich and everybody else and the role that unions are playing in improving the standard of living of the American people," Sanders said. "We're not there to talk about cage fighting."
Uncommon Knowledge
Newsweek is committed to challenging conventional wisdom and finding connections in the search for common ground.
Newsweek is committed to challenging conventional wisdom and finding connections in the search for common ground.