Vladimir Solovyov, prominent Russian propagandist and staunch ally to Russian President Vladimir Putin, unleashed an angry tirade on a top German official during a recent broadcast of his television show.
Solovyov is the host of a political program on the Kremlin-controlled Russia-1 channel and is known for making controversial comments. One such example came last month when he made headlines by warning of a new world war between the West and Muslims all over the world.
After Germany emerged as one of Kyiv's biggest supporters in the war launched by Putin in February 2022, Solovyov has also made Germany a frequent target of his verbal attacks. He has gone so far as to suggest Russia could soon conquer Germany.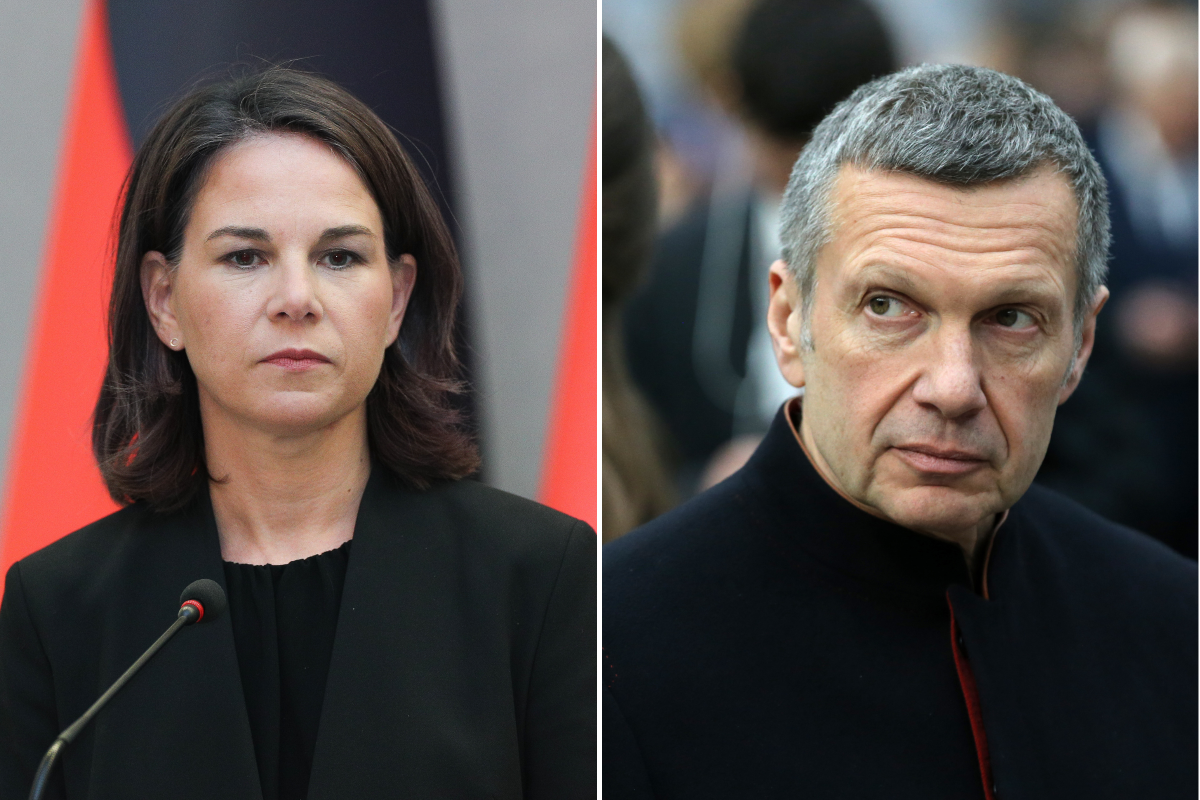 Anton Gerashchenko, adviser to Ukraine's minister of internal affairs, on Monday posted a translated clip on X, formerly Twitter, of Solovyov recently ranting about German Foreign Minister Annalena Baerbock.
Newsweek reached out to Baerbock's office via email for comment on Wednesday night.
After calling Baerbock a "crazy fool," Solovyov referred to the government official as a "German idiot," according to Gerashchenko's translation.
Raising his voice loudly, Solovyov said: "You'll see how, due to your corrupt stupidity, Annalena Baerbock, Berlin will burn and there will be a Victory Banner over the Reichstag [legislative building]!"
Solovyov's remarks then became more personal.
"Because you are a dumb broad trying to avenge your grandmother's husband, but not your grandfather, who fought against Soviet soldiers in Koenigsberg. Well, you stupid idiot, it's Kaliningrad now," he said, before telling her to "grow a mustache."
Solovyov finished his rant by asking Baerbock: "Who gave you the right to plunge the German people into this terrible fire of war?"
His diatribe came after Baerbock said on Monday that Germany would not only continue giving aid to Ukraine through the winter, but Berlin was also planning to see its support for its ally "massively expanded for next year."
"We will not only continue our support for Ukraine, we will continue to expand and increase it, especially on the part of the Federal Republic of Germany, not only with a view to the winter defense for the coming weeks and months, when it is clear that the Russian president will once again exploit the needs of the people in the cold winter," Baerbock said on the sidelines of a Brussels summit.
Solovyov's efforts to spread disinformation from the Kremlin have been documented by the U.S. State Department. In a 2022 list identifying well-known figures involved in Russian propaganda published on its website, the State Department described Solovyov as perhaps "the most energetic Kremlin propagandist around today."
Uncommon Knowledge
Newsweek is committed to challenging conventional wisdom and finding connections in the search for common ground.
Newsweek is committed to challenging conventional wisdom and finding connections in the search for common ground.