I came from a broken family, and in that brokenness, we made a significant move from Louisiana to Dallas, Texas, when I was nine years old.
My life was entirely different. My stepdad insisted that I was going to play soccer, which wasn't a good sport for me because I didn't have a confrontational bone in my body.
But I joined an excellent soccer team and we made it to the state champion playoffs when I was 13.
I was very nervous. I was always apprehensive about the game. The fear of failure and the fear of letting my team down were very real, and I was physically sick. My soccer coach innocently offered me a pill to help with the nausea, the nerves, and the anxiety.
It gave me superpowers. I was unstoppable on the field. I didn't care about being fearful, I only cared about being unstoppable. I scored three goals in that match, and I became the most valuable player.
My life took a significant turn that night because, with that pill, I regained something that I had lost: Self-esteem and self-worth. But it started a craving to never lose that feeling again, which led me down a dark path for a long time. That pill was Valium.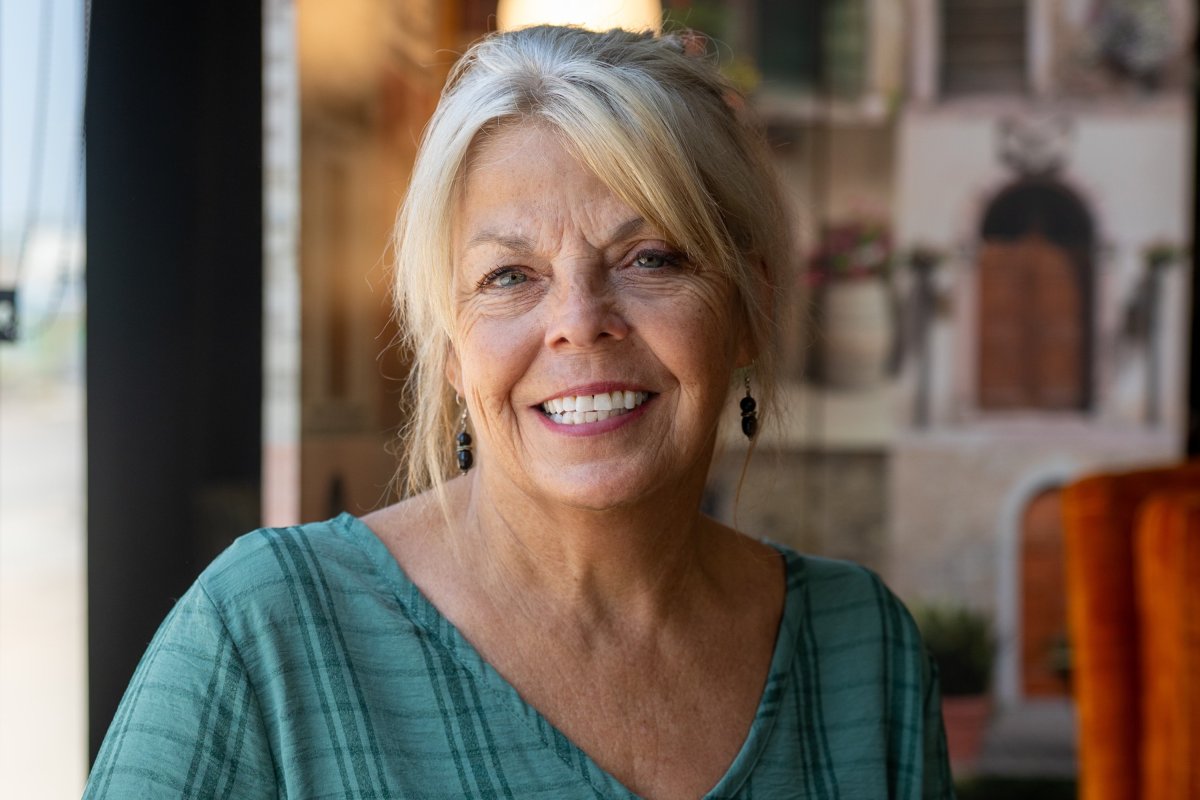 My teacher had pills, so I began to steal them from her medicine cabinet. I'd also make friends with kids whose parents had Valium in their medicine cabinet, and their children would bring me some. That's how my addiction continued for such a long time.
Even when my mom eventually divorced my stepdad and we moved two hours east of Dallas, I made new friends, and my new friends' parents had Valium in their medicine cabinets, so I was able to keep my addiction going.
My mom found out and she tried to help me, but I would sneak out of the house at night. I was not going to quit using drugs at that point. So, my mom gave me an ultimatum.
Either I could live at home or I would move out—but I sure wasn't going to live in her home and do drugs. She thought I would choose to quit drugs, but all I did was walk out the door and not come back. I was 14 and a half years old.
My drug addiction escalated because I was introduced to more pills. I had to become creative to keep that addiction going, and I lied a lot. I worked hard to maintain my addiction, which meant that I had to go into prostitution, trading my body for money to buy drugs, and trading my body to doctors for free prescriptions.
I would lie and tell men that I was 18 years old when I was 15 or 16. Sometimes, they hired me to work in their nightclubs and bars, and would later find out my real age because I'd eventually have to produce an ID. So, I'd have to go find another connection, which carried on for a long time.
At 19, I was so strung out on pills and cocaine that I ended up at a year-long treatment program in Mississippi. I then went to Oklahoma with a clear head on my shoulders to be restored to my mother after the program was over, and I ended up getting married.
My husband at the time did over-the-counter speed pills. He told me that if I did them with him, he wouldn't let my drug addiction get out of control. That was a lie.
I was such a severe drug addict that there was no controlling the monster in me when it woke up. I had three children with him and raised them in chronic addiction, but I didn't do drugs when I was pregnant.
I had all three of my children with natural childbirth because I did not want to introduce my children to drugs, even through delivery. But shortly after they were born, I would be back on the drugs again.
I would be home for a few days, and then I would disappear for days until finally, my children's dad said to me: "Your drug addiction is out of control. You're not coming back here."
He wouldn't let me see my children. I thought: "I'll just start selling drugs, and then I will make enough money to bribe the justice system. I will bribe the judge with money from the drug sales, and I'll get my children back."
It was a very unfortunate situation because I got with a pretty violent person, and I kept getting arrested. On Thanksgiving Eve of 2000, I walked into a casino in Oklahoma and I noticed that the security guard knew me.
I ran into an open field with a big brush pile and dove into it. The police were everywhere. I could see the lights from their cars. They were bringing out the dogs and there was even a helicopter. They were after me because I had been arrested in both Oklahoma and Arkansas.
Thankfully, an amazing heavy rainstorm suddenly came. I remember thinking: "Thank you God that it's raining because now the dogs can't pick up my scent."
But the rain quickly turned to ice. It started freezing rain and sleeting, and eventually, after hours, the search was called off because the weather had become so bad.
I lay at the bottom of this brush pile on this creek for four hours. I remember praying to God, saying: "If you give me the courage to change my life, I'll do it. But I can't turn myself in right now. I want to see my children."
I called the guy I was with at the time and told him to drop me off at a detox center. I told him that it was time to let me go because of how mentally unstable I was.
I said: "If you don't let me go, it'll be a murder-suicide."
I felt sad because I didn't want to leave him without anyone to watch his back, but I knew I wasn't the one for him anymore because I was in such a bad place.
After spending three days in that detox center, I called the district attorney and said: "I'm going to turn myself in."
I told him all the counties that were looking for me and said: "I need you to get me a package deal. I'm not going to fight it. I'm just going to plead no contest. But I want to see my children, and I don't want anyone arresting me in front of them. It's already going to be traumatic enough that I'm telling them that I'm going to jail."
I got out of detox on December 7, 2000, and I went to my children's house and spent the day with them. On December 8, in the morning, I walked them to the school bus, and I told them I was going away to prison.
My daughter, who was eight, said to me: "I can't even cry because I cried so many times, Mom, saying please don't leave me, and you always left me anyway."
Those were sobering words to hear from an eight-year-old child. I got a ten-year sentence, but the judge said that if I did a twelve-month drug program, he would suspend my time and let me out after the drug program finished.
That was a good thing that he did for me because I didn't deserve it at all. I was appreciative. It took me nine months to get to a prison that had a twelve-month drug program, and when I had finished, the judge kept to his word and let me out.
When I came out, my husband relinquished my children. He took care of them while I was in prison. For many years I was running in and out of their lives.
With the help of mentors around me, I began relearning how to be a mom. My children and I went to counseling so that we could heal. I wanted them to be willing to give me another chance to be their mom because I had hurt them so deeply, but it was a long journey.
It has honestly taken roughly 20 years to heal.
I remarried and had grandkids. It seemed like I was living the dream. But my husband one day said to me: "I want you to pray because I believe there's something inside of you that you need to do."
That's when I realized that I wanted to help other women who were in a similar situation to me—mothers who couldn't see their children because of their addiction.
I asked my husband if we could buy a home to integrate women into the community. The plan was to do recovery meetings and help these women get their children back. And so we did. Things were going pretty well, and I was able to go into the prisons and jails, getting people out and bringing them to the home.
However, getting these women into employment was slow because of how much their addictions impacted their lives. And that's how our coffee shop came about.
I wanted to create jobs for these women. What made the coffee shop thrive was that five women in the community came together and caught my vision to employ other women who had just come out of prison to work in the coffee shop.
We began to expand our coffee shop in our small community of Claremore in 2012. Within that process, in 2019, the governor pardoned me, which expanded my reach in Oklahoma in 2020.
The governor then ended up appointing me to the board of directors for the Department of Corrections, and he also appointed me a few times to sit on his criminal reform task force.
I feel like I made a big mess of my life. But in turning my life around, which I believe God had a big part in, I've been able to grow and expand and help other women, especially women in our state who have been impacted by addiction.
Without the support of the mentors I met while in prison, my story would look very different. They gave me accountability—something I had never had before. And they encouraged me to continue to push through treatment to recovery.
We can all be that for someone.
A person might be facing a difficulty or problem today, but that does not mean their situation will be permanent.
We should never underestimate the influence of a mentor or spouse—they can help uncover inner strength, especially when the person is unaware of it themselves.
Rhonda Bear is the founder of SheBrews Coffee and Transition Program, and a board member for the Oklahoma Department of Corrections. A former prisoner herself, Rhonda is now an advocate for incarceration reform and programs for individuals, particularly women, transitioning back into their communities after a prison sentence.
All views expressed in this article are the author's own.
As told to Newsweek's associate editor, Carine Harb.
Do you have a unique experience or personal story to share? Email the My Turn team at myturn@newsweek.com
Uncommon Knowledge
Newsweek is committed to challenging conventional wisdom and finding connections in the search for common ground.
Newsweek is committed to challenging conventional wisdom and finding connections in the search for common ground.