A video of a cat getting into the Christmas spirit with some festive wear has gone viral on TikTok.
The video was shared by @nimbus_siberian, the TikTok account of a Siberian cat called Nimbus. It shows a person putting the feline into some Christmas-themed pajamas, which are from Sam's Club, the poster says in a later comment.
A message overlaid on the day-old clip, which has had over 781,000 views, reads: "I bought Nimbus Christmas PJs and here's how it went."
The post adds that the outfit fits a 15-pound dog, and Nimbus weighs 12 pounds. The footage shows the person squeezing the outfit over the cat's head and trying to pull it down the feline's body.
Safety Tips for Dressing Up Your Cat
"Most cats will offer their opinions of a costume freely," but generally "pets can't tell us what is bothering them about a costume and may simply react by wanting it off," wrote veterinarian Sandra C. Mitchell in her September 2022 article for PetMD.
So it's important to "only dress up your pet if you're sure they're comfortable and not stressed while wearing their outfit," the Animal Humane Society says.
Any outfits put on your pet must fit properly "without restricting movement, causing trouble breathing, or rubbing anywhere that might cause bare spots or sores," Mitchell said.
After ensuring the attire fits properly, your pet should be supervised the entire time that it is worn. Leave the outfit on for a short period of time, and remove it before it makes your pet too uncomfortable, which may lead to your cat reacting to it.
They "may chew off and ingest a portion of the costume, which may cause intestinal obstructions or other emergency conditions," Mitchell added.
The veterinarian also said that some animals may have allergic reactions to certain fabrics. So you should be mindful of any signs of itching, rashes or respiratory issues that the outfit may be causing. "If you notice any changes that are concerning, remove the costume right away, and bathe your pet in a gentle shampoo like Dawn dish soap," Mitchell said.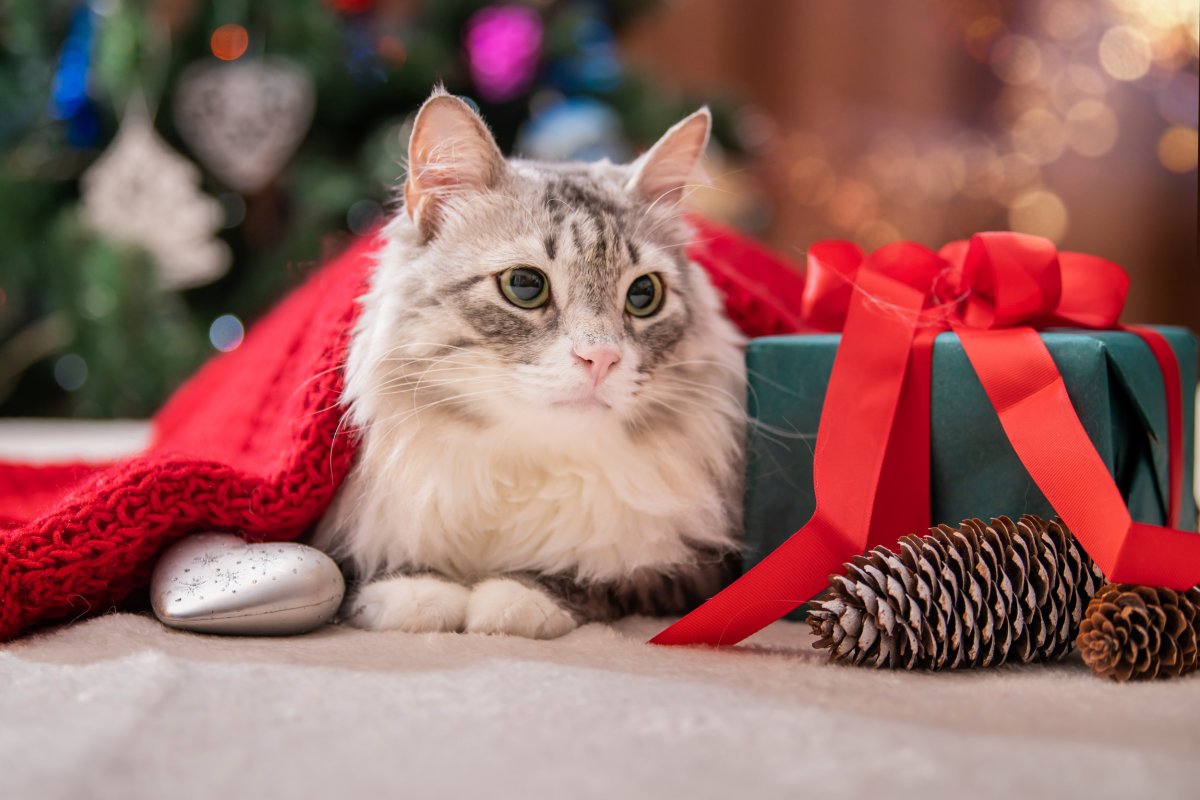 'Looks Like Shapewear'
The cat in the latest viral clip is shown staring blankly into space, with his paws in the air, as a hand is seen "fighting to get it [the outfit] over his floof," a message across the clip reads.
"It looks like shapewear," another note across the video says, as the cat is shown walking around with the pajamas fitted over the top half of his body. "I guess I will size up next year," a final message reads as the clip ends.
Several TikTok users were amused by the cat's reaction to the outfit in the viral post.
IncognitoAF wrote: "Can't believe he agreed to that!!"
Megan agreed, posting: "My cats would never lol [laugh out loud], they'd murder me." The original poster replied: "He surprisingly didn't mind, but I took it off of him quickly! He was purring while I was putting it on."
StarryNight183 commented: "Him staring into space as you try to force the sweater on."
Meowmeow also wrote that they couldn't get over "The look he had lol."
User bettyturq1965 simply posted, "Spanx for cats," and PRlNCESSPEACHEZ added, "nimbus in his skims [the shapewear brand]."
Newsweek has contacted the original poster for comment via TikTok and email. This video has not been independently verified.
Do you have funny and adorable videos or pictures of your pet you want to share? Send them to life@newsweek.com with some details about your best friend, and they could appear in our Pet of the Week lineup.
Uncommon Knowledge
Newsweek is committed to challenging conventional wisdom and finding connections in the search for common ground.
Newsweek is committed to challenging conventional wisdom and finding connections in the search for common ground.