Presidential hopeful Ron DeSantis sees high numbers of undocumented immigrants in his home state of Florida despite promoting himself as tough on immigration, a new study shows.
The Republican candidate and Florida Governor could face pushback from voters due to Florida's spiking numbers of undocumented immigrants.
A new Pew Research study found that Florida was one of only two states that saw increases in their unauthorized immigrant populations between 2017 and 2021. DeSantis has served as Florida's Governor since 2019 after five years representing the state in the House of Representatives.
The only other state that saw an uptick in undocumented immigrants was Washington, with the vast majority of American states noting unchanged undocumented immigrant populations.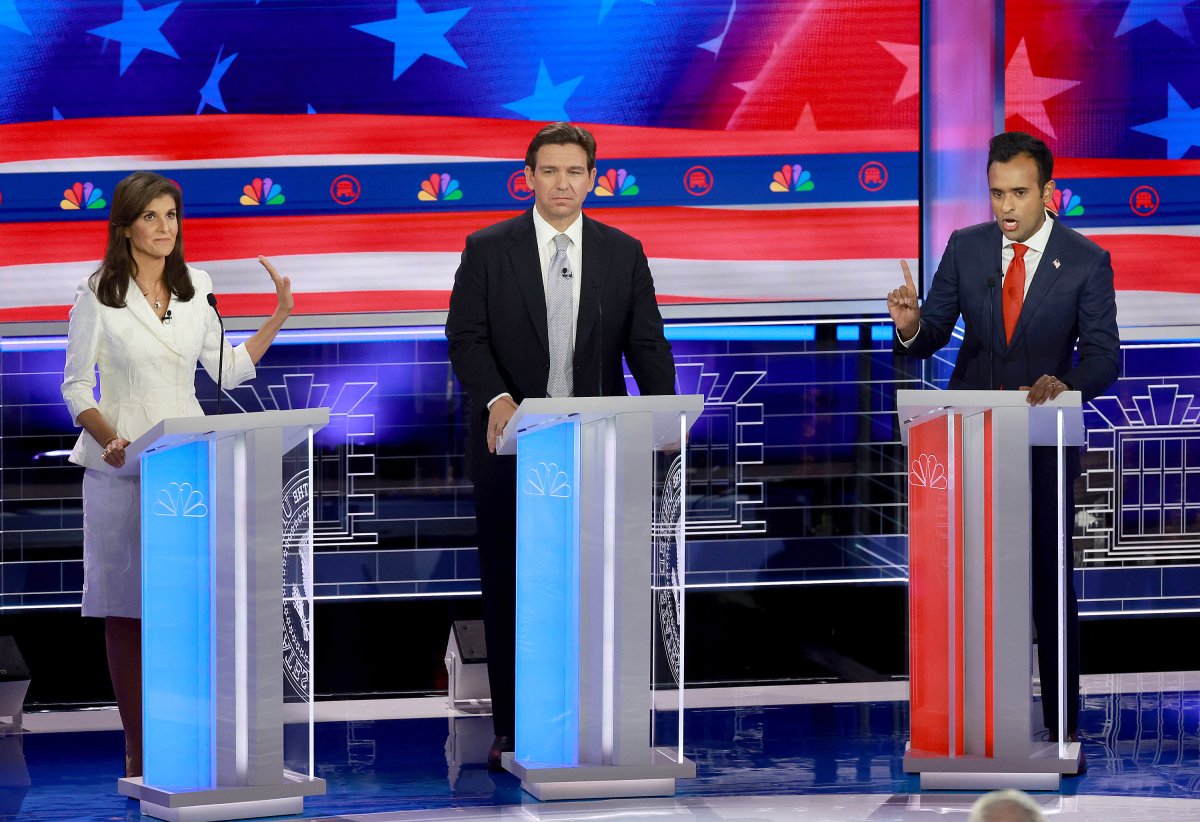 Florida's proximity to Mexico, which is the source of 39 percent of the nation's undocumented immigrants, may be at play here, but Mexico's closest neighboring states like New Mexico, Arizona and Texas failed to see their populations rise.
Newsweek reached out to DeSantis via email.
Because the uptick in undocumented immigrants occurred before Florida passed SB 1718 as a law this May, the governor's office said the data is not reflective of Florida today.
"Any increase in illegal immigration is a direct result of Biden's Border Crisis. Governor DeSantis will act within his authority when the Biden Administration fails or refuses to do so," Jeremy Redfern, the press secretary at the Executive Office of the Governor, told Newsweek.
SB 1718 made using E-Verify mandatory for businesses with more than 25 employees and imposed penalties on companies employing any undocumented immigrants. The law also prohibited local governments from issuing any ID cards to those who are undocumented and invalidated cards issued to those in other states.
"The Biden Border Crisis has wreaked havoc across the United States and has put Americans in danger," DeSantis said at the time.
"In Florida, we will not stand idly by while the federal government abandons its lawful duties to protect our country. The legislation I signed today gives Florida the most ambitious anti-illegal immigration laws in the country, fighting back against reckless federal government policies and ensuring the Florida taxpayers are not footing the bill for illegal immigration."
The Florida law also added to the severity of the crime of human smuggling when smuggling a minor, more than five people or when the defendant has a prior conviction of human smuggling.
Still, the numbers could be troubling for a Republican candidate who has touted himself as tough on immigration, seeing as Florida came in near last for keeping undocumented immigration numbers lower.
To Paul Beck, a political science professor at Ohio State University, the contrast between DeSantis's policies and the reality within Florida shows the limited control politicians have on this issue, despite their promises to voters.
"It does show that political leaders, presidents and governors, have little control over the flow of immigrants," Beck told Newsweek. "The push for many of them to leave their home countries is powerful, and the pull of the U.S. is attractive as well."
Despite being farther from South America than some other states, Latinos from outside America are often attracted to Florida due to its strong immigrant population and culture.
"It is an attractive place for immigrants from Latin America, especially Cuba, the Dominican Republic, and Venezuela, many of whom already have relatives there," Beck said. "I don't think it reflects on DeSantis' leadership ability, maybe just exposes him to a certain amount of hypocrisy in his diatribes against illegal immigrants."
Earlier in his campaign trail this month, DeSantis touted himself as tougher on immigration than many Republicans, whom he says are fine with it as long as it's legal.
"We talk a lot about illegal immigration," DeSantis said at the event this month. "But no one really talks about the legal immigration system and there's some Republicans that say, 'As long as it's legal, it doesn't matter.' I don't subscribe to that."
China Crackdown
DeSantis has also dealt with pushback after the Sun Sentinel's editorial board addressed DeSantis' "contradictions" when it comes to his "crackdown on Communist China," namely an aircraft made by a Chinese company that Florida law enforcement uses to find migrants in the state.
Republicans have increasingly been calling for a TikTok ban as concerns escalate over keeping Chinese intelligence away from the United States. The TikTok social media app is owned by Beijing-based ByteDance.
In May, DeSantis signed a series of laws aimed at keeping China from gaining more economic power within Florida. This also included banning TikTok from governmental devices and prohibiting Florida government entities from conducting business with China.
The Sun Sentinel criticized the DeSantis administration for its multimillion-dollar contracts for a Diamond DA62 jet made by Austrian firm Diamond Aircraft. In 2017, Diamond Aircraft was bought by Wanfeng Aviation Industry Co. whose headquarters are in China.
"The plane that FDEM leased was from the Bank of Utah and was manufactured in Austria, not China," Florida's Division of Emergency Management (DEM) previously told Newsweek. "It is owned by North Sea Aviation Services in Belgium. The Division has in no way sent a nickel to China."
The most recent YouGov poll found former president Donald Trump was still leading the Republican primary polls with 57 percent. After that, DeSantis was next with 19 percent.
Uncommon Knowledge
Newsweek is committed to challenging conventional wisdom and finding connections in the search for common ground.
Newsweek is committed to challenging conventional wisdom and finding connections in the search for common ground.