Former President Donald Trump claimed during a rally on Saturday that he helped get Senator Chuck Grassley, an Iowa Republican, reelected in 2022 during the midterm elections, despite the senator receiving the lowest number of votes in over a decade.
The former president endorsed Grassley during a rally in Des Moines, Iowa, in October 2021, calling him "a great American patriot" who "truly loves Iowa." Grassley, 90, was first elected as a senator in 1980 and is currently the longest-serving Republican in the Senate.
"I got a lot of guys elected here, including Grassley, who was having a problem. Including [Senator] Joni Ernst, who had a big problem," Trump told his supporters Saturday while speaking in Fort Dodge, Iowa, at a "Commit to Caucus" event.
The former president, who is the frontrunner for the 2024 Republican presidential nomination, continued: "Could you do, sir, a rally for me in Iowa? Absolutely. You think it's easy to come from wherever the hell I am and do a rally? I got them elected. Remember that. But [Florida Governor] Ron DeSantis, I got him elected."
Trump also shared an article from the Washington Examiner, which said that he took "credit" for Grassley's reelection, on his social media platform Truth Social on Sunday.
Newsweek reached out to Trump's team and Grassley's office via email for comment.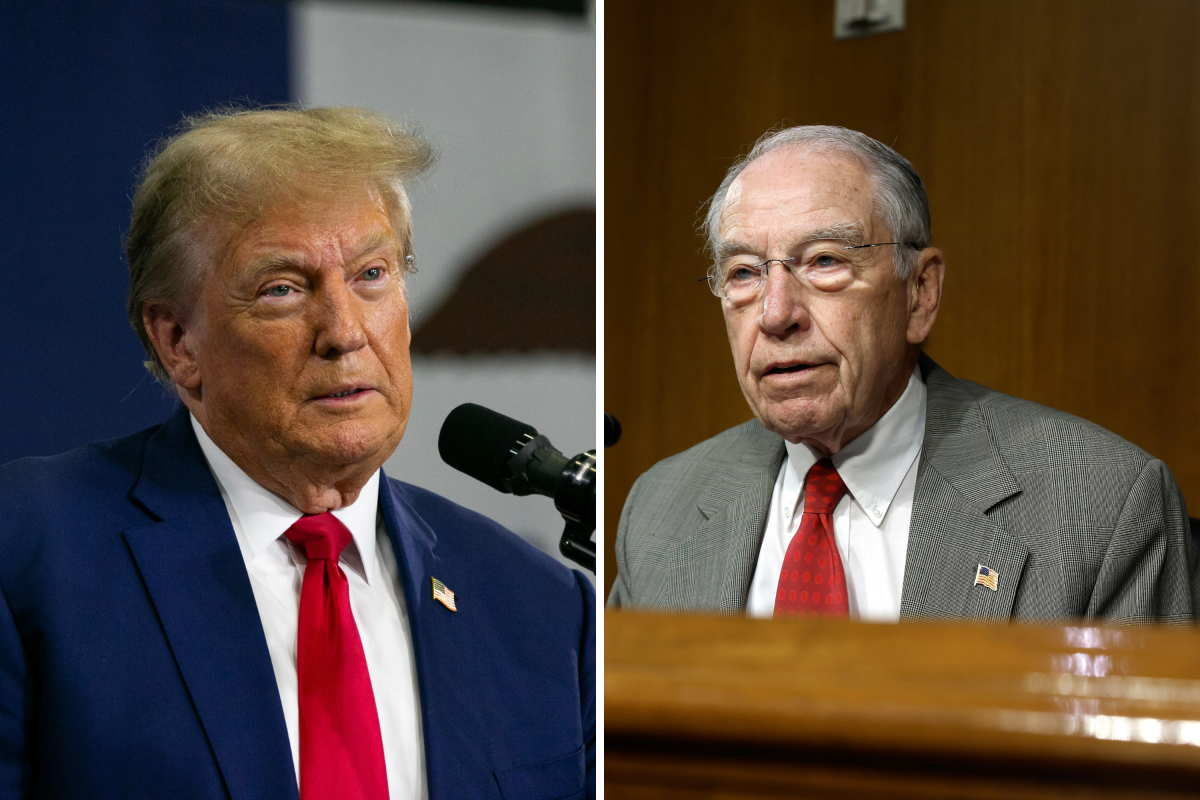 However, some on social media were quick to question Trump's claims.
Speaking to Grassley's long career in Congress, MeidasTouch Network, which labels itself as a pro-democracy news outlet, wrote on X, formerly Twitter, that "Grassley has held the seat since 1981."
Grassley actually had a lower percentage of votes in his eighth reelection in 2022 compared to previous election cycles.
Journalist Aaron Rupar posted on X: "Grassley got 64% of the vote in 2010, 60% in 2016, and then 56% in 2022. So if anything it appears Trump is dragging him down."
Meanwhile, Senator Joni Ernst, an Iowa Republican who Trump encouraged voters to support in 2020, received 51 percent of the vote during her reelection in 2020. This is a slight decrease from the 52 percent she received in 2014.
Grassley admitted at the 2021 rally that he accepted Trump's endorsement because of the former president's popularity in Iowa.
"I was born at night, but not last night," Grassley said as Trump stood next to him on stage. "So if I didn't accept the endorsement of a person who has 91% of the Republican voters in Iowa, I wouldn't be too smart. I'm smart enough to accept that endorsement."
The former president currently has the lead in Iowa among his fellow Republican candidates, according to a new poll.
In an Iowa State University/Civiqs poll that was conducted from November 10 to 15, with a sample size of 432 likely Republican Caucus attendees in Iowa and a 5.9 percent margin of error, Trump received 54 percent of voter support. Florida Governor Ron DeSantis trailed with 18 percent, followed by former South Carolina Governor Nikki Haley who had 12 percent.
Uncommon Knowledge
Newsweek is committed to challenging conventional wisdom and finding connections in the search for common ground.
Newsweek is committed to challenging conventional wisdom and finding connections in the search for common ground.